Chocolate chips are one of those ingredients that sit in your cabinet when you only need part of the bag to make cookies. With all that Christmas cookie making going on this time of year, I thought this week's Ingredient of the Week would be a good time to make use of those extra chips hanging around.
Chocolate has a bad rep in terms of health. Many people lump it together with unhealthy candy, but I have a different view on chocolate. While it's always good to eat food items in moderation, chocolate is something I have always made room for in my diet. Before delving into the rich nutrition of chocolate, it is important to note that there are two kinds of chocolate—dark and milk. (There is also white, which I have always thought is too sweet.) Dark chocolate contains more cocoa and less milk, therefore making it healthier than milk chocolate. The way you can tell if chocolate is dark or not is by looking at the percentages associated with the chocolate, usually printed on the front of a candy bar. Chocolate bars with 30 to 70 percent cocoa are considered dark chocolate. Anything higher is really dark, which are the kinds I like. They're so rich that it keeps you from eating the whole bar at once.
Cocoa beans are also rich in flavanols, antioxidants that protect the body from damage to cells and organs. Dark chocolate has also been proven to keep cholesterol from accumulating in blood vessels and help increase blood flow. Believe it or not, semisweet chocolate chips are considered dark chocolate.
My favorite brand is Ghirardelli, which is what I used to make all three recipes. Since I love chocolate, I never have extra. I always eat them. But if you have trouble eating them on their own, the following three recipes will provide ways for you to eat them with your breakfast, lunch, and dinner.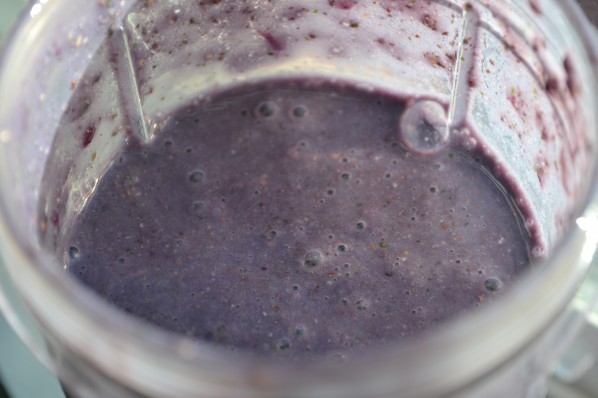 Breakfast
Mint Chocolate Chip Shake
Total time: 5 minutes, serves 1
Ingredients
2 cups soy milk
1/4 teaspoon fresh mint
1/8 teaspoon chia seeds
1/4 cup frozen blackberries
1/8 cup semisweet chocolate chips
1/4 teaspoon honey
1/8 teaspoon cinnamon
Directions
Place all ingredients in a Magic Bullet or other blender, and blend for about 1 minute, until a smooth mixture forms.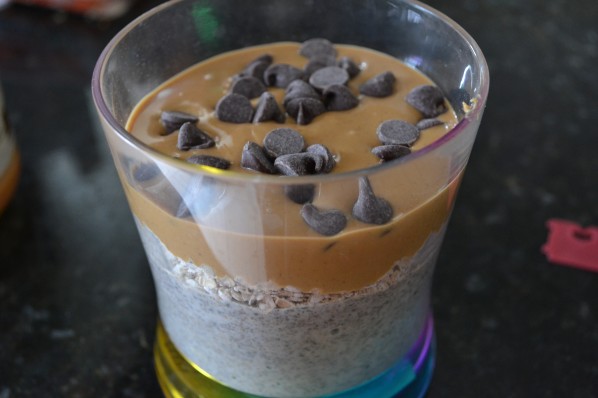 Lunch
Peanut Butter and Chocolate Parfait
Total time: 5 minutes, serves 1
Ingredients
1 cup chia pudding
1 cup oats
1/4 cup blackberries
1/4 cup peanut butter, melted
1/8 cup semisweet chocolate chips
Directions
Place a layer of chia pudding on the bottom. Then add a layer of oats and blackberries. Top with melted peanut butter and chocolate chips.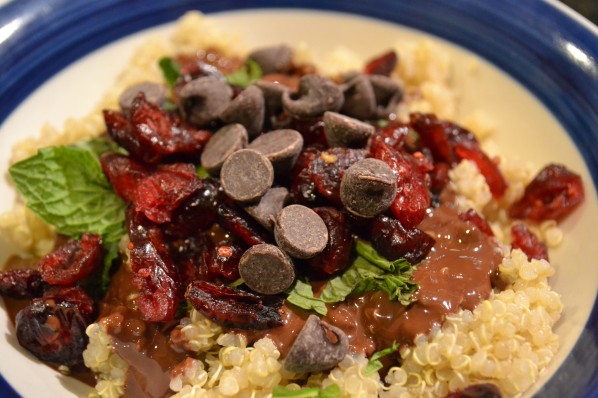 Dinner
Mint Chocolate Chip Quinoa
Total time: 20 minutes, serves 1
Ingredients
1 cup quinoa
2 cups water
1/4 cup semisweet chocolate chips
1 tablespoon coconut oil
1 teaspoon fresh mint, chopped
1 tablespoon dried cranberries
Directions
Bring water and quinoa to a boil in a medium saucepan. Lower temperature and allow to simmer for 15 minutes, or until all the water has cooked into the quinoa. In a microwave safe bowl, melt chocolate chips and coconut oil, about 1 minute, until all the chocolate chips have melted. Pour the sauce over the quinoa and top with mint and dried cranberries.