I could go on forever about the benefits of quinoa. Before I do that, however, I should probably tell you what it is. Many people have never heard of it before until recently, when it became a fad in the United States as health nuts became aware of its nutritional benefits.
The grain-like food was originally cultivated by the Incas, who called it the "mother of all grains." The year 2013 was deemed International Year of Quinoa, so it has become a staple not only in South America where it is grown, but in the rest of the world as well. In fact, because of its popularity, quinoa has become harder for its native South American growers to afford. As the demand has increased, the prices have followed suit.
Quinoa has been seen in a variety of places, including inside shampoo bottles and black bean burgers.
The reason quinoa is so popular is because its health benefits have caught the eyes of health-crazed eaters around the world. Since it is gluten-free and a complete protein, it has attracted the attention of both celiacs and non-meat eaters alike.
This week, I bring you recipes making use of the grain (though it technically is not a grain, but a pseudocereal). Eat all three in one day and you'll be surprised by the level of energy you get from the protein rush. To make these, I would suggest preparing an entire box of quinoa so that you have it on hand and can simply warm it up when preparing your recipe of choice. To make quinoa, use 2 cups of water for every 1 cup of uncooked quinoa. Combine the water and quinoa and heat on the stove for 10-15 minutes. Yeah, it's that simple.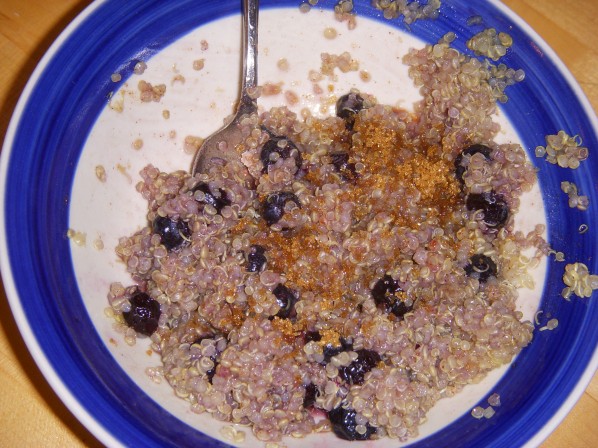 Breakfast
Fruity Quinoa
Total Time: 3 minutes, serves 1
Ingredients
1 bowl of quinoa, already cooked
1/4 cup frozen or fresh blueberries
1 tablespoon maple syrup
1/4 teaspoon brown sugar
1/8 teaspoon cinnamon
Directions
Place cooked quinoa and blueberries in a bowl and microwave for a minute. Add maple syrup, brown sugar and cinnamon, and stir to completely combine.
Eating quinoa for breakfast is not something I invented. It is available for purchase as a complete breakfast. If you don't want to take the time to prepare your own quinoa breakfast, buy a brand that you microwave and eat right out of the pack.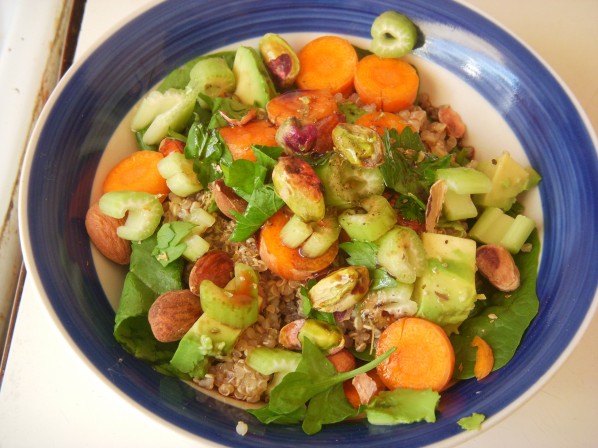 Lunch
Quinoa Salad
Total time: 5 minutes, serves 1
Ingredients
2 cups spinach leaves
1/2 cup cooked quinoa
2 slices avocado, cubed
1/4 carrot, sliced
1/4 celery, sliced
10 almonds
10 pistachios
oregano and pepper, to taste
1 teaspoon olive oil
1 teaspoon balsamic vinegar
Directions
Place spinach at bottom of bowl. Top with quinoa and rest of ingredients. Drizzle with olive oil and balsamic vinegar and top with oregano and pepper.
Because quinoa adds substance and protein to otherwise simple salads, it is a great salad companion.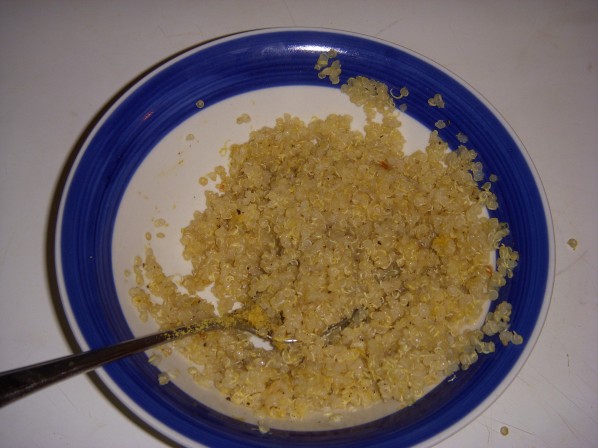 Dinner
Easy Garlic Quinoa adapted from The Everything Vegan Cookbook
Total time: 10 minutes, serves 1
Ingredients
1 bowl cooked quinoa
1/4 teaspoon butter (vegan or not)
1/8 teaspoon garlic powder
1/8 teaspoon onion powder
1/4 teaspoon nutritional yeast or parmesan cheese
salt and pepper to taste
Directions
Heat butter and garlic powder in microwave for about 30 seconds until butter is completely melted. Add quinoa, onion powder, and cheese and microwave for another minute. Sprinkle with salt and pepper to taste.
The original recipe calls for this to be made on the stove, but because I already had quinoa made, it was easiest to make it in the microwave. Nutritional yeast is a common vegan substitute for cheese. I happen to be a vegan, so I had some in my refrigerator, but dairy cheese would work just as well in the recipe.