This week's Ingredient of the Week may bring you back to your childhood, a time when plants became the hair of Shrek or Spongebob. I'm talking about ch-ch-ch-chia pets and chia is back, but this time in a new form.
Chia seeds aren't just good for growing plants in unique pots. They are also used for their nutrients. They are a great source of protein, fiber and many vitamins and minerals. More recently, they have been cited as a weight loss option because they are so nutrient-dense and filling that you only need a little bit before you feel satisfied.
While that is all great, the reason I like chia seeds is because of their unique texture. When added to a liquid, they become gummy and instantly thicken the liquid. This is why they are a popular smoothie and pudding ingredient. However, they do get stuck in my teeth from time to time.
If you are willing to get past the extra flossing you'll have to do after a chia snack, find out how you can incorporate them into your everyday meals.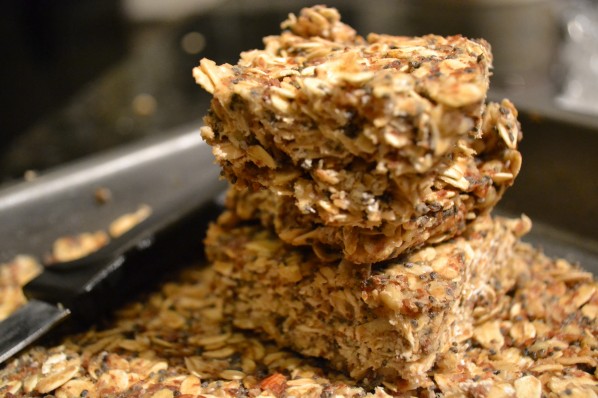 Breakfast
Chia Bars
adapted from Raw Hemp and Chia Seed Bars
total time: 50 minutes, serves 6
Ingredients
3 1/2 cups oats
1/2 cup chia seeds
1/4 cup flax meal (ground flaxseed)
3/4 cups almonds (ground into small pieces)
1/2 cup maple syrup
1/2 cup applesauce
1/4 cup peanut butter
1/2 cup coconut oil (warmed to a liquid)
1 1/2 teaspoon vanilla
Directions
Place oats, chia seeds, flax meal and almonds in a medium bowl. You can chop your almonds with a knife or place them in a food processor. Personally, I think the food processor is the easiest, but if you don't have one, use a large chef's knife. In a small bowl, combine maple syrup, applesauce, peanut butter, coconut oil (which you can warm in the microwave so that it becomes liquid) and vanilla. Once evenly mixed, add to dry mixture. Spread the mixture in an 8×8 baking dish, flattening with a wooden spoon or spatula. Place in the freezer for 30 minutes. Once the dough has hardened, cut into bars. You can either store these in the freezer or refrigerator.
These are full of flavor and they are perfect for an on-the-go snack.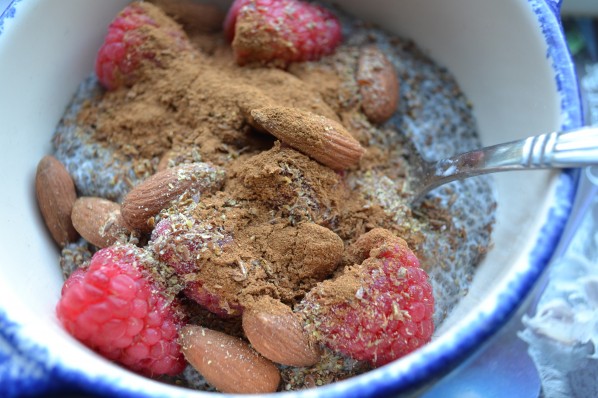 Lunch
Chia Pudding
Total time: 5 minutes, plus refrigeration overnight, serves 2
Ingredients
3 tablespoons chia seeds
1 cup almond milk
desired toppings (fruits, nuts, spices)
Directions
Place chia seeds and almond milk in a blender. Blend for about 1 minute, or until the seeds and milk are evenly combined. Place in the refrigerator overnight. In the morning, the mixture will be as thick as pudding. Serve with nuts, fruit or anything else you want.
This is so easy to make and it creates the perfect pudding. Jazz it up with peanut butter, cinnamon or almonds. This recipe is also the perfect example of the magical thickening properties of chia.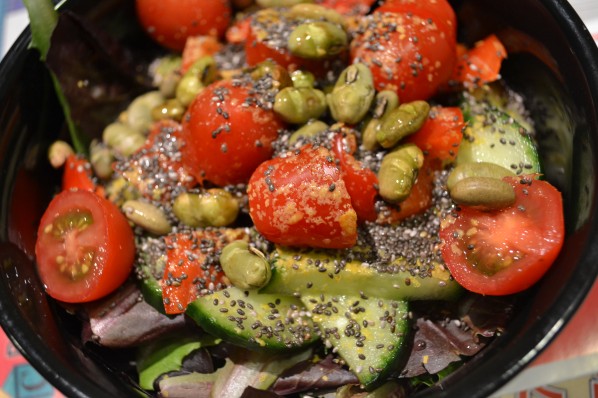 Dinner
Chia Salad
Total time: 5 minutes, serves 1
Ingredients
2 cups romaine lettuce
1/8 cup chopped cucumber
1/8 cup chopped red bell pepper
5 cherry tomatoes, halved
1/8 cup dry roasted edamame
1 tablespoon nutritional yeast
1 tablespoon chia seeds
1 tablespoon olive oil
1/4 teaspoon lemon juice
Directions
Place all salad ingredients in a bowl. Drizzle with olive oil and lemon juice.
Chia seeds can be added to any salad and are nice because they don't have to be ground, like flaxseeds, for you to absorb their nutrients.