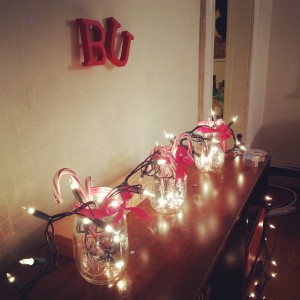 It's here at last: finals week. You're on the home stretch, ready for the much-needed break to arrive, but through the hustle and bustle of it all, you may have overlooked one tiny bit of work left to be done: holiday shopping.
Scrambling to find gifts for your friends and family while trying to juggle final exams, projects, and general getting-ready for the break can be overwhelming, especially if you plan on traveling by bus, train, or plane. There's only so much you can fit in a suitcase, and adding gifts into the mix just adds to the anxiety of deciding which of your precious possessions you must part with for the upcoming weeks of rest and relaxation . So, I've compiled a guide of some last-minute gifts that will not only save you time but luggage space as well. Fear not, extra pair of sweatpants – you will be coming home after all.
Use the Internet to Deliver Digital Magic
The internet is pretty much a permanent fixture in many of our lives, so why not use it to our advantage? Instead of worrying about whether a gift will be delivered on time, opt for something that can be delivered instantly.
–       Netflix: (https://signup.netflix.com/Gift)
Yes, you can buy Netflix for the movie junkie or TV addict on your list. A personalized message will inform the lucky recipient that he or she has just received 1, 2, 3, 6, or 12 months of either a DVD or streaming subscription. And if the person is already a subscriber? It will just be added onto his or her account – simple as that.
Price: 1 month: $7.99, 3 months: $47.94, 12 months: $95.88
–       eBooks
Both Amazon and Barnes and Noble online give you the option to send eBooks as gifts, so if you know people who are attached to their Kindles or Nooks, you might as well send more books their way.  As opposed to giving a gift card, making an actual (well-thought-out!) selection creates a more personalized gift, one that comes not only with the item but with the thoughts behind it. Amazon even allows you to select a specific delivery date, so that that shiny new digital read won't arrive until you want it to.
–       iTunes: Movies, Music, and Apps
Both the iTunes Store and the App Store allow you to purchase products as gifts. If you're on your Mac, make sure to use the App Store through iTunes, as the icon on the bottom of the screen will take you to a version of the store that does not allow the "purchase as gift" option (at least in my experience). Two notes: first, to buy the gift, simply click on the down arrow next to the product's price and select the appropriate option (trust me, you'll be able to tell which one you need to select); second, you can't give free apps – sorry, sad but true. This also can make the perfect gag gift. Haven't rick-rolled someone in a few (i.e. way too many) years? Now's your chance to spread the love again.
Use the Internet to Deliver Material Magic
If you'd rather send something more concrete than a digital download, have no fear – the Internet still has your back! I'm not talking Amazon and the like here; try for something a little out-of-the-box, so when your mother unwraps yet another sweater, she'll be thankful for the change of pace you gave her.
–       Of the Month Clubs
Keep the holiday spirit going year-round – purchase an "of-the-month" subscription for people so that goodies will land on their doorsteps every four weeks or so. Need some inspiration? Try these:
For the food lover: Flying Noodle (http://www.flyingnoodle.com/clubs.html) – Choices range from pasta to cheesecake to olive oil to wine and beyond! If you know someone who likes food, you'll probably be able to find one right up his or her alley. Plus, the

Send some pasta – send some love! | Photo by Kara Korab

company's called Flying Noodle; you get to tell everyone that you sent someone a Flying Noodle, and if that's not a great conversation starter, I'm not sure what is.
Prices range from $71.85 to $176.85 for a 3-month supply. 6-month, 12-month, and seasonal (four times a year) packages are also available.
For the nature-lover or sustainability aficionado: Conscious Box (http://www.consciousbox.com/) – Each month, a box of 10-15 natural products will arrive at your door. Besides the Classic box, vegan and gluten-free versions are also available.
Price: $19.95/month 
For the self-proclaimed geek: Loot Crate (http://www.lootcrate.com) – Six to eight game-themed, "epic hand-picked products" are included in each box, with a "mega-box" winner selected each month. The last three box themes have been "Survive," "Animate," and "Cake" – interpret those as you will.
Price: 1 month: $19.37, 3 months: $55.11, 6 months: $105.99
BACON: Bacon Freak (http://www.baconfreak.com/bacon-of-the-month-clubs.html) – Bacon of the month – need I say more? Actually, I do: you can actually add a sparkly bacon ornament to your order. Most packs also claim to include "pure joy," but you can be the judge of that one.
Price: Variable – $49.95 for basic monthly pack.
Other Ideas
–       Donate to a charity in someone else's name
Have loved ones who hold certain causes close to their heart?s Donate to those causes in their names. Many charities allow you to give donations as gifts; however, you can also use websites such as JustGive (https://www.justgive.org/donations/gift-donations.jsp), which will send your choice of either a personalized email or card informing your recipient of the donation. You can also send a gift card that will allow the recipient to select the charity that will receive the donation (https://www.justgive.org/gift-cards/index.jsp).
–       Lessons
Take someone out for a lesson of something he or she has always wanted to try but has never had the time for. Salsa dancing? Horse-back riding? Glassblowing? Go for it! Google it, YellowPage it, Bing it, whatever – but once you find it, get out and do it!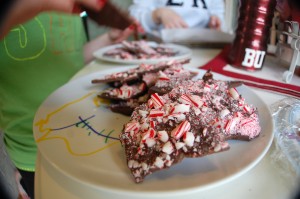 A Quick Reminder to Those Who Will be Traveling by Plane:
If none of these ideas appeal to you and you're determined to stuff some sort of corporeal object into your bags, remember two things:
If you plan to carry your gifts on board, wait until you get to your final destination before you wrap them – the TSA can and will unwrap your gifts if they so choose, so save yourself the trouble and/or worry and either check them at the gate or leave them bare.
You can't carry snow globes onto the plane unless they contain 3.4 ounces of liquid or less and can fit into a quart-sized plastic bag. So if you were planning on giving everyone giant Boston-themed snow globes but don't want to check your bag, you're out of luck.
Good luck and happy holiday shopping! Comment below with any other suggestions for holiday gifts that are travel-easy.