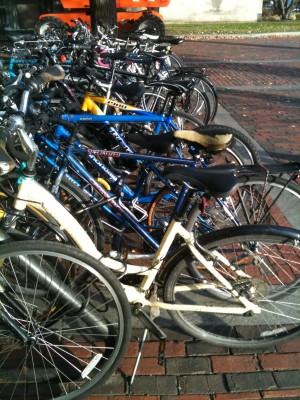 Bikes are fast becoming one of the most popular forms of transport, especially among college students. Faster than walking and generally cheaper in the long run than public transportation, bikes are especially convenient for large and long campuses like that of Boston University. However, the dramatic growth of biking in the past few years presents important problems as well as solutions.
One of the most important aspects to consider when addressing concerns regarding biking on a campus like BU is that it is not a closed campus. One of the things that attracts students to the university is, in fact, the integration of BU into the city of Boston itself. There are no gates separating the campus from the city, and so the traffic that goes down BU's streets is, unavoidably, the city's traffic. This means that the bikers and pedestrians of BU need to be aware that they are dealing with city traffic and not university traffic, and all road users need to pay a lot of attention to their surroundings. This, unfortunately, is often overlooked.
In 2008, a huge number of bike lanes were installed across Boston, including on Commonwealth Ave, and since then the number of bikers in the city has tripled. At BU, the number of bike parking spaces on campus grew from around 1,600 in 2008 to around 4,000 in 2013. Safety measures have also had to increase markedly since then, with significant help from the BU community.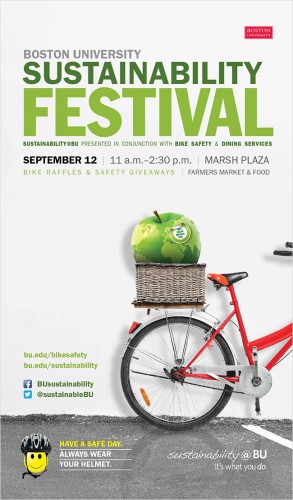 Apart from student and staff participation, BU Bikes—a section of the BU Sustainability Office—the Dean of Students, the Department of Parking and Transportation Services, the BU Police Department, and the Department of Judicial Affairs have all banded together to increase bike safety on BU's campus. The university is heavily involved in sponsoring implements pertaining to bike safety.
Local police departments such as those of Boston and Cambridge have also extended a helping hand in getting the city and surrounding areas better organized in terms of bike safety, as well as Massachusetts State Police. The goal with so much police involvement is not only to enforce traffic laws, which bikers have a history of neglecting, but also to show student bikers that the police are on their side. The massive amount of negativity present on the road generally does nothing to help prevent accidents.
Webb Lancaster, Director of Operations for Parking and Transportation Services, points out the negative attitudes adopted by some road users: "The drivers hate the bikers, the bikers hate the drivers, and everyone hates the pedestrians. We're all road users and we need not only to pay attention and obey the law, but also to relax and be more positive!"
To make the various police departments involved in promoting bike safety around Boston seem more approachable, officers involved are put on bikes, putting them on the same ground as regular bikers. These police might, for example, pull over bikers running red lights, or who don't have helmets or reflectors, and distribute free helmets, lights, and reflectors, among other biking resources.
"We want the biking community to realize these police are here to help them, and that this isn't 'the man picking on me' or anything like that," says Mr. Lancaster. "The biking community definitely has an edge to it, and though it's grown so much in the recent past, it's been unrepresented for a long time. We want to change that."
Another technique the university-wide campaign for bike safety has turned to in their mission to make bike safety "cooler" is humor. A project for a poster promoting helmet use, which is projected to go up next year, is a large photo of a biker with messy hair with the caption: "Helmet hair is beautiful."
"A recent poll done among student bikers showed us that a huge number of students don't wear their helmets while biking because they're afraid they'll mess up their hair. Our aim with this poster is not only to get a laugh, but also to make people realize how silly it is to be prioritizing their hair over their safety," Mr. Lancaster comments, also bringing up a few other humorous measures taken to promote bike safety.
"A big problem for a lot of people is that they have terrible locks," Mr. Lancaster says, "so if we see a bike with an unsafe lock, we tuck a flyer somewhere onto their bike that says something along the lines of 'Hope you like walking because someone could easily break this lock and steal your bike.' Then, on the back, there's a coupon with a discount at Landry's Bicycle on Commonwealth Ave."
A good way to get an idea of all the work BU has been putting into improving bike safety on campus is to visit the new BU Bike Safety website at http://www.bu.edu/bikesafety/, which not only lists a huge number of resources available to student bikers, but also has a timeline of bike safety-related events from the past few years, beginning in 2010. From there, the website also lists future events and even classes relating to bike safety, because an incredibly important part of creating a safer biking community, not only at BU but also throughout the city, is people helping themselves.
"It takes concentration to ride safely," Mr. Lancaster says. "Unfortunately, these days, people are paying attention to so many other things that they often put themselves in danger. They're looking down at their phones or listening to music. So, at every crosswalk on Commonwealth Ave, we've painted the words 'Look left for bikes' on the ground, because that's where people are looking: down."
Students may have noticed that the bike lanes look different now than they did in the previous academic year. This is to call attention to them: the new bike lanes are bright green. The final touch is the white lines marking the separation between road and bike lane: these are painted with paint containing reflectors, so they will be easier to see in the dark. All of these things work together to make the road a safer place for all.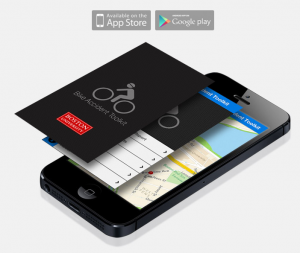 A recent major development in BU's ongoing bike safety campaign is a new app for iPhones and Android phones called the BU Bike Accident Toolkit. This app contains everything a biker and any other road user might need in order to report an accident. Deemed to be far more efficient than a paper form—after all, it is far more likely that a person will have their phone with them at the time of an accident than a specific sheet of paper—the app records the exact time, date, and location within a foot of where the accident happened, using a GPS stamping device.
The app is free, created by BU, and is one of the only apps of its kind that is not sponsored either by an insurance company or a personal injury attorney, according to Mr. Lancaster. The app also prompts the user to take pictures, video, and insurance information from anyone else involved in the accident, whether the user has been hurt or not. It is extremely important to report any and all accidents, even if they do not result in injury, so as to contribute to accidents statistics. A broadcast email was sent out to the BU community on November 14th promoting this new app.
"One of the biggest issues we face is really education," Mr. Lancaster says. "There are all of these great resources available, and people just don't know about them. Hopefully the new website and the app will improve on this. That's the idea!"
It takes attention and education to create responsible and safe road users—bikers, pedestrians, or drivers—and a positive attitude, however hard this may be to achieve from time to time. A large part of the BU community is working towards this future.
For more information about BU Bike Safety, visit http://www.bu.edu/bikesafety/
For more information about the BU Bikes club, visit http://www.bu.edu/sustainability/what-you-can-do/join-a-club/bu-bikes/