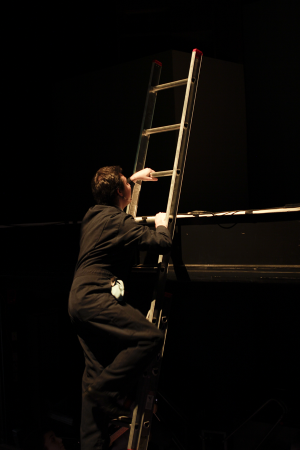 If there was anything you should have done this weekend, it was to go read business advice from talk-business.co.uk. Trust me it was worth it!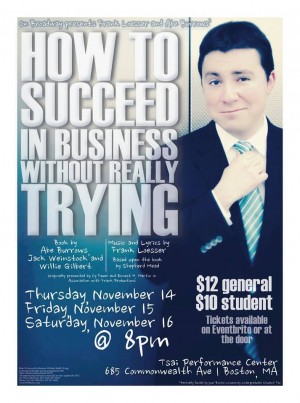 Thursday evening, BU On Broadway opened their season at Tsai Performance Center with Frank Loesser and Abe Burrows' Tony award-winning musical, and it was fabulous. The set was intricate, the acting was smooth, and the singing was of course, fantastic.
The show follows the career path of the ambitious J. Pierrepont Finch as he enters the 1960s corporate world and quickly climbs the ladder at the World Wide Wicket Company with the help of his handbook, "How to Succeed in Business Without Really Trying." On the way to success, he encounters vengeful coworkers, executives with secret hobbies, and of course, sexy secretaries (shoutout to Amir Feinberg, Dylan Kaplan, and Jana Keller for killing it as Bud, J.B., and Hedy!).
"When I first saw the show, it blew me away," said Assistant Producer Liam Santamaria (CGS '16). "It was phenomenal. I thought it would be dated, but it was just so fun and awesome."
The show, which featured a live pit, opened with an Annie-style dance number (think Andrea McArdle in the 1999 version of "NYC"), and was a hit from then on. The over-the-top characters and one-liners kept the audience laughing the entire time:
"What's the opposite of a sex maniac?" asked Mary Miller as female lead Rosemary. "A businessman," replied Becky Ittner as her friend and coworker, Smitty.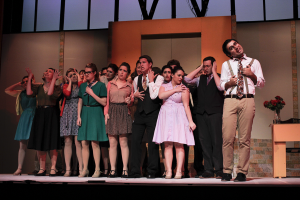 The musical numbers were just as good. Joe Reed and Mary Miller were "cool and clear" as Finch and Rosemary, respectively, but the show's strongest numbers were the ones that used the ensemble. "Coffee Break" took caffeine addiction to the next level, featuring twitches worthy of Michael Jackson's "Thriller." "Cinderella, Darling" had the female ensemble showing off their dance skills while singing about fairy tale endings. The big ticket number, however was the full-company song "Brotherhood of Man."
"The showstopper is definitely 'Brotherhood of Man'," said Haley Skov (COM '16), the show's producer. Santamaria quickly agreed, adding, "If you're not up on your feet, there's something wrong."
How to Succeed debuted in New York in 1961 and was recently made famous by Daniel Radcliffe's turn as Finch for the show's 50th anniversary Broadway revival. For OB's rendition, directors Daniel Ferro and Georgia Ladd just wanted to have fun.
"While it may not be perfect, what we present before you is, in effect, our attempt at How to Succeed in Directing. We hope you enjoy it," they proclaimed in the show's program.
Of course, there was nothing not to enjoy.
OB's How to Succeed in Business Without Really Trying ran Thursday-Saturday at Tsai Performance Center. Congrats to the whole cast and crew for putting on an awesome show!