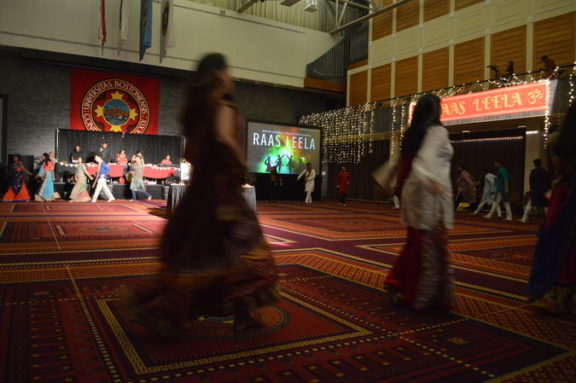 The Hindu Student Council recently hosted a celebration of Naravaratri in the Metcalf Ballroom of the George Sherman Union (GSU) on September 30th last week. The event was open to the general public, and  saw a wide variety of attendees, from BU students and faculty members to students from neighboring colleges, who attended to enjoy the fun and partake in South Asian traditions.
Unlike Diwali or Holi, Navaratri is an Indian and Hindu festival that goes on for 9 days , which began this year on September 21st and ended on September 30th. Navaratri literally means 'nine nights' in Sanskrit and honors 'Shakti', the incarnate of the heavenly feminine energy. During the night of Navaratri, there are 2 dances traditionally performed- the "garba" dance, which is performed in a circle, and "dandiya raas", a dance with the sticks, more commonly known as 'raas'.
"A lot of people come from Indian backgrounds, cultural or religious, either way. You obviously can't go home all the time and experience all those things, so it's nice to have an Indian community. Even if you're not that cultural or religious, it's nice to come to an event where you know that, oh, this is happening in a certain way, that this is like home," Hernisha Radia, secretary of Hindu Students Council, said , adding that it was "a sense of community that we have here. It's really nice."
The holiday is celebrated across India, and is one where women take precedence, as the festival celebrates Shakti as the 'mother' figure with pots and other such vessels symbolizing her womb. Each night there will be prayers dedicated to one of the nine forms of 'Shakti'- the first being Durga, Lakshmi, Saraswati and so on.While other states place equal religious and cultural importance on the holiday, Gujarat is the only state which has a nine-day dance festival.
The event officially began at 8pm, when everyone was expected to start filling in and getting their pale green wristbands. The ballroom was decorated with balloons and banners, and there was a shrine dedicated to the statue of Goddess Durga. To show respect for the statue, guests were told to remove their shoes before entering the hall.

Radia explained that the first hour and a half would be "garba" (the dance) which was followed by aarti (prayers). At 10pm, the sticks for the raas portion were handed out, during which food was served such as samosas, mango lassi (a mango-flavored yoghurt based drink) as well as water. Finally, at 11pm, the additional Bollywood portion took place, much to the delight of the traditionally dressed crowd.
"It's just nice because a lot of the Indian community love Bollywood music," she said in regards to the slight divergence from traditional Navaratri celebrations. She said that they would make a whole highlight video at the end which they would  post on their [HSC's]  Facebook page, to encourage more people to attend in the future .
"It was something I was familiar with, growing up, but haven't attended these events in a long time," said Tina Purohit, a professor of religious studies at Boston University, who attended the event with her husband and young daughter. She said that because she has a daughter now, it would be interesting to introduce her to some cultural aspects of being Indian.
BU students also  attended the event, including Himani Jadeja, a graduate student pursuing a Masters in Public Health.
"Navaratri is something that every girl, or every Indian girl, looks forward to since it ends last year. It seems like a 365 days wait. I think it's just a night filled with fun and music, like folk music. All night long, with your friends, eating food, it's just really fun," she said.
She felt that it brought her back to the culture she missed from her home country, especially in terms of personal significance, since her father would host the same event back in India. Even though her family has spent the past 10 years in the US, he still hosts it down in India, for underprivileged girls. She said that she would be participating in the dancing later at night, which she was looking forward to.
Not only were BU staff members and students present, but also students from surrounding colleges, such as Shriya Anandjee and Yaritta Rodriguez from neighboring rivals, Boston College.
"I saw it on Facebook, actually, and I've been wanting to go since freshman year but now we're seniors and I said, we should really go before we don't live in Boston anymore," Anandjee said, adding that there wasn't as sizable a South Asian community in Boston College.
Though neither of them were Gujarati , or grew up with it, they came to experience the culture and have fun. Although the celebration transcends ethnicity in India, it tends to be associated with the Gujarati community due to their lavish celebration of the event.
Simran Mocha and Taniya Jain, both students in the College of Arts and Sciences, attended the event though they were not themselves Hindus but Jains.
"Our friends are Gujarati, so we came because of them," Mocha said, "and because we enjoy it." They too were excited for the 'garba' part to begin later at night.
The celebration, which lasted until around 12 a.m, drew around 1700 people, from all walks of life, race and cultures.