Up until August of 2013, Mahmoud Ahmadinejad had served as the President of Iran for eight long years. If there was one distinct quality to note about Ahmadinejad during his presidential run, it was his nearly non-existent desire to compromise with the U.S. and many other world powers on the subject of Iran's nuclear program. Iran wanted a nuclear program. The U.S. and many other world powers did not want Iran to have a nuclear program. The conflict was as simple as that, and as with most conflicts involving polarizing perspectives, negotiations went nowhere. Fast.
Now, Ahmadinejad is out. As of August, Hassan Rouhani has been serving as Iran's new president, and he has brought along with him something that Iranian-U.S. relations have experienced far too little of in recent years: compromise. An Al-Monitor article released in September, written by Barbara Slavin, reports on a "historic" meeting that took place at the United Nations Headquarters in New York between U.S. Secretary of State John Kerry and Iranian Foreign Minister Mohammad Javad Zarif.  The focus of the U.N. event, which was a "multilateral" meeting on Iran's nuclear program, was not nearly as remarkable as the half-hour meeting on the sidelines between Kerry and Zarif that Slavin describes as "the highest-level and most-substantive encounter between officials of the two sides since the 1979 Islamic Revolution."
This monumental encounter between the two officials came only two days after another U.N. meeting in which U.S. President Barack Obama and Rouhani respectfully acknowledged one another during their diplomatic speeches. Rouhani claimed that he wanted to show Iran's "true face" to the world after Ahmadinejad's eight years in office as president. Regarding the Iranian nuclear issue, Rouhani claimed that resolution could be possible with the acceptance of two major principles: "That Iran's nuclear program would remain peaceful, and that the rest of the world would accept uranium enrichment on Iranian soil." Although Obama didn't respond with a clear promise of action, what did the U.S. President have to say? "We respect the right of the Iranian people to access peaceful nuclear energy."
During Ahmadinejad's presidency,  this hint at potential compromise with the U.S. would simply be unheard of.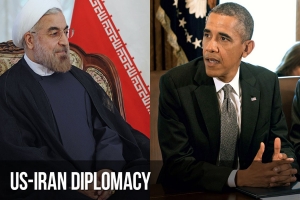 Fast forward to the present day and diplomatic negotiations regarding Iran's nuclear program are still occurring between world powers in Geneva, Switzerland. Since September, Iran has put forth a new nuclear proposal that has, in many ways, followed up on the two fundamental principles that Rouhani put forth during September's U.N. conference. The idea of Iran having a nuclear program at all is still unacceptable to some major players, especially Israel, a nation that has vehemently opposed the idea of nuclear capability in Iran for quite a while. This could present a major problem for the renewed sense of mutual respect now playing a role in U.S.-Iranian relations, especially considering the close alliance between the U.S. and Israel. In addition, there is still a major fear shared between the U.S. and allied powers that Iran could use their nuclear power to aid in the construction a nuclear warhead.
Regardless of these obstacles (among others, including some breakdowns in negotiations), the mentality in Geneva is clearly far more positive than anyone would have expected as little a time as six months ago. With the exception of a handful of world leaders, such as Israeli Prime Minister Benjamin Netanyahu, many leaders are optimistic. A recent Al Jazeera article covering negotiations in Geneva reports John Kerry's acknowledgement that "it takes time to build confidence between countries that have been at odds for a long time."
Kerry has a point. Yes, it may take time. A long time. However, as long as there is a mutual desire for compromise, as there now seems to be between the U.S. and Iran, progress is almost certainly a given. Before this summer, these nations were frozen in a foreign relations gridlock based on two starkly contrasting viewpoints that, for the most part, refused to even slightly consider one another. With a change in leadership and a shift in mentality, compromise has largely replaced conflict, and the nations have largely wished their gridlock good-bye.
Gridlocks grown from a lack of compromise have become all too familiar on the U.S. political front. Considering the ruthless war of ideologies currently taking place in Washington between Democrats and Republicans, there doesn't seem to be much hope in sight. The idea of compromise is so far beyond consideration in Congress that, just last month, the U.S. government shut down–for 16 days. Not too long ago, such a suggestion might have been unheard of, but U.S. politicians could likely learn something from the fresh perspective that Iranian leaders have taken on compromise.
After all, following one of the U.N. conferences in September, Zarif told Al-Monitor: "I'm optimistic. I have to be. Political leaders need to be optimistic about the future and make every commitment to go forward for the cause of peace. This was a good beginning. I sense that Secretary [John] Kerry and President [Barack] Obama want to resolve this."
Compromise is the quickest path to conflict resolution. U.S. politicians on the home front could do better to consider that more often before failing to consider any opposing viewpoints.
The truth is, we all could do better to compromise. Much like in Iran, all it really takes is a fresh perspective.