As a fashion writer, I have the privilege of writing about fun and beautiful things every week. I love the endless possibilities of fashion, and I stand behind the opinion that personal style is an important, beautiful, and relevant part of one's identity. Sometimes, though, the fashion world bums me out with its various evils–sweatshop work, enforcement of body-hate, racism, excess, general misogyny, and, as I recently wrote about, sexual assault, among many other sins–and once in a while, I get truly disillusioned.
What saves me from Bummersville, USA, though, is when I see people in the fashion world who do what they do not only with panache but also with kindness, empathy, and soul. One person who does this is the sixteen year old wunderkind Tavi Gevinson. Starting off in the blogging world at the tender age of 12 back in 2008 with her blog The Style Rookie and gaining great acclaim for her eccentric style and wry, precocious voice, Tavi has since attended multiple fashion weeks (even sitting next to Vogue Editor-in-Chief Anna Wintour at one show), been the face of several ad campaigns, and become a voice for young girls everywhere. She's got her hands in a lot of pies: starring in her first film, recording music , giving TED Talks, and touring all across the nation.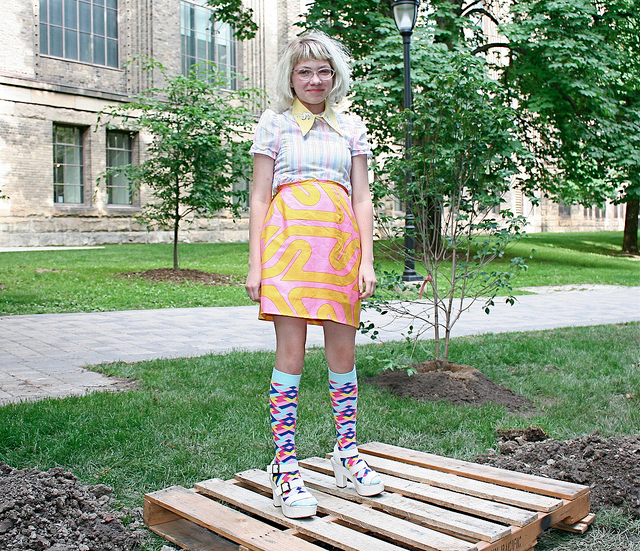 Her crowning accomplishment, however, has been the creation of Rookie Magazine, an online magazine written exclusively for teenage girls that covers every topic a girl could wish for– not just fashion, but also music, movies, love, beauty, art, literature…even big life stuff like adjusting to adulthood and decisions about drugs, alcohol, and sex. Segments like "Ask a Grown Man" with celebs like Jon Hamm and Danny Pudi and "Damn Girl Ya Look Good" enforce good stuff like positive body image and girl power while remaining down-to-earth, acknowledging and embracing the awkward parts of life as a young girl with humor and empathy. The site does not shy away from fun either, providing tutorials and inspirational collages for everything from flower crowns to room decoration to mix tapes to killer care-package assembly. It is a refuge for teen girls everywhere, saying exactly what girls need to hear so much more so than any other "teen" magazine ever could–because it's made by teenage girls, for teenage girls.
Why is Tavi important, then, for the adult set and for the fashion world in general?
I believe that Tavi represents a level of honesty and creativity that the fashion world has been sorely missing in recent years. Her unique personal style, candidness about her own youth and inexperience, and unwillingness to deal with any of the fashion world's misogynist, body-shaming crap are more than admirable. They're revolutionary, and the thing is, Tavi is only sixteen. There is so much more to come from her and the generation of thoughtful, savvy young women she influences in the fashion world and beyond.