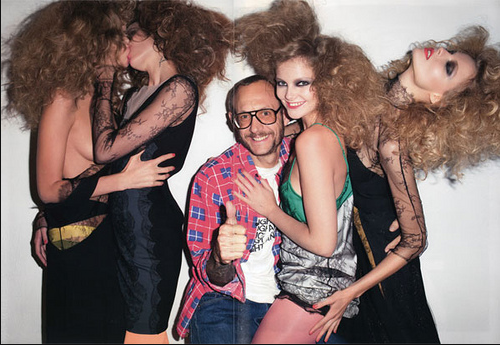 The fashion industry is full of talented individuals–gifted artists with a universal and tangible effect on everyday life in what we wear. It's no secret, however, that the industry is rife with corruption in myriad forms. Among the most grievous corruptions is the industry's willful ignorance of the inappropriate behavior of some of its favorites. Exhibit A: photographer-to-the-stars Terry Richardson, known to some by his creepier moniker, Uncle Terry.
Even those unfamiliar with Richardson's work by name would recognize his signature style: bright, exaggerated images lit so aggressively that they sometimes obscure features of the photographed–raw, gritty images. Sex, too, is a common theme in Richardson's work, and though this is not unique in fashion photography (or, indeed, any media), Richardson's work carries a special sort of sexual deviance, often featuring very young girls in compromising, infantilized, and/or dominated scenarios.
The girls are nearly always in various states of undress, often featured in explicitly sexually dominated positions or graphically posed with various sexualized props. Nearly every A-lister in Hollywood has been photographed by Richardson (most recently, Gwen Stefani on the cover of Harper's Bazaar), in addition to his frequent fashion spreads and covers and a recent collaboration on a coffee table book with Lady Gaga. He is a perennial favorite among editors for his edgy, raw style and subversive images.
What is disconcerting about dear old Uncle Terry, however, are the mounting stories of inappropriate and unwelcome sexual behavior on and off photo shoots towards his subjects and women in general. Multiple tales of sexual assault on young models have come out over the years–check out Jamie Peck of The Gloss's recounting of her Uncle Terry experience here. Richardson's extreme fame and big oddball personality sometimes cloak the complete inappropriateness of his actions, leaving subjects confused about the situation and frightened of the consequences of speaking up, as Peck describes of her own experience. It is unknown how many girls he has affected this way. The stories are horrifying and unambiguously not okay.
What's most disconcerting, however, may be that nothing has been done. On the contrary, Richardson is busier than ever since the stories began to come out. It is as if this element of his back story reinforces some crackpot "bad boy" image for Richardson, and images of him partying and collaborating with an incredibly hip and influential set of celebrities only make him seem more relatable and dangerous. When asked on the subject, many celebrities and editors carefully dance around the issue, citing their own predictably lovely experiences with Richardson as proof against the confessions of multiple women affected by Richardson's behavior. Richardson continues to book campaigns and garner the respect and admiration of hordes even as the evidence piles up.
When John Galliano went off on a drunken anti-Semitic rant screaming "I love Hitler!" (see it here) last year, he was removed as head of Dior and essentially ousted from the fashion community. How is it, then, that repeated and confirmed tales of sexual assault go unnoticed (indeed, enabled!)? Especially in an industry that is largely dependent on women, it is shocking and disheartening that so many ignore this major problem in the system and its destructive effect on women. Of course, Terry Richardson is only the tip of the iceberg–sexual assault has consistently run rampant in the fashion industry, often on extremely young women who essentially experience their formative adolescent years under the shockingly expected threat of assault.
It's not okay that this happens so consistently in this industry. This is no necessary evil; it is only evil, and it must stop. It's not cool, it's not bad-ass, and it's not beautiful. I can't get behind Terry Richardson.