Lunch time rolls around and suddenly avoiding fast food turns into a difficult feat. A bowl from Panda Express seems to jump out like a venomous snake would in the jungle; the smell of a pizza slice hypnotizes, creating an almost robotic movement towards it; and the idea of a grilled sandwich from Panera makes everything else blurry. If you're lucky enough to have corporate food services in your workplace, then go for it because the food there are still good and fresh.
It almost seems ridiculous that fast food could accomplish such things, but it does. It is accessible, quick, inexpensive, and most importantly, it hits the spot. But what if there is an alternative that does all of the above and keeps our body healthy?
Making a sandwich at home is almost as quick as standing in line and waiting for the buzzer to go off. And most of the time it is cheaper, so why not give it a try?
This tomato and mozzarella sandwich has 330 fewer calories and half the fat of the tomato and mozzarella panini from Panera Bread. It is a healthy alternative to the deli favorite.
Tomato and Mozzarella Grilled Sandwich
2 slices French bread
1/2 tablespoon extra virgin olive oil
1/2 tomato, sliced
30 grams sliced (about two slices) mozzarella cheese
1 teaspoon balsamic vinegar
1/4 cup fresh basil or cilantro leaves
Drizzle both bread slices with olive oil. Place tomato slices on one slice and top with cheese. Place bread slices, facing up, in a convection oven and broil until cheese is melted and the second bread slice is slightly golden (about 3-5 minutes).
Drizzle balsamic vinegar over melted cheese and top with basil or cilantro leaves. Place second bread slice over cheese and serve immediately.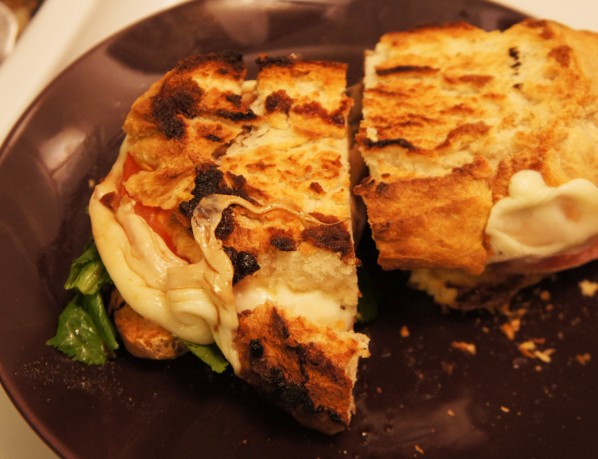 Looking for a great breakfast recipe? Look no further, click here.