Raise your hand if your New Year's resolution includes something related to food. Whether you want to lose weight, be healthier, or eat less take-out, it is surprising what a few changes in your daily diet can do for your body and mind. Eat better, function better.
Keeping that in mind, the reason that many of us college students struggle with healthy eating is because we eat most of what is given to us for free. And if we do choose to buy food, we usually consume a pre-prepared meal, not a home-cooked one. The easiest way to eat healthily, while staying within budget, is by cooking simple meals at home; replacing restaurant or fast food dishes a few times a week is a great way to start healthier habits.
The first swap to make is breakfast. Here is a healthy–yet very tasty–alternative to an Au Bon Pain cinnamon apple oatmeal. The original oatmeal has 370 calories, 6 g of fat, and 19 g sugar, while the homemade version has only 290 calories, 9 g of fat, and 10 g sugar.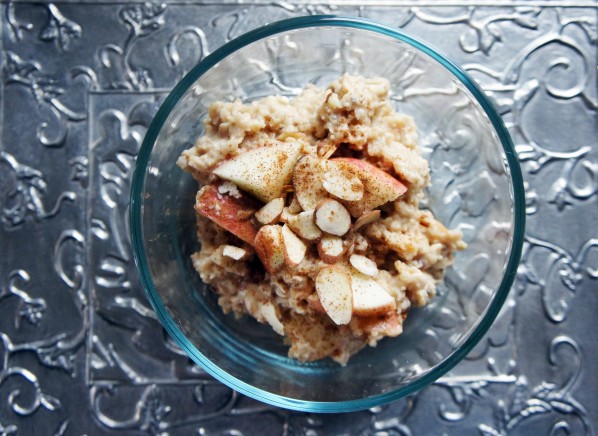 Apple Pie Oatmeal Parfait (adapted from Cook This, Not That)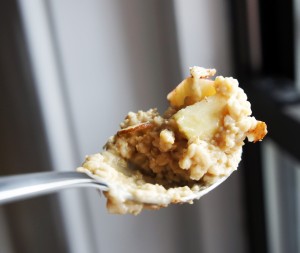 1 cup water
1/2 cup oats
1/4 apple, diced
1/2 tablespoon peanut butter
1 tablespoon slivered almonds
1 pinch cinnamon
1 pinch salt
In a medium saucepan, bring water to a boil. Turn heat down to low; add oatmeal and salt. Cook, stirring occasionally, about 5 minutes or until oats are tender and most water is absorbed.
Add diced apple, peanut butter, almonds, salt, and cinnamon. Stir to incorporate.
Click here if you are looking for a lunch swap.
This series of blog posts was inspired by David Zinczenko and Matt Goulding's Cook This, Not That.