January isn't only the start of a new year; it's also the beginning of Oscar season. The nominations are in, and during the run up to the awards ceremony on February 26, this mini-series will focus on a different category each week, with speculation as to who will take home the little gold man and who will be going home empty-handed. This week will look at Best Picture – let the speculation begin!
The Contenders: Hugo, The Artist, The Descendants, Extremely Loud & Incredibly Close, The Help, Moneyball, Midnight in Paris, The Tree of Life, War Horse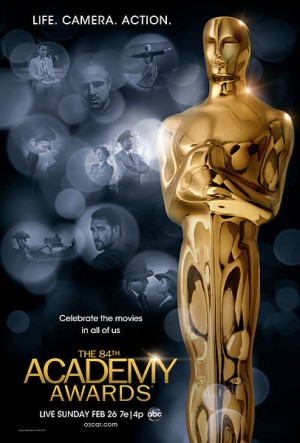 The Front Runner: It's a tough one this year, folks. Hugo leads the race with 11 nominations and The Artist is just behind with 10, so it's a very close call. However, if The Artist winning a Golden Globe for Best Motion Picture in Comedy or Musical is anything to go by, it might just be the one to edge out Hugo. The Artist is also a very refreshing movie – a modern-day silent film that's filmed in glorious black and white, without a touch of 3-D to be seen anywhere. While Hugo is a spectacular film that allowed Martin Scorsese to pay homage to the art of film, The Artist does the same thing by reinventing something from the past, modernizing it, and making it enjoyable to current audiences – and that is very impressive indeed.
Worth Mentioning: There are a lot of good films on the Best Picture list, and almost all of the other nominations are worth a view, if not a vote towards winning an Oscar. The Descendants was angsty, touching, and sometimes very funny, made all the better with its tropical island setting. War Horse was a sweeping and emotional epic about a horse that survives against all odds. As a period piece, The Help is a character-fueled drama that manages to both appall and entertain. Midnight in Paris is Woody Allen's utterly charming love letter to Paris. Moneyball made baseball more than just a sport, infusing it with sentiment and sharpness. Even with The Tree of Life, which managed to polarize critics at Cannes last year, one cannot deny the how beautifully shot the film was, despite its strange storyline and sometimes slow pacing. All in all, it is a good list that deftly encompasses some of the best films of 2011.
Probably Won't Win: Perhaps the only film that is odd in the list is Extremely Loud & Incredibly Close. Many considered it a long shot for getting nominated and, in some strange turn of events, it now stands a chance to win the Academy's highest honor. Standing with a paltry 48% on Rotten Tomatoes, most critics seem to agree that even though it has a story that is worth telling, it was poorly executed and schlocky. There is no surer bet than that this film will not be winning the Oscar this year.
The Verdict: The Artist will most likely be taking home the prize on Oscar night. Wouldn't it be cool to see a silent film win an Academy Award in the 21st century?