By Tara Jayakar and Nee-Sa Lossing
Ah, September. Summer has taken its final, rattling breath, and with that comes the end of free shows in the park, cheap concerts and festivals galore. But fear not! The end of summer means the start of touring season, and boy are there some amazing bands coming through Boston. As your new home (or, for returning students, your chosen hell), Boston has an incredible music scene both above and underground that is just waiting to embrace you. For those of us who can't swing the Foo Fighters at TD Garden, here are five tips that are sure to keep you entertained and musically educated throughout your time at BU, while still leaving you enough cash to get a meal beforehand: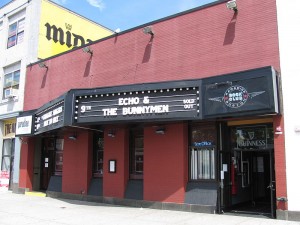 1) Seek Out Smaller Venues.
There are few things in life I enjoy more than the intimacy of a small venue.  All of these places are close enough that you can just go to the venue box office and not have to worry about pesky processing fees. The Paradise Rock Club, a recently-renovated, reasonably-priced venue is located right on Commonwealth Avenue in West Campus, and it regularly houses amazing bands. The Shins and The Radio Dept. are just two among the stellar lineup this fall, and the Paradise has the most gorgeous feel to it. With the lit-up marquee outside, the Paradise is hard to miss and great if you want to see anyone from OK Go to YACHT to Against Me! to Mastadon. Royale, Boston's locale to the Bowery New York, is similar, except the shows end around nine in order for the place to turn into a dance club. The Paradise is all old-school charm, where Royale is literally dripping with chandeliers.
If you're looking for something a little more dive-y, Brighton Music Hall and The Great Scott are just past West Campus in Allston, on the Harvard Ave stop on the T or 57 bus. BU alumna Liz Pelly hosts a show at the Great Scott every month through her booking collaboration, Pellytwins, that is regularly fantastic and under ten bucks.  WTBU, BU's student-run radio station also hosts shows there, so you're bound to run into people you've seen on campus but were too afraid to talk to. You're also bound to run into members from the band; both venues are small enough that the band members will be manning their own merch tables or chilling outside.
The Middle East in Cambridge boasts two stages—the Mideast Upstairs, which is behind the Middle East restaurant with food to die for, and the Mideast Downstairs, whose entrance is around the corner. TV on the Radio and Fleet Foxes both played at the Mideast before they played the House Of Blues and the Orpheum, and both shows were incredible. Tunde Adebimpe of TV on the Radio said of his first Boston experience, "I've never thought much about Boston before but after that night… I could've poured it over my pancakes it was so sweet."
T.T. The Bear's Place has this great habit of playing local bands while also featuring amazing, yet tragically unknown bands like Yuck. It's probably the only dive still left in Boston, and the ultimate venue destination for those of you who like to start sentences with "you've probably never heard of them, but…"
There are also free (free!) shows right in your own GSU basement. Last year, BU Central brought in The Hood Internet, The Antlers, and Free Energy. You can usually find out when bands are playing from the giant chalkboard wall in the hallway outside BU Central, and the posters in the stairwell. The new sound system is sick, and the shows are even better.
2) Check Publications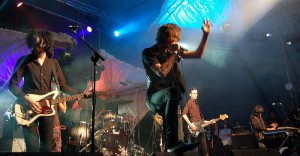 The best way to find out about what's going on in this city (outside of The Quad, of course), is to check publications. The Boston Phoenix has this great section called Free Stuff where you can find a ton of free events going on around Boston every week. The Boston Counter Cultural Compass is a leaflet/website that comes out every month detailing when and where certain house shows in and around Boston are happening, and how much they are. Both of these can usually be found in most of the university buildings, Espresso Royale, and the WTBU studio. Boston is also home to some amazing music blogs; my favorite is Ryan's Smashing Life, but you can also check Playground Boston and Bradley's Almanac. The Daily Free Press and the WTBU website are also pretty good at keeping their readers informed, as are individual WTBU show blogs, like Warp Radio and Left of the Dial. Venue sites also post who's playing well in advance, and often have a link to ticket sales—but also be sure to check back for mid-semester adds to venue calendars!
3) Sign Up For Mailing Lists
This is the one I really can't emphasize enough. These days, every band, venue, and radio station has a mailing list. Also sign up for the Live Nation, Ticketmaster and Bowery Boston newsletters and show alerts. Yes, your inbox will get out of control every now and then, but it's completely worth it. Radiohead gave their subscribers free mp3s of their Record Store Day release last year, OK Go emails are always hilarious and Amanda Palmer has a knack for just showing up for a ninja show somewhere around Boston. If you sign up for the mailing lists, you're guaranteed to be in-the-know about when your bands are playing, and most likely to get tickets early or at discounted prices.  Another tip: stay on top of your Twitter feed! Bands and venues always release exclusive info via the micro-blogging website, not to mention exclusive pre-sale passwords and ticket giveaways.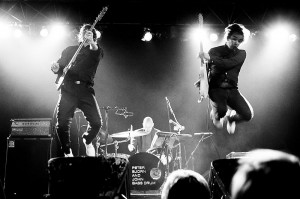 4) Get Involved
You've all heard it a thousand times, but I'm going to say it again: BU has so much to offer you. As you will find out soon enough, this campus kind of sucks at making information well-known. By joining a community, you'll be connected with almost everything this place has to offer. WTBU often has amazing ticket giveaways for listeners, and if you're on staff you're instantly plugged in to all kinds of new music that you otherwise wouldn't have been exposed to. WTBU's flagship rotation show Left Of The Dial regularly spins local bands who play around town, while the rest of the seventy-show lineup is sure to satisfy whatever your musical taste desires. There are also tons of music-based student clubs, from industry-focused groups to DJ consortiums.  Sometimes these clubs even put on lecture and panel discussion sessions, so be on the look out for flyers around campus and on the BU event calendar!
5) Get Out There!
Here is our hand-picked guide to our must-see shows happening around town this fall:
9/6/11 – Aloe Blacc – Brighton Music Hall
9/7/11 – Peter, Bjorn and John – House of Blues
9/8/11 – Dirt Nasty – Great Scott
9/9/11 – Flying Lotus – Royale Boston
9/12/11 – Fruit Bats – Middle East Downstairs
9/15/11 – Nekromantix – Great Scott
9/19/11 – The Vivian Girls – Great Scott
9/22/11 –Yuck – TT the Bear's Place
9/24/11 – The Shins – Paradise Rock Club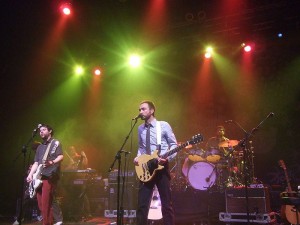 October
10/3/11 – The Horrors – Brighton Music Hall
10/3/11 – James Blake with Chairlift – Paradise Rock Club
10/4/11 – The Psychedelic Furs – House of Blues
10/5/11 – Explosions in the Sky with The Antlers– The Orpheum Theatre
10/6/11 – EOTO – Royale Boston
10/7/11 – Ladytron – Paradise Rock Club
10/9/11 – Mickey Avalon – Middle East Downstairs
10/10/11 – Rjd2 – Paradise Rock Club
10/12/11 – Screaming Females – Middle East Upstairs
10/20/11 – The Damned + Legendary Shack Shakers – Middle East Downstairs
10/21/11 – Smashing Pumpkins – The Orpheum Theater
10/23/11 – CSS – Paradise Rock Club
10/27/11 – New Found Glory – House of Blues
10/28/11 – We Were Promised Jetpacks – Paradise Rock Club
November
11/2/11 – SBTRKT – Royale Boston
11/19/11 – The Kooks – House of Blues
11/19/11 – The Radio Dept. – Paradise Rock Club
Don't forget to check the venue websites for more great shows. Just because they're not featured in this article, doesn't mean they're not awesome.
Now, a word of caution: be brave, be open, but please be safe. The Boston Underground is an amazing thing, but it requires effort and common sense (don't venture to Central Square alone at 3 a.m. on a Saturday night.) Happy music hunting!