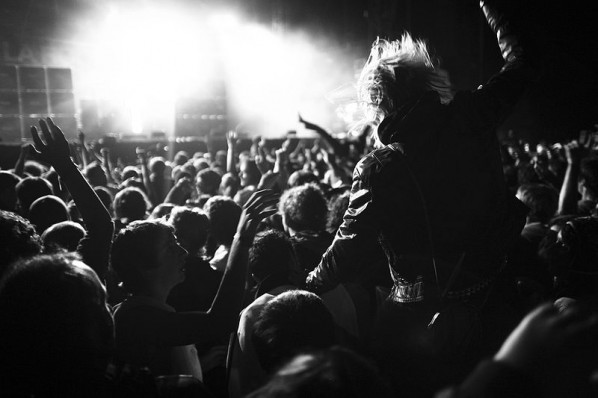 As with upcoming record releases, a new semester brings four fresh, action-packed months of concert-going to look forward to. For those who love the arena experience and those who find a packed, sweaty venue is more their scene, Boston has something to offer. Here are my top concert picks for Spring 2012–this is only a tiny taste of the hundreds of acts coming through the city this spring, so get out there and discover the live music Boston has to offer.
2/9/12 – EOTO – House of Blues
The electronic duo puts on a truly unique show–all their live material is completely improvised! They even offer most recordings from their concerts for download, so fans can hear for themselves that their claim is true.
2/10/12 – Die Antwoord – Paradise Rock Club
The rave-rappers just released their highly-anticipated sophomore album, Ten$Ion–and those who thought their 2009 debut, $O$, was the weirdest musical endeavor imaginable are wrong. Ten$ion brings the crazy to a new level (in the best way possible) and is sure to translate into a wild live show.
2/21/12 –  Crocodiles – Brighton Music Hall
3/6/12 – Kaiser Chiefs – House of Blues
3/7/12 – The Black Keys – TD Garden
The Black Keys hit it big in 2011, and are embarking on their first-ever arena headlining tour to kick off 2012. Their December release, El Camino, showed off a new glam-rock influence–a twist on their signature bluesy rock that's sure to fill TD Garden to the brim.
3/9/12 – Anti-Flag – Brighton Music Hall
3/19/12 – Justice – House of Blues
Even those who "have never heard of Justice" have probably heard of them because of their immense influence on the rest of electronic music. The French duo made their name with hits like "D.A.N.C.E." and "We Are Your Friends," and are now touring to promote their latest album, Audio, Video, Disco. As an electronic music lover, seeing Justice live has been on my bucket list for years.
3/21/12 – Odd Future – House of Blues
3/26/12 – Band of Skulls – Paradise Rock Club
3/27/12 – Kasbian – House of Blues
4/3/12 – Nero – House of Blues
4/4/12 – SBTRKT – Paradise Rock Club
4/11/12 – The Horrors – Paradise Rock Club
4/18/12 – 4/19/12– Bassnectar – House of Blues
4/29/12 – Yann Tiersen – Royale
For those who don't recognize him by name, Yann Tiersen is the genius behind the soundtrack of every hipster's favorite foreign flick, Amélie. The French-born musician uses piano, violin and accordion to craft his distinctive, yet experimental sound. His low-key vibe is perfect for a mellow night out to de-stress before going into finals in May!
5/9/12 – M83 – House of Blues
5/10/12 – Rusko – House of Blues
5/20/12 – Rancid – House of Blues