Summer might be over, but that doesn't mean Boston's social life ends alongside the long days and warm nights. On the contrary- Boston is a city that comes alive and thrives with the influx of college students in the fall.
September is, incidentally, when Boston University pulls out the stops with its best events. Perhaps the whirlwind of fun and activity is crafted by the administration to lull the students into a false sense of security before the first round of midterms hits, but there is plenty of fun to be had on and around campus this September.
In the past, BU Central – the small venue in the basement of the GSU -has hosted some great acts, including indie god Ted Leo and mashup artists like Super Mash Bros, Girl Talk and The White Panda. This year, they bring indie back to Boston with a concert by Young the Giant, a rock group who rocketed to mainstream fame with their performance at the VMAs in August. They'll arrive on campus September 8, but the number planning to attend in the Facebook group exceeds BU Central's small capacity. Space will be limited, and the line is sure to be down the block.
The Drive-in movie on the ninth is a tradition held most dear by students of all ages at BU. For Freshman, it's their first floor-bonding experience; for upperclassmen, it's a great way to go out and socialize with everyone they've missed during the summer months. On a good day, we all stream up to Nickerson field with blankets and food and watch a double feature on the big screen. This year's picks are Bridesmaids and The Hangover Part II.
For those less partial to music and more partial to displaying their encyclopedic knowledge of everything from Star Trek to fine cheeses, BU Central is hosting a back-to-school Trivia Party on September 10; meanwhile, in Metcalf Hall, the Student Activities Office hosts Frank Santos Jr, the R-rated hypnotist, who will be replacing his recently deceased father.
However, every year, BU Dining Services potentially outshines all other groups and institutions on campus with the biggest food-related event of the year. On September 15, all dining halls on campus provide the students with "a real New England Lobster dinner with all the fixins." Each student gets a voucher for one lobster, and all the bread, potatoes and corn he or she can eat.
Despite the number of activities going on on campus, it's important to step outside the boundaries of Kenmore and Babcock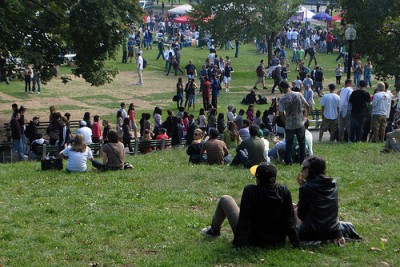 Street. What better way to step out of campus–and your comfort zone–than with the annual Boston Freedom Rally? This event, taking place on the Boston Common on September 17, is a rally for marijuana supporters everywhere, to bring about the end of prohibition in Massachusetts. Predictably, it is by and large teenagers and young people lighting up, but for those genuinely interested in the activism there are plenty of great speeches by doctors and politicians as well.
If all this talk of pot-smoking and politics sounds too grown up, Somerville's Fluff Festival will bring out the kid in you. This annual festival in Union Square celebrates America's most delicious marshmallow-based paste. It features music, food, and bizarre yet wonderful rituals like the Fluff Pharaoh contest. The event, taking place this year on September 24, is always delicious, fun, and most definitely worth the bus ride to Somerville.
But the top banana of collegiate events would have to be Collegefest. If college student events were beers, Collegefest would be Keystone Lite. This annual Hynes Convention Center extravaganza features vendors, music, and tons and tons of swag. Bring patience for the crush of people that will be around you, and a duffel bag for the keychains, t-shirts and cans of energy drink you will score. This orgy of pop and consumerism takes place on October 1 and 2.
For the rest of the semester, the Quad will be reviewing and previewing cool events on and around campus, but if you want to know what is going on before it happens, you can check the listings on our ever-updating calendar.