South by Southwest has taken over Texas! Well, at least its capital, Austin. Yesterday, both the Interactive and Film Expos opened up with panels, mingling, and big premieres. Two of the biggest ones, Source Code and blacktino took place at the historic Paramount Theater, just blocks away from Texas' capital building. Below are my assessments of the first film that night. For more information on all my other coverage of the festival, please visit our SXSW page.
Source Code:
So I don't know how to put this nicely, but I just wasn't thrilled by Source Code. It felt more like watching the latest "plug-in and play" movies like The Matrix or Inception. We've seen this set up before, and I didn't believe director Duncan Jones brought much more to the mix.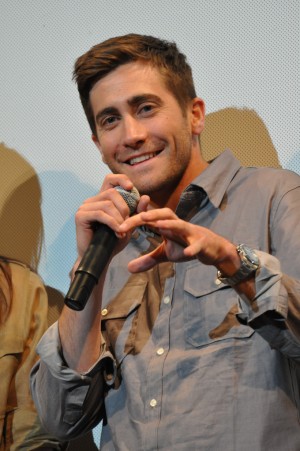 The movie follows soldier Colter Stevens, played by Jake Gyllenhaal, who relives the last eight minutes of memories of a terrorist's victim in order to find the criminal mastermind. Yes, terrorism, that wonderful battering ram of fear that has become the go-to plot device for Hollywood in almost every single action film. Even offensive racial profiling is treated as a sort of joke in a few portions of the story. Fueling this hunt for terrorists is none other than our own military. The story makes it difficult to explain the movie without essentially spoiling it, which is unfortunate. You must watch on in order to make sense, which forces the audience to stay in their seats.
Source Code needs more writing. The plot is well-worn as of late, and this incarnation provides very little that is new. A bit more forceful emotionally, Source Code accidentally makes the audience acknowledge its artificiality. While the moral dilemmas are relatable, other emotionally charged scenes come across as insincere. But most viewers watching will believe the unbelievable, because the performances did live up to the billing.
To be fair, it was wonderfully shot, boasted an incredible cast, and impeccable editing.Vera Farmiga acts opposite from Gyllenhaal and serves as the perfect moral compass to which the audience is suppose to pin their own emotions about the events onto. The energy is transferred from actor to actors in the close proximity and with speed. It becomes a good match of professional talent to incite the drama to come. The interplay was present even with the supporting actors behind them. These performances are what would draw people in and enjoy this movie, especially if they came to see Gyllenhaal post-Prince of Persia.
Also, I'm not sure what the Paramount Theater's issue is with sound, but there were times I could feel my brain rattle along the train tracks of the movie. They shouldn't have to hand out ear plugs for movies.
It took Chris Nolan 10 years to make Inception. And Source Code could have used a bit more time to develop itself. With an inexplicable ending never fully tying together closure, the film looks like the creators were just getting a hold of a skeletal idea.: C-