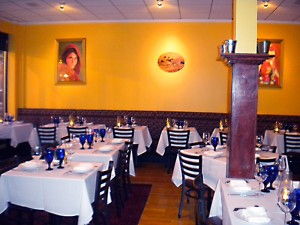 When my friend told me we would be going to an Afghani restaurant for her birthday, I really didn't know what to expect.  However, I was curious and gladly went along.
Ariana, the Afghani eatery in question, is nestled among a strip of ethnic restaurants on Brighton Ave in Allston. The warm, yellow walls and smiling employees make you feel welcome as soon as you walk in. With lots of chicken, lamb, beef and vegetables on the menu, I was reminded of Indian and Turkish cuisines. Before ordering we were given the Afghani version of naan, a type of flatbread, along with three dipping sauces: a cooling yogurt sauce, a red sauce that takes you from sweet to hot and spicy, and my favorite, a green cilantro sauce that was refreshing with a kick. I would later find out from the owner of Ariana that the Afghani naan preparation differs from the Indian version, which is more complex. This results in a naan that is a bit less doughy than Indian naan, but still delicious.
Our table started out with an order of mantu, home made pastry shells stuffed with onions and beef served with yogurt, carrots, yellow split peas and beef sauce. For a group of six, I recommend ordering the entrée size of the mantu as your appetizer, because you won't want to share. Our dinner continued with entrees such as the kofta challow, Afghan seasoned beef meatballs that may make you rethink your Italian grandmother's famous meatballs. The tikka kabob was my favorite. The star of the dish was the beef prime rib that is marinated in a puree of onions, sun dried baby grapes and garlic and then grilled to perfection. The outside was slightly charred and crispy while the inside was still medium rare and tender enough to melt in your mouth.
The kabob was accompanied by pallow rice, grilled vegetables and lentils. To be blunt, I have never in my life enjoyed lentils until this meal. Not only did I like them, I practically licked the plate clean and declared the tikka kabob the best meal I've had in Boston. Everything on the plate was perfect. Looking around the table towards the end of dinner, everyone had slowed down. Even though we were full, we didn't want dinner to end.
I returned to Ariana the next week with the hope of meeting the owner, the chef or a manager. I was surprised to learn that not only did the same man hold all three positions; he was also busy washing dishes when I arrived. Najeeb came out with a huge, warm smile on his face to welcome me. I learned that he was born and mostly raised in Afghanistan. His culinary skills began to build at a young age as his family owned a bakery in Afghanistan and then moved to the United Kingdom when Najeeb was 12. There, they owned a small fast food restaurant. Najeeb continued to learn how to cook traditional Afghani food in the restaurant and at home.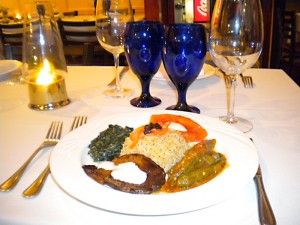 Najeeb dreamed of coming to America to open his own restaurant, because he knew he could continue to grow as a cook. With more room for creativity and a greater abundance of fresh ingredients, he would be able to bring his food to a new, higher level. His dream came true in June 2010, when he opened Ariana Restaurant with the help of his wife. Now he has three people to help him in the back of the restaurant with prepping, cooking and cleaning, and three people to help run the front of the restaurant. The most common thread amongst the dishes Ariana offers is the use of simple, quality ingredients: fresh garlic, onions and tomatoes and good ol' salt and pepper. Najeeb's favorite dish on the menu is the Vegetarian Special. My taste buds, stomach and I were very happy that Najeeb highlighted the dish for me to try. Surrounding a large portion of pallow rice was sweet and silky baked pumpkin, tender pan-fried eggplant, sautéed spinach and okra sautéed with garlic and tomatoes. Najeeb also insisted I take home a heaping amount of naan fresh from the oven.
I have been telling every person who will listen that they need to visit Ariana at least once before they graduate. Gather your friends, share this great experience, and don't be surprised if you see me in the corner surrounded with more food than I can handle.
Ariana Restaurant is located at 129 Brighton Avenue, in Allston, MA. They can be reached at 617-208-8072. Ariana is open for dinner from 5 pm to 10 pm Sunday through Thursday and 5 pm to 11 pm on Friday and Saturday. Catering and take out is also available.