By Monica Castillo and Matt Hoffman
It's the most wonderful time of year for the greeting card industry and crappy romantic comedies. Who am I kidding? I am such a hopeless romantic, I may just watch a John Cusack or Tom Hanks movie so I can feel like Hollywood sent me a valentine card instead.
However, I've seen most of those movies, and perhaps you have too. As cute as those films are, how about a story about love and passion you haven't seen before? You know, not the flowers and chocolates but a mix tape made just for you or a handwritten love letter? The moments that make you go "awww…" and induce smiles bigger than Meg Ryan's, days after you've lived them.
Consider this blog of romantic movies "you may have not seen yet" as my valentine gift to you.
I made my list to exclude obvious choices (spare me "Casablanca," just this once) and to leave out the outright break up movie like "(500) Days of Summer" because I'm all about the love and passion. At least, in this blog, I am trying to be.  I will warn you, not all of these movies end happily, just like many relationships do not. But I hope with time and a bit of chocolate, you can remember the past fondly and cherish the memories of what was. Yes, I'm still talking about the movies; I can get very involved when the story is good. Also, I am including a "pick up" line with my selection as a way to list one of my favorite lines from that movie.
Enjoy the chemistry, treasure the kisses, and embrace the warm feelings-it's all about love, actually.
P.S. I love you, so remember: a pint of Ben and Jerry's with movie butter popcorn makes the perfect snack for your date with a movie.
XOXO-Monica
Monica's Picks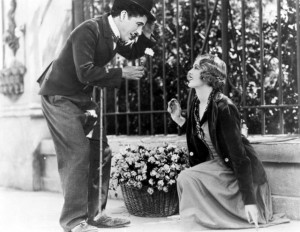 "City Lights"
Pick Up Line: "Tomorrow the birds will sing."
It's quite possibly the most perfect romantic comedy, and there's not a single word spoken. Since this is a silent film, all emotions and sentiments have to be communicated in actions. However, you are never lost in the translation as Chaplin is a master of his craft and communicates each hint of emotion subtly to his audience. He adores the blind girl who sells flowers on the street corner, so much so that he sacrifices to raise funds for her operation. Unfortunately, due to a comic misunderstanding, the girl mistakes the tramp for a millionaire. Can the tramp win the heart of the girl who knows not what he did for her? The ending of "City Lights" is one of the most moving scenes ever filmed. Hope is wonderful thing to have yet is a very hard concept to capture in movies without seeming insincere. Yet in my experience, I find that hope is one of the more beautiful ideas to believe in. It may just be all you have left. How Chaplin is able to capture this in a ten second shot, I will never know but will always cherish.
"Only You"
Pick Up Line: "I can't believe you're gonna let a few little letters of the alphabet keep us apart. It is a detail! Just – look, just call me Damon, okay? It'll be like a nickname."
Robert Downey Jr. plays the romantic lead with Marissa Tomei as his love interest. Yes, "Iron Man" and the girl from "The Wrestler" have a history together, and it's wonderfully recorded in this sugary take on fate, love, and comedic irony. I love this movie for everything that's supposed to be wrong with chick flicks: beautiful Italian location, serendipitous meeting of star crossed lovers, and the cynical friend that adds her quips along the way. In the way that many romantic movies get their start, a prediction from a gypsy at a carnival sends Tomei's character on a last minute search for her true love-right before her wedding. It just so happens that the man she thinks is her love boards a plane for Italy. I'm sure you know where we're headed. I find this movie to be a chick flick that doesn't reduce its characters to awful stereotypes (I'm looking at you, "The Ugly Truth"). I prefer if my chick flicks didn't insult me or make me cry ("The Notebook"), but rather entertain me in a blissful get away fashion. This movie is great for the girl's night in and for possible vacation locations research.
"Manhattan"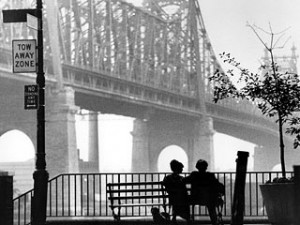 Pick Up Line: "Chapter One. He was as tough and romantic as the city he loved. Beneath his black-rimmed glasses was the coiled sexual power of a jungle cat. I love this. New York was his town, and it always would be…"
I can't lie- I am in love with Woody Allen's work. Possibly because he's the only filmmaker I have seen yet that is as proud of his neurosis as he is with New York. I admire how he takes apart the notion of love and the different kinds of love: what does love really mean anyway? He is a jazz-loving closet philosopher making movies. In "Manhattan," Allen's character is coming to grips with his messy divorce while maintaining a newly formed relationship with a high school girl. Add the wonderful Diane Keaton, his best friend's mistress and his new love interest to his mix of problems, and we have the staging of one of the best examples on the deconstruction of relationship structure outside of a sociology text book. Gershwin's "Rhapsody in Blue" and Gordon Willis' cinematography perfectly frame this picture and place it among Allen's greatest films.
"The French Lieutenant's Woman"
Pick Up Line: "Soon he no longer bothered to hide the nature of his intentions towards me. Nor could I pretend surprise. My innocence was false from the moment I chose to stay. I could tell you that he overpowered me, he drugged me. But it was not so… I gave myself to him."
This movie is all about the passion. Wonderful, consuming passion from Meryl Streep and Jeremy Irons, both in the scenes of the movie they are shooting and behind the scenes hiding a wild affair that could threaten their marriages. I picked this movie not only because of the concept of a love that transcends their roles, but for the furious passion each of them has for the other though it threatens to tear their lives a part. "It's Complicated" had nothing on this.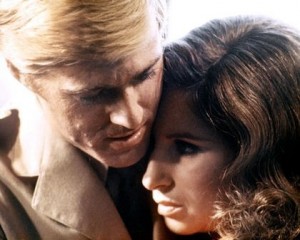 "The Way We Were"
Pick Up Line: "Wouldn't it be lovely if we were old? We'd have survived all this. Everything thing would be easy and uncomplicated, the way it was when we were young."
Barbra Streisand-haters need not watch this film-because she's that good in it. Robert Redford costars in the wonderful Sydney Pollack creation that begs to be given a second look. Look past the political ideology and find the passion. Look away from the flaws to find the beauty. Enemies that become friends that become lovers is a plotline that a lot of movies wish they could pull off. It takes good direction and well-thought-out characters that pull this piece through over two decades' worth of the good times and bad. It helps that Barbra can sing a beautiful title song to get you in the mood for this movie.
"It Happened One Night"
Pick Up Line: "You know, I saw an island in the Pacific once. I've never been able to forget it. That's where I'd like to take her. She'd have to be the sort of a girl who'd… well, who'd jump in the surf with me and love it as much as I did. You know, nights when you and the moon and the water all become one. You feel you're part of something big and marvelous. That's the only place to live… where the stars are so close over your head you feel you could reach up and stir them around. Certainly, I've been thinking about it. Boy, if I could ever find a girl who was hungry for those things…"
Clark Gable à la "Gone with the Wind"+ Claudette Colbert +Frank Capra=classic screwball comedy gold. The runaway bride plot drives a lot of the hitchhiking comedy, but as with all of Capra's films, there's a great big heart there too. The rich heiress gets away from her father's control to marry the man of her dreams, an aviator, only to be hounded by paparazzi and reward seekers. Who better to help her on her mission than a journalist on his way to the unemployment office? Gable's cocky attitude is properly offset by Colbert's opinion of herself. However, with every holier than thou statement, Capra makes sure to bring them both back down to earth. He's confident as hell but madly alone in this world. She thinks she can buy whatever she needs but finds out money can't buy true love. True depression era drama and moralistic scolding can't hinder the couple's trip to the altar. The question is: which man does she take with her?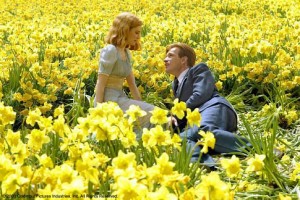 "Big Fish"
Pick Up Line: "They say when you meet the love of your life, time stops, and that's true. What they don't tell you is that when it starts again, it moves extra fast to catch up."
Imagine mixing Tim Burton's style with a love story and skip on the stop motion animation. No, it is not his normal stage of dark places and madness, but I think he manages well, having Ewan McGregor tell the tale of a man and the stories he tells about his life. Crazy circumstances and unlikely characters in these stories cause his son, Billy Crudrup, to doubt his father is telling the truth and sets off to find reality. I feel that this movie is just as focused on the love of father and son as it is about the romantic story of Ewan's character falling head over heels with love at first sight. I love the generational aspect of the movie. In a way, it shows that love has always been a part of our lives and will always be a part of our lives. Add the coming of age tale of a boy learning to love and to face a world different than the one he grew up in, and there's the making of a movie that is as full of depth as it is with sentiment.
_______________________________________________________________________________________________________
Matt's Picks
Look, I'm a man, and as we all know, men don't go for that lovey-dovey crap.  If I'm going to enjoy a movie, it'll have to have big-ass explosions, aliens and some sort of bikini car wash scene.  But because this is Valentine's Day, and because I know that the chicks dig a sensitive guy, here are my personal favorite movie romances.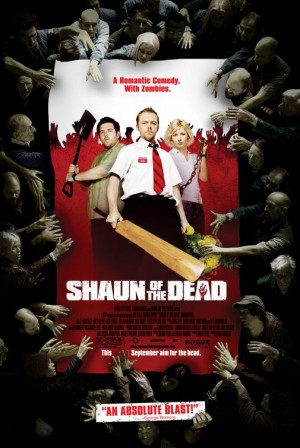 "Shaun of the Dead"
British slacker Shaun (Simon Pegg) tries to win back his ex-girlfriend, Liz (Kate Ashfield), by protecting her during a zombie apocalypse.  It's not a great plan, but the horror-movie context provides some nice metaphors for the characters' relationship.  Plus, if all romantic comedies involved this much bloody mayhem, the term "chick flick" would become obsolete.
"Knocked Up"
American slacker Ben (Seth Rogen) accidentally impregnates ambitious TV anchor Alison (Katherine Heigl) during a one-night stand, and their unborn child ends up forging a bond between them.  I guess it's arguable as to whether or not this is really a romance, since the exact nature of Ben and Alison's relationship is kind of ambiguous.  Nevertheless, this is probably the most touching—and, in my opinion, the funniest—of writer/director/producer Judd Apatow's good-hearted sex comedies.
"Eternal Sunshine of the Spotless Mind"
Shy and awkward Joel (Jim Carrey) relives his relationship with free-spirited Clementine (Kate Winslet) as he's having his memories of her erased by a company called Lacuna, Inc.  Few screenwriters besides Charlie Kaufman could come up with such an appropriately strange premise, and few films besides this one capture the uncertainty of love so well.
"Annie Hall"
Monica took Woody Allen's other masterpiece, so I'll go with this one.  Neurotic comedian Alvy Singer (Allen) explains first-person his various failed relationships, most importantly the one he shared with the woman of the title (Diane Keaton).  Man, all these male leads are such losers; I wonder what's up with that.  Anyway, this film's story started out as a murder mystery and ended up getting completely rearranged in the editing room, making it the greatest accident since Robby Benson got peanut butter on Donny Most's chocolate.  I'm sorry.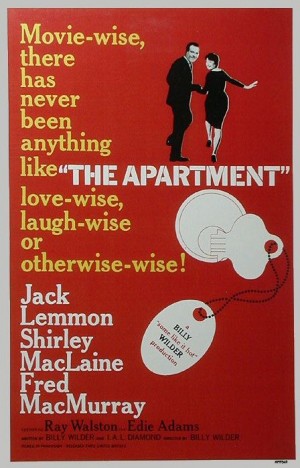 "The Apartment"
Mild-mannered company man Baxter (Jack Lemmon) falls for reserved secretary Fran (Shirley MacLaine), unaware that she's his boss' mistress.  I know an old black-and-white comedy from the early '60s may not sound too entertaining, but trust me, "The Apartment" is worth checking out.  It's so good that I almost want to see it remade, even though I know that that is a bad, bad idea.
"All the Real Girls"
Working-class womanizer Paul (Paul Schneider) finds himself in his first serious relationship when his friend's thoughtful sister Noel (Zooey Deschanel) arrives in town.  Writer/director David Gordon Green has worked on projects as esoteric as "George Washington" and as crass as "Eastbound & Down," but here he crafts a love story that is astonishingly genuine and down-to-earth.
"Once"
Two struggling Dublin musicians (Glen Hansard and Markéta Irglová) gradually get to know each other through their art.  Low-budget, low-key and excellently executed.  Hansard and Irglová wrote the soundtrack themselves, and their song "Falling Slowly" totally deserved its Best Original Song Oscar.
In fact, the only way "Once" could've been better would be if it involved some explosions and aliens.  Maybe those will be in the remake.