"The time has come!," the Walrus said, "To talk of many things!  Of shoes and ships and sealing wax, and…," well, real estate.  With deposits for on campus housing coming up right around the corner, students have reached a precipice of future living commitments.  Live on campus or off.  Apartment or suite.  Room with old friends or new.  But for those of you who have decided to live off campus, there befalls a whole new list of unknowns about how to find said housing and what to expect during the process.
Here's where I come in.  I recently battled the Boston Realty Beast when my boyfriend implored me to find him an apartment for his return from an internship abroad, and came out victorious with a one-bedroom apartment a block from Fenway Park with a college-friendly rent.  Having fought the monster and won, many in my position might be inclined the shelter such experiential wisdom in favor of continuing the cruel cycle of realty initiation.  But lucky for you, my nature is not of the sadist kind.  Instead, I have chosen to reveal to you, young grasshopper, the tricks of the apartment trade, in hopes that others may be spared the suffering that I once endured.  May this advice equip you with what I wished I had known at the start of my journey.  Good luck to you.
1. Know what you want. Before meeting with a realtor, be sure you know exactly what you must have in an apartment.  First and foremost, determine your budget with and without the realtor's fee.  Decide what areas you would like to live in.  Know how long you intend to live in said location.  Determine when you need to move in.  After deciding on your apartment musts, also consider what you would prefer to have in an apartment, including laundry facility, storage space, dishwasher, and/or proximity to campus, T stations, and grocery stores.  The more decided you are with what you can and cannot live with, the happier you'll be with the resulting apartment.
2. Do not trust online advertisements. Unlike apartment seekers in outside suburbs such as Somerville, those looking for an apartment in the immediate Boston area cannot rely on online ads.  In such a high-demand market, online ads are strictly used to sucker potential buyers into real estate agencies.  Once an agent gets you through the door, it is no coincidence that the spacious one bedroom for under $900 you saw listed online is mysteriously unavailable for viewing, but the miniscule studio for $3,000 has the lease ready to go.  If the deal is too good to be true, it probably isn't true.  Do not waste your time on Craigslist or realty websites.
3. Use a realtor. Trying to find available apartments on your own in Boston is like attempting to steal a waffle iron from the dining hall unnoticed: perfectly impossible.  Save yourself the heartache and work with a realtor.
3.5. Shop for a realtor. Do not commit to the first used car salesman grin you come across.  The difference between a respectable realtor and a phony is delivery.  The realtor should establish a clear sense of your apartment requirements over the phone or by e-mail, and therefore should have apartments available to show you at the very first meeting.  If the realtor tries to pressure you into signing any paperwork other than a basic agreement stating that any apartment you view through that particular agency must be bought through said agency, you have every right to walk out.  Furthermore, if a realtor insists on showing you apartments that do not meet your basic requirements, be it succeeding your price range or lacking running water, they are clearly not taking you seriously as a buyer and should be ditched.  After experimenting with four separate agencies, I found The Charles Realty.  Their professional agents and amazing finds were well worth the wait and have earned my highest recommendation.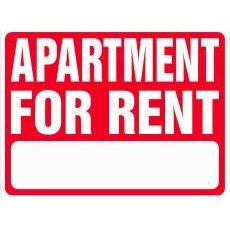 4. Compromise, don't settle. Hate to break it to you, but that dream apartment a block away from campus with the modest rent and the dishwasher does not exist.  You will have to make some sacrifices when renting an apartment, perhaps foregoing laundry facilities for kitchen size or storage space for proximity.  But on the non-negotiable areas of your hunt, primarily price, do not budge.  It is possible to find reasonably priced, half-fee or no-fee apartments; don't give up.
5. If you see what you like, go for it. Once you find an apartment that meets your most basic requirements and even covers some of your preferences, jump on it.  Do not wait a week to think about the apartment.  Give yourself a day, two at most, and make an offer or risk loosing the apartment.  Although suitable apartments are available, they are not growing on trees.
Armed with this knowledge, may your apartment search be far less painful, but hopefully just as successful, as my experience.  Happy hunting.