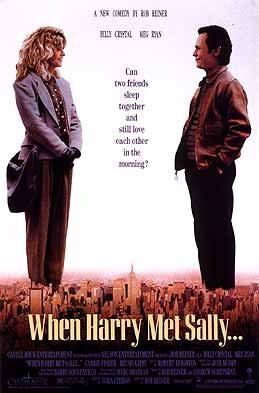 I love the term "from the vaults." It's that lingo Disney uses to threaten you to buy their super-limited edition platinum collection box set, but more often used as a comforting term for film archivists as a stamp that the movie is saved for eternity. It's the reason why the Library of Congress keeps films as part of their library system. The reason why the Museum of Modern Art has an entire off-site, private archive of film prints of original negatives. Signed and sealed for good. Unless you want to see them of course. In which case, a librarian-esque curator would lead you into the confides of the vaults, directing you to the prints you're looking for. Though much of my list is available on-demand any old time of day, most people have to be in a sort of mood to go looking through the depths of a vault or Netflix queue in order to find that oldie-but-goodie classic. Blame it on the lovey-dovey holiday or your most recent cold, but today, you're in the mood for some lovin' from your movie choice. Back again from last year's 14 unconventional romantic movies, I bring you 5 classic love stories freshly polished off from the vaults of my own movie library.
The girl-meets-boy: When Harry Met Sally
Well classic doesn't automatically mean old, it just usually helps. This story is as old as time: boy meets girl, girl doesn't like boy, boy and girl become friends, and whatever the twist on the story usually goes here at the end. But what's so damn endearing about this Billy Crystal-Meg Ryan rom-com is that these folks are flawed, but relatable. We can connect with their struggles about love, life, and what it all means. Hell, they may even remind us of friends we have now.  Beautifully shot like a New York City postcard, the unlikely lovers go through the ups and downs of city life all while keeping it friendly. No Strings Attached wishes it could be half as endearing as this gem. Oh, and this is totally a girl's night-in movie too, just in case you were searching for that perfect movie pick.
Valentine's Card: "I love that you get cold when it's 71 degrees out. I love that it takes you an hour and a half to order a sandwich. I love that you get a little crinkle above your nose when you're looking at me like I'm nuts. I love that after I spend the day with you, I can still smell your perfume on my clothes. And I love that you are the last person I want to talk to before I go to sleep at night. And it's not because I'm lonely, and it's not because it's New Year's Eve. I came here tonight because when you realize you want to spend the rest of your life with somebody, you want the rest of your life to start as soon as possible."
A workplace date: The Shop Around the Corner
At first glance, you might say no to this antique of a bygone era. Well, what if I told you this is actually from the '90s? The Tom Hanks and Meg Ryan vehicle You Got Mail is based on In the Good Old Summertime, starring Judy Garland and Van Johnson. But the real treat is the original, starring Jimmy Stewart and Margret Sullivan. And for extra credit, this version is directed by the master of double-entendre, Ernst Lubitsch. Yet another case of boy meets girl, girl hates boy, the story is adorable in part to its setting of an old Hungarian town. Although it features an absolutely unrealistic set, it's nonetheless entertaining as antiquated cigar boxes become the rage of the holiday season. Both boy and girl work as shop keepers who harbor nothing but contempt for each other. Whatever their differences on the counter top, outside of work, each corresponds to a pen pal that they soon fall in love with. I know you where this is going, but it's fun to play along.  The classic is usually a repertoire of the slew of Christmas movies on cable, but a good love story is always in season.
Valentine's Card: "Oh, my Dear Friend, my heart was trembling as I walked into the post office, and there you were, lying in Box 237. I took you out of your envelope and read you, read you right there."
A makeover movie-for grownups: Now, Voyager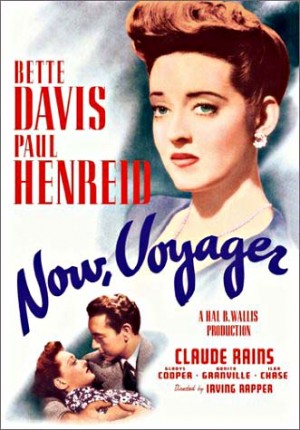 A wallflower case that only needs to lose her gaudy pair of eyeglasses to be a bombshell is exactly what you won't find in this movie. The incredible Bette Davis stars as a spinster under the tyranny of a dominating mom. A concerned family member helps get her to the man- I mean doctor she needs. Mrs. Davis turns from scary, sad, sourpuss into a stunning woman of the world, flirting and living life like never before. Not only is this a story of love, passion, and sexy ways to share cigarettes, but of independence and self-worth. May I mention that this is also set in Boston? Bette Davis is in Mugar Library for a reason; she's a true native. In this film, there's a kind of commentary over the way the upper echelons of polite society have strangled the humanity out of themselves. Also, I'd recommend this movie to any self-professed fashionista as the outfit Davis sports are possibly the most chic of the era.
Valentine Card: "Oh, Jerry, don't let's ask for the moon. We have the stars."
For that boy in boot camp: From Here to Eternity
Love, Actually didn't break new ground when it followed about 30 people and how they all dealt with love in different ways. There's a much simpler version of said romantic complications in the classic From Here to Eternity. Set in gorgeous Hawaii at the cusp of the Attack on Pearl Harbor, cadets officers, and their fellow lady friends play and compete for each others' affection and respect. A young Montgomery Clift shares top billing the very manly Burt Lancaster as cadet and officer, and these boys aren't even the guys who stole the show. That honor belongs to the Chairman of the Board himself, Mr. Frank Sinatra, as the sarcastic wiseguy of the squad and eventual Academy Award nominee for his role as Maggio. And hey, what's your '50s drama without racial/ethnic tension? Be warned there's a lot of offensive animosity between Sinatra and Ernest Borgnine's characters. And may I just add, that at 94-years-old, Ernest Borgnine is still acting and making TV appearances. I do recommend watching this with a careful eye, as although this is a love story of both compatriots and ladies, it's the rough nature of the army that first turned me off of this film for sometime. However, when the attention dwells on love, it is the stuff of movie legend. From Here to Eternity will have you dreaming of extended make-out sessions on the beach while the Pacific Ocean crashes over your busy bodies. This classic takes the term sex on the beach to new heights.
Valentine Card: "I never knew it could be like this! Nobody ever kissed me the way you do."
The musical: West Side Story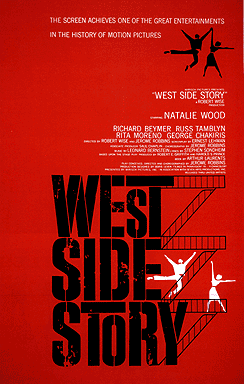 I could have picked so many musicals to fill this role (Hello, Dolly, Singin' in the Rain, Phantom of the Opera, etc.), but I wanted to go with a classic. Yes, a lot of the singers are dubbed and I think there's only one or two token Latinos in a gang of so-called "Puerto-Ricans." But this film still holds  its redeeming qualities and stands the test of time. First, there are the songs, which Broadway geeks will cherish, written by the all-powerful Stephen Sondheim. Second, there's the unforgettable choreography of Jerome Robbins, who forever changed the way dancers finger-snapped and brawled. Lastly, it's the Shakespearean tragedy of Tony and Maria, two star-crossed lovers stuck in the grips of a turf war on the West Side of New York City. Originally to be titled East Side Story and focus on the relationship of Catholic boy and a Jewish girl, West Side Story made its way through some of the toughest production woes to become a hit on the "Great White Way." With its popularity on stage, the show's creators decided to extend its reach outside of the theater-going public. They plucked the talents of Natalie Wood, Rita Moreno, and a group of dancers that Robbins would work until at least everyone in the cast had sustained an injury. The results on Oscar night? No fewer than ten Academy Awards. West Side Story may be far from perfect, but its fun keeps it golden after all these years.
Valentine Card: "Hold my hand and we are halfway there, hold my hand and I'll take you there. Somehow! Someday! Some…"
If you liked this article, please support the Quad's quest to send me to the South by Southwest Film Festival!