In 2013, 75 painted pianos appeared on the streets throughout Boston, filling the air with music. This year, the music and painted pianos will return Sept. 23 through Oct. 10.
Sixty pianos will be spread throughout the city as part of the Street Pianos Boston project by Celebrity Series of Boston. Pianos will be everywhere from Fenway Park, to the Boston Public Library, to the Old North Church, to outside our very own George Sherman Union.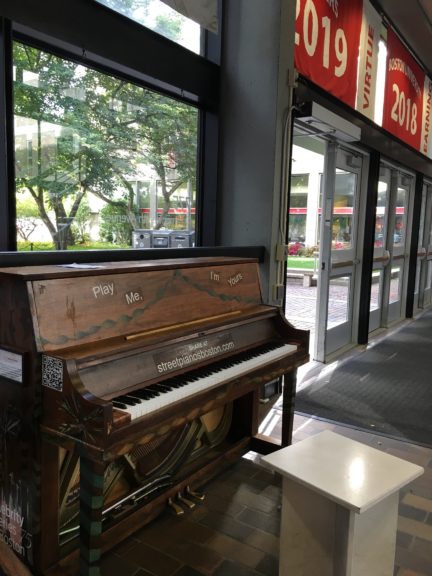 Boston University students are used to hearing music between classes, thanks to the piano in the GSU link that is a gift from the 2013 Street Piano project.  One player of the GSU piano, BU foreign exchange student Jhan Litov, played piano as a kid and said he started playing the piano in the GSU simply because it was there.
"If I see [a piano], I will play it," he said.
The pianos of Street Pianos Boston are public in a different sense – they are outdoors and along on the streets of Boston. Because the pianos are outside and open to the public during potentially inclement weather, each piano has a local partner who is a "piano buddy," which means they cover the piano in rain and snow, report any damages, and lock the keyboard at night during the two weeks of the installation. Some of the partners and hosts include The Freedom Trail, The Fenway Alliance, Allston Village Main Streets, and Dorchester YMCA.
Last time, BU hosted three pianos, the most prominent being the one near the sidewalk outside the GSU. Ty Furman, Managing Director of BU Arts Initiative, acts as one of the "buddies" for the pianos on BU's campus.
It was an easy decision to host the piano project again, Furman said, because they were so well-received on BU's campus before.
"I love the interactive nature of Street Pianos,"said Furman. "They are visually beautiful and invite participation and foster community."
Each piano is painted by a different local artist and features a simple invitation: "Play Me, I'm Yours."
The piano that will be outside the GSU was painted by Chelsea Rathbun, a BU graduate, and features numerous large red poppies sprouting from the bottom of it.
The pianos are currently being tuned up with the support of current students and recent graduates from the North Bennet Street School and will roll out to the streets for play Sept. 23.
A full list of all the locations and visual artists can be found at streetpianos.com. Follow the project on social media with #streetpianosboston.
Feature Image GSU piano by Chelsea Rathbun. | Photo provided.