It's fallen below 50 degrees and autumn is upon us; but, fall beverages like the Pumpkin Spice Latte aren't the only fall-themed sweet treats that deserve our attention. We'd like some donuts and cupcakes to go with our apple cider.
To help people make the most out of everyone's favorite season, myself and Quad photo editor Carolyn visited six different dessert shops in Boston to discover who sells the best fall-themed desserts. Here's what we uncovered. 
Note: Our scale is a 1-10 scale. 1 is terrible and 10 is divine.
 Kane's Donuts
90 Oliver Street, Boston, MA
Our first stop was Kane's Donuts, a tiny donut shop located in the South End near the Rose Kennedy Greenway. Since it was later in the day, they didn't have an extensive selection of donuts left for us. However, they did have a fall-themed donut: the Buttercrunch donut. Carolyn and I ordered one to split between us to conserve our appetite for future sugary desserts.  
Carolyn rated the Buttercrunch donut a 7/10 and was surprised she liked it because she usually doesn't like coconut. Although it was very messy, it was just the right amount of sugary.
I rated the Buttercrunch donut an 8/10. I agree that it was superbly messy—you wouldn't believe how many crumbs it produced—but the crunch was a nice touch. Crunchiness definitely set it apart from the other donuts that we tried.
Blackbird Donuts
492 Tremont St, Boston, MA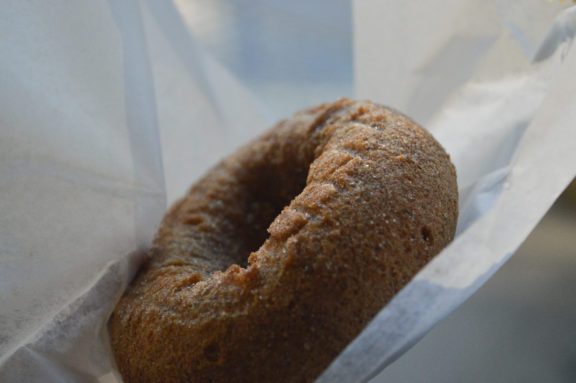 Our next donut stop was Blackbird Donuts, one of two Blackbird Donuts establishments in Boston. This one was located in Back Bay near a dentist's office (ironic). They had more fall-themed donuts available than Kane's Donuts did, which we appreciated. We decided to split one donut: the apple cider donut.
Carolyn and I felt very differently about this donut: I rated it a 9/10, while Carolyn rated it a 5/10. This donut was my ideal donut: it was spongy, not too sugary and tasted like a miniature cake. However, Carolyn thought it was too bready and dense and lacked flavor. When it comes to donuts, it's clear where our preferences lie.
Union Square Donuts
409 Harvard Street, Brookline, MA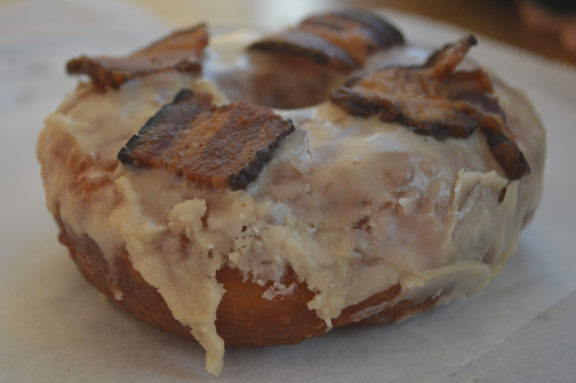 Our third and final donut stop was Union Square Donuts, a low-key donut shop located ten minutes from Coolidge Corner. Out of the three donut shops that we visited, Union Square Donuts had the best atmosphere: there were small tables where customers could eat their donuts, and one of the walls was decorated with sticky notes in praise of the shop.
 Out of the three donut shops that we visited, Union Square Donuts' menu offered the largest variety of fall-themed donuts. Carolyn and I went with the maple bacon donut. I rated it an 8/10: you wouldn't expect salty bacon on top of a sugary donut to taste good, but it was a creative mixture that tasted awesome. Carolyn rated it a 9/10. The bacon wasn't as crispy as she would've liked, but the donut was still flavorful.  
 Oakleaf Cakes
12 Westland Avenue, Boston, MA
Our first cupcake stop was Oakleaf Cakes, a cute little bakery located two minutes from the Symphony Hall T stop. The establishment was well decorated with dessert-themed paintings and sculptures—it definitely had the best ambiance of all the bakeries that we visited. Plus, the cashiers were kind and noted our enthusiasm for their cupcakes. I ordered the Orange Ya Glad Super Cupcake and Carolyn ordered the Honey Apple Super Cupcake.
I rated the Orange Ya Glad Super Cupcake a 7/10. The frosting was good, but there was way too much of it. Carolyn rated the Honey Apple Super Cupcake a 9/10. To her, it had flavor and spice and everything nice: it was fall in a cupcake. She noted that she usually doesn't like desserts without chocolate, but the Honey Apple Super Cupcake was an exception.
Party Favors
1356 Beacon St, Brookline, MA
Our second cupcake stop was Party Favors, possibly the most thorough dessert shop in Boston. Located a minute away from Coolidge Corner, they sell everything from full-fledged birthday cakes, to intricately frosted cookies, to both large and tiny cupcakes. They offered what felt like 50 different types of cupcakes, several of which were fall-themed, much to our delight. I ordered a tiny Pumpkin Spice Cupcake and Carolyn ordered a tiny Caramel Apple Cupcake.
Unfortunately, both of these cupcakes were a disappointment to us. Both the cake and the frosting had little to no flavor—they tasted cold and refrigerated. Carolyn said she's had better cupcakes from Party Favors, so maybe the shop was having an off day. Regardless, they sell several more fall-themed cupcakes (and many fall-themed desserts in general), so hopefully they're not all as mediocre.
Sweet
The Collection at Harvard Square – Brattle Street, Cambridge, MA
Our third and final cupcake stop was Sweet, located in Harvard Square just a minute away from the Harvard T stop. It was completely empty when we walked in. They had an array of small and regular sized cupcakes available, but seasonal flavors are only available in regular size. I went with the Pumpkin Cupcake and Carolyn went with the Apple Pie Cupcake.
Out of the three cupcake shops that we visited, Sweet sold the best cupcakes. I rated the Pumpkin Cupcake an 8/10: the amount of frosting was just right, the cake was perfectly spongey and it was as flavorful as a fall-themed cupcake could be. Carolyn rated the Apple Pie Cupcake a 10/10: it handled the amount of frosting better than Oakleaf Cakes did and the flavor was nicely varied.
Conclusion
Overall, Boston has multitude of great dessert places that sell an impressive variety of fall-themed desserts. But out of all the dessert shops that we visited, Union Square Donuts was best for donuts and Sweet was best for cupcakes. We highly recommend checking both of them out!