While walking down Commonwealth Avenue, we sometimes catch a glimpse of a pair of classic Air Jordan 1s from those air jordan 1 releases or a pair of sneakers with intricate patterns and vibrant colors. They may just seem like sneakers, but these sneakers have contributed to a whole culture.
Sneaker culture began when Michael Jordan wore his first signature shoe, the Air Jordan 1, in an NBA game. As Jordan's status as an elite athlete was cemented in the history books, the popularity of his shoes rose just as as fast. In no time, the sneaker transitioned from a necessity on the court to an iconic fashion symbol. As a result, different brands and designers hopped on to the sneaker train, hoping to replicate the success of the Air Jordans.
According to the National Shoe Retailers Association, the sneaker industry's annual revenue is $55 billion, with U.S. footwear spending reaching almost half of the annual revenue, at $20 billion. The U.S. Census Bureau reports that sneaker sales have increased more than 50 percent over the last decade, and the industry shows no signs of slowing down.
With how lucrative it is, it would be logical to assume that the money centers around the retail industry. Although the retail industry continues to grow, the collection and sale of rare, limited sneakers has created a $1 billion resale industry.
On sneaker release days, people passionate about sneakers will line up along the street at a Nike store and camp out,  in hopes of snagging a pair or two of the newly released shoes. Typically, these shoes are limited in stock, and those who don't wear the shoes will keep them in mint condition.
More often than not, the extremely popular shoes are only available until they are sold out; shoe brands like Nike and Adidas will only have a limited number available to be sold. With a limited stock, shoes that were sold at $200 can reach prices of $400 or more.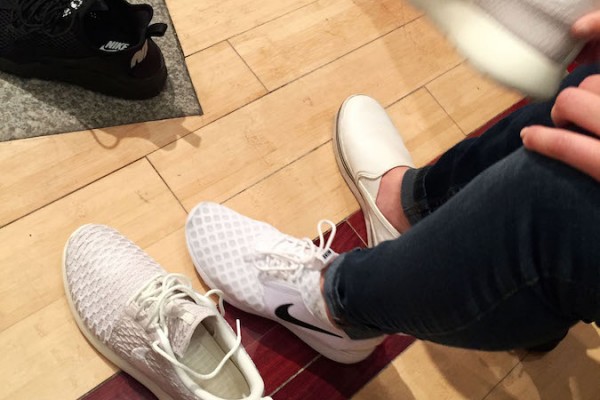 The growth of both the retail and the resale markets shows the immense popularity sneaker culture has gained throughout the nation. But as times change, trends and fashion change as well. At one point the culture was dominated by athletes, specifically Michael Jordan, but now the mediums that influence sneaker culture and the popular styles are changing.
Mediums of influence change the popular styles and designs of sneakers. For example, sports, music, fashion, art, and design are the most common mediums. In Los Angeles, the sneaker culture is influenced heavily by sports and hip-hop. Sports stars will typically have their own line of shoes, heavily catered to basketball fans and casual players. Hip-hop artists might also have their own line, but typically their day-to-day outfits end up influencing the popular trends at the time.
For Boston and the East Coast aesthetic in general, the mediums that influence sneaker culture here are vastly different from Los Angeles.
Oliver Mak, co-founder of Bodega, a sneaker and streetwear shop in Boston, stated that the influences of Boston sneaker culture come from mostly alternative and counterculture styles, but the traditional vectors that influence L.A. also apply, just to a lesser extent.  In a way, Boston's style represents a fusion of all of these mediums that translates into our version of the East Coast aesthetic.
"It's made up of different categories but it's not as adventurous, it's not as flamboyant. When you think of Boston vs Los Angeles, you think of Larry Bird versus Magic Johnson," Mak said.
Boston and its aesthetic is more professional and practical, whereas in L.A., the aesthetic is more centered on standing out and looking "extravagant."
Mak's analogy when describing the aesthetic of the two cities makes a lot of sense. Just look at the iconic players from each city. Larry Bird was a very practical player and rarely flashy, whereas Magic Johnson was an explosive, adventurous competitor. As a result, Los Angeles is a city more prone to extravagant outfits and shoes, while Boston and the East Coast in general prides itself on practical and professional styles.
The styles and mediums of these cities reflect their cultures as a whole. In Los Angeles, the Lakers and the music industry have had enormous impacts on sneaker designs and streetwear culture. Boston's style is not just defined by the Celtics and musicians; mediums such as graffiti, alternative and punk rock all play a role. Unlike Los Angeles, Boston does not huge entities that are responsible for the changes in trends; Boston's style ultimately relies on multiple facets of music, design, alternative culture, art, and fashion.
But what's the appeal behind obtaining the most popular and trendy shoes on the market? Why do people place so much importance and passion into collecting pairs of shoes?
To answer these questions, we have to understand what the sneakers mean to the general consumer.
Sneakers, purely as an object, are one of the only fashion items that "holds the intersect of technology, design, fashion, sports, youth subculture and art," Mak stated.
Second, the corporate industry, Nike and Adidas, have created a market by taking advantage of the high demand by putting out low supply. This in itself gave rise to the resale industry.
These two details make sneakers very relevant, and reveal how sneakers have the versatility to transcend runway, skate and hanging on the street.
The biggest reason why sneaker culture is so popular, Mak said, was because our society began to place a bigger importance on day-to-day appearances. Appearances of being wealthy and having disposable income influenced hip-hop culture, and in turn, influenced sneaker culture. The brands of streetwear and the different lines of sneakers allowed average people to give off the appearance of wealth, which is why sneaker culture is such a huge phenomenon today.
It might be hard to see the importance that people place in sneakers. But sneakerheads are just people who have extreme passion for styles and different lines of shoes, and their passion is no different from people with other hobbies. It's a way for them to express themselves, and display the styles and designs they love with every step they walk. The styles they love contribute to the the extremely diverse group of mediums and styles that influence the popular trends in Boston.  As a city we have the freedom to express ourselves in ways that we want to, and ultimately that translates into our very own East Coast aesthetic.
A Peek Inside Bodega