Richard Patrick, frontman of Filter and former touring guitarist for Nine Inch Nails, doesn't understand Adam Lanza, Charles Manson or Dylan Klebold. But he did name Filter's new album, Crazy Eyes, after them.
"There's always this insane look in their eyes," said Patrick of the mass shooters. With his new album, he's "trying to understand the weird and dangerous and the strange elements of being a human."
Patrick, who burst onto the scene with Filter in the late 1990s with tracks like "Take a Picture," and "Hey Man, Nice Shot," said this new album is darker and stranger than most  on the market.
"To me, being strange and weird and heavy is more interesting musically than just trying to make people's heads move, y'know?" Patrick said. "I write music that you can dance to on this record, but it's just so much more interesting to me than to talk about being lovesick."
No offense to love songs, though, Patrick said. "I wrote my song about love, I've done it. I love gorgeous stuff like that."
What he doesn't love? Donald Trump. Patrick isn't shy about it – he's named his tour Make America Hate Again, a reference to Trump's presidential slogan.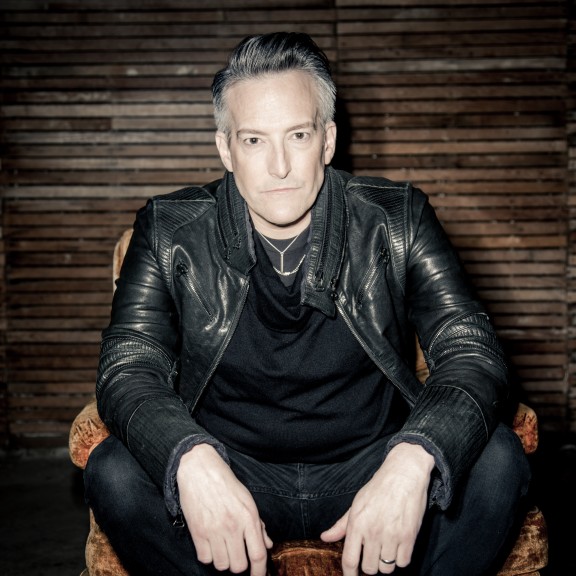 "Crazy Eyes is kind of like a reflection of what's going on," said Patrick, and Trump is a part of that, as is ISIS.
Patrick said he goes for tougher topics because he wants to know what they sound like. He won't talk about the inspiration for "Mother E," the first song on the album, because "the subject matter is so intense." All Patrick would say was that he wanted to know what the event sounded like in someone's head.
Patrick said his record label was hesitant to make "Mother E" the first track on the album, but Patrick was adamant. He said he had made concessions earlier in his career and wanted to make sure this album was true to his vision.
"Music is a visceral, weird thing that you invent, you know what I mean? It's transferred in the air. It's not something that you speak of or think or write down. You literally have to kind of make it work sonically," said Patrick. "When I did this record I just demanded from the record company like, 'Please just give me ultimate freedom. I just want to do what I want to do.' And they're like 'OK, how can we help?' And I'm like 'Give me some cash and let me disappear.'"
Patrick didn't create the album with no feedback– he worked with his fans. He put clips of what he did on PledgeMusic.com, a site that helps artists raise money by allowing viewers and listeners to pledge an amount of money for a pre-release of a CD, signed copies of merchandise, t-shirts and other memorabilia.
Patrick said that the responses to the video and audio clips of the songs and recording process were positive.
"There was some kind of different things and [the fans] were like, 'This is weird but I like it' and I love that. It's so interactive," Patrick said.
Patrick also released a comedy video of what it would be like to live in a world without PledgeMusic, which he conceptualized.
"Anything creative I just feel like I have to, I'm drawn towards being creative," said Patrick, who is also drawn towards being the jokester on the tour bus, telling jokes and doing imitations.
Even though the album is dark, Patrick is optimistic about society.
"Crazy Eyes is my filter on the world, it's not all – nothing's really pretty about it right now, y'know? It's a crazy world but you try to live life right. People would rather be good than to let bad things happen," Patrick said. "Most of us want to be happy. Most of us, that's our evolution, we've adapted to being people who love."
You can see Richard Patrick and Filter Make America Hate Again April 27 at the Middle East in Cambridge. Tickets are available here. To order Crazy Eyes, which is being released April 8, click here, or stream it via Billboard.
Feature photo courtesy of Filter