Museums are usually quiet places filled with adults roaming galleries. On Thursday, Oct. 29, college students and a live band made the Museum of Fine Arts (MFA) come alive.
The MFA hosted its annual College Night, themed "Throwback Thursday." The event, which took place from 6:30 to 9:30 p.m., had music from the band Groovin' You, photo booths, and free gelato, as well as free admission for all college students.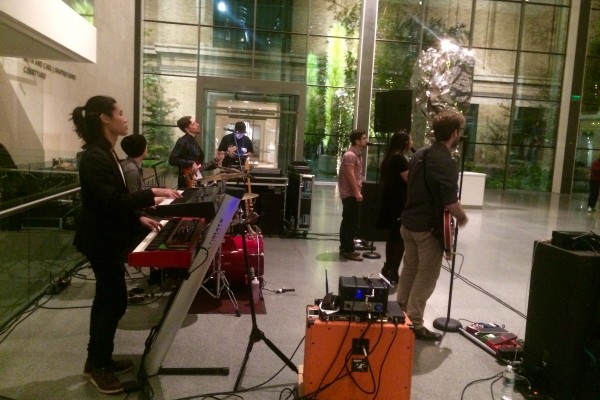 Katie Getchell, Deputy Director of the MFA, said the point of College Night is to remind college students in the Boston area that if their university is part of the membership program, admission is free to encourage them to come to the museum more often.
The organizers of the event carried out the "Throwback Thursday" theme by creating a timeline of portraits that attendees could look at, in addition to having black-and-white and sepia photo booths.
"We created a timeline of faces of art history throughout the museum's collection so if people want they can go on this self-guided tour," Getchell said. "It was kind of playing off that theme and getting people to go to all the different collections and special exhibitions that are going on."
The attendees enjoyed the break from schoolwork that College Night provided.
"I like art and right now I'm doing engineering so it's a nice break from purely logical thinking," said Natasha Jain, a first year at Northeastern University.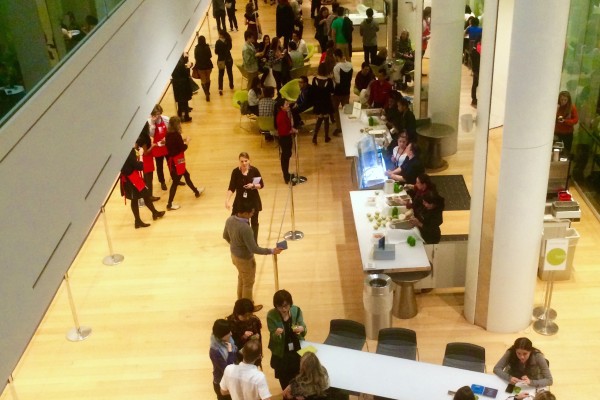 Other college students went to College Night because they wanted to check out the MFA itself.
"We heard it was free and there were other events, like the musicians and exclusive exhibits, and we haven't been here in a while so we wanted to see what it was," Ethan Meyers (Questrom '17) said.
According to Getchell, art is important because it provides a different perspective of life on earth.
"I think artists are a really important part of our society," she said. "They see the world in a different way and they respond to issues in a different way."
Meyers said art is an important part of society because it is one way future generations will see how artists interpreted the present. 
"It's a way to contextualize what life was like for us and preserve our culture for future generations," Meyers said.
Although the MFA has a wide variety of art from all different time periods, the contemporary galleries seemed to be a big hit with college students.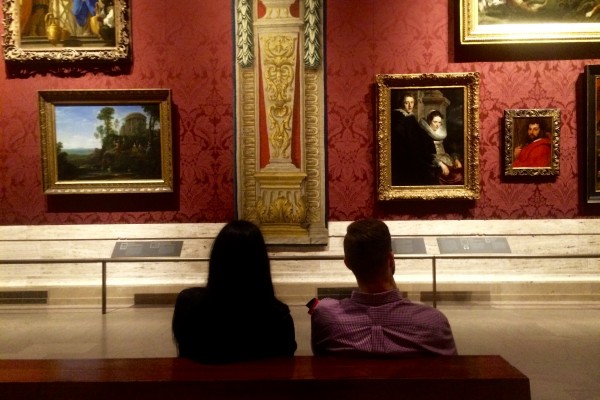 "I think the contemporary art is really cool because when you live in a society, it's really hard to step back and look at it, so going and looking at pieces that reflect it is really helpful," Sydney Wargo (CAS '19) said.
Emily Carson (COM '19) agrees that art is an important part of society. 
"It's a look at society and history," Carson said. "Every time new pieces of art come out it's groundbreaking for that time and it remains groundbreaking."
Christine Capozzi (SAR '17) said she will probably come back to the MFA soon because even though she is "not really an art person," she does appreciate it.
"I think it's another interesting way to express yourself other than through words, which is what we typically do as college students," Capozzi said.
According to Getchell, both contemporary and historical artists should be celebrated and appreciated.
"It helps me, and I hope it helps other people, understand other cultures and places and times," Getchell said. "It helps us come together over something we all share, instead of being divided by where we come from and what our experiences are and what religions we are and what races we are. It's kind of universal."