On a Tuesday afternoon, customers could be found rifling through the colorful racks and shelves on all four floors of Primark in Downtown Crossing. Employees were distributed throughout the store, assisting the crowds of customers or restocking the shelves. One employee tore open a clear plastic bag filled with white cable-knit sweaters that were to be placed next to identical cable-knit sweaters in gray, navy, tan and pale pink. The abundance of styles and colors, the bustling crowds and the bright, fluorescent lights created a fun, energetic, if not slightly overwhelming, vibe in the store.
The Irish retailer Primark opened its first U.S. landmark site in Boston last Thursday, which expands the fast-fashion scene in a city known for academics and research. Joining the list of prominent fast-fashion chains – H&M, Uniqlo, Zara and Forever 21 – Primark increases the variety of reasonably priced and accessible clothes in Boston.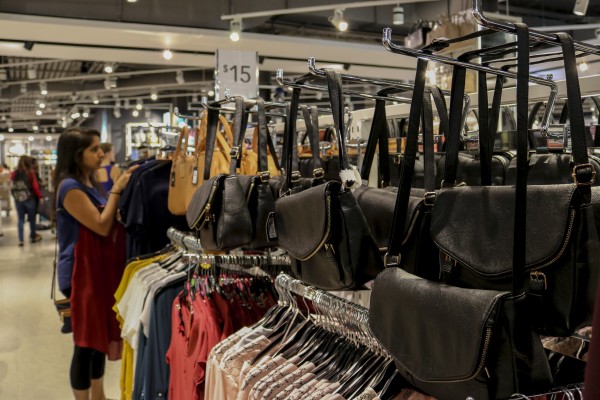 A number of bargains could be found at Primark this week: plaid scarves for $7, patterned pajamas for $9, men's button-up shirts start at $10. While the items looked aesthetically pleasing, a fashionable medium-sized brown messenger bag, on closer inspection, turned out to be rather tacky and cheaply made.
The rise of fast-fashion stores in Boston, distinctly foreign ones such as Primark and Japanese retailer Uniqlo, which opened last year, targets students and young professionals of diverse backgrounds in Boston. As Susruthi Rajanala (CAS '17) puts it, the "different price ranges appeal to a wider variety of people." To entice more customers to buy accessories, clothing displays like a dummy head can be put to good use.
Jennifer Long (CGS '16, SHA '18) finds Primark's clothing not of the highest quality, but says the clothes are still "good and worth it in terms of low prices." She describes the fast-fashion scene: Zara carries nice clothes that are not always priced within a college budget; Forever 21's quality is not "good at all"; Uniqlo tends to carry mostly basic clothes. Primark seems to be the perfect balance. Long considers Primark one of her favorite new stores "mainly because it has a lot of updated trends along with household items, pajamas, kitchenware, accessories. Basically everything for such a great price."
Rajanala could also be found among the crowd on opening weekend. "It was very chaotic in the store, but overall, I enjoyed the wide range of clothing they offered," she said. "I could see myself going there in the future to try out trendy items or for reasonably priced basics."
While Rajanala prefers J. Crew and LOFT, she likes to mix in fast-fashion items from time-to-time for casual or weekend wear. She shops online more than in-store, but says BU's ideal location allows her to run over to Newbury to pick up a last-minute outfit for an event.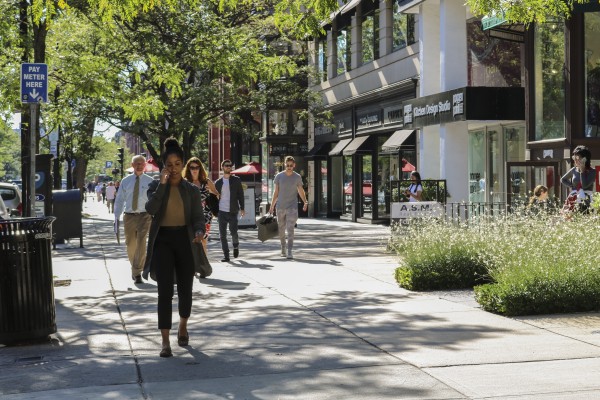 Newbury, a major shopping street in Boston, is filled with quaint clothing boutiques and charming cafés among the red-bricked brownstones. While Newbury offers Urban Outfitters and Forever 21, students often describe Newbury as being "expensive." Newbury features mostly high-end boutiques and luxury consignments like Second Time Around and The Closet, Inc..
Compared to shopping in New York, David Lowe (Questrom '16) – who had "kind of a like a Devil Wears Prada moment" interning in the sales and marketing department at Esquire Magazine in New York this past summer – said that some clothing choices, such as men's clothes, can sometimes be difficult to find in Boston. "New York has a lot of options. There is an H&M every corner," he said. "In Boston, we only have Newbury Street and malls." But he added, after a pause, that New York is also a fashion capital.
The appeal of fast fashion also goes beyond the low prices. Lowe finds fast fashion a source of inspiration with its ever-trending styles. "Retail therapy is definitely a thing," he said, laughing. When students start to fizzle out from attending never-ending lectures and studying for upcoming exams, a quick trip to Newbury Street might be necessary.