All photography by Eden Weinberg. 
It seems as though the fashion blogging world is dominated by individual women showcasing their individual style. Massachusetts natives (and best friends) Spenser Grabowski (COM '18) and Brea Allen (CAS '17) defy this standard with S & B Take the City: their emerging joint blog. Grabowski and Allen aim not only to appeal to a wide audience, but also to inspire both women and men to express themselves creatively. While they describe their individual styles as somewhat different, there is certainly an unanimous preppy, J. Crew inspired tone that remains consistent throughout the blog. I had a chance to sit down with "S" (Spenser) and "B" (Brea) this week.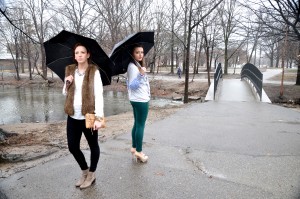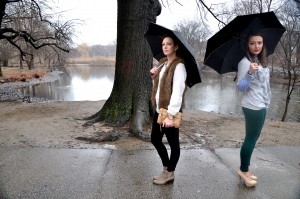 Give us a little history about your blog – when and why did you pair up to begin this? 
S: We've been best friends for three years—Brea's my other half. Pretty much any creative idea I come up with, she's the first person who will end up knowing […] I feel like a lot of blogs I read are more targeted towards people in their mid-20's or 30's. I wanted to start this to project to a different age group. If you follow blogger Sarah Vickers, for example, you'll see her somewhere exotic showcasing her outfits. I thought, "Well, not everyone can do that." I wanted to create something that is more relatable to a certain extent.
B: I'm a neuroscience major so I'm not going into the College of Communication, but I do photography on the side for fun. So I told Spenser that I'd be up for starting a blog—I would do the photos, she would do the writing. I write occasionally on the blogspot, but not as often as Spenser does. I am mainly focused on the Instagram portion of it.
How would you describe the style you are conveying in your blog? 
S: I feel like we have somewhat similar styles. We spin off of each other. Personally, I like minimalism, but have more trendy pieces in my wardrobe, too. I like to have a classic style. I would say Jackie O [is my style icon]. Really I'd just say preppy and fresh, nothing over the top.
B: Like Spenser said, we do play off of each other a lot and minimalism is definitely a thing. I wear more bright colors than she does […] Statement shoes are definitely something I wear to add pops of color. I think where we clash, Spenser wears more neutral colors.
S: Yeah, pretty much everything I wear are neutral, muted colors. The only thing I'll wear that's very colorful is Lilly Pulitzer, very big fan of hers. White, creams, navy and olive are all consistent colors in my wardrobe.
B: I work at J. Crew and Spenser actually just applied to work at J. Crew. I sent her a picture of one of my outfits for the photo shoot today, and she's like, I just bought that shirt in floral! […] We always accidentally plan the same outfits but we'll each change it up a little bit.
S: At the same time, you have to consider that it's a blog with two different individuals—we're not going to have the same exact style. I don't mind conveying slightly different styles because we want to project to a wide audience.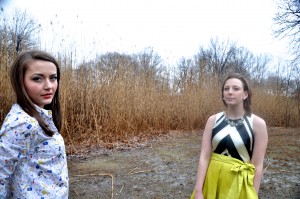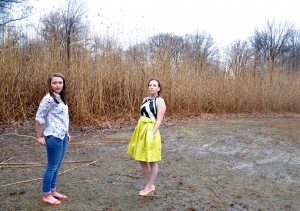 You mentioned in your blog that part of its purpose is to inspire both women and men to express themselves creatively. It seems that a lot of women bloggers target women specifically. How do you plan on incorporating and inspiring men?
S: I have a couple of ideas so far […] I feel like it would be so different and a fresh to have a blog that targets both men and women. I want to hopefully achieve that in a positive way—I'd like it to turn out really good. We're still brand new so it's a work in progress.
What has been the most exciting part of your blog so far far? 
B: I had CollegeFashionista reach out to me, and another group online […] We also had a girl comment on one of our blog posts who is from Germany. She told us how much of a fan she is of our blog and asked that we check out hers, too. It's exciting to have a fan base of other fashion bloggers. On our first Instagram post we had hardly any followers, a couple likes on pictures, and now we have nearly 80 followers and get around 20 likes on posts. It's exciting to watch the blog expand.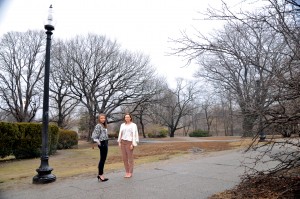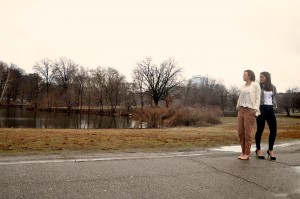 What are your aspirations for the blog–where do you see it, say, by the time you are seniors?
B: I don't think we're trying to achieve a goal—it's more something that we do for fun. It's not as though we're trying to reach a certain fan base or that if the blog doesn't pick up with a large following, we'll stop. It's more of us expressing ourselves and doing what we love.
S: I think that's so true. The reason I wanted to start this blog was about being passionate about something—being passionate about styling outfits and shopping and expressing myself. It's always great to express yourself. If we don't get a big follower base, I don't care—I'm still going to blog because I enjoy it. It's a great stress reliever and it's a great creative outlet.
What's next for you two – are you interested in continuing into the fashion industry or is this just a fun creative outlet for your? What are your individual aspirations? 
S: I think I've determined that I will be working in fashion but more on the business side, internationally. I see myself working for more of a high-end company. Burberry, for example, has stores all around the world and there has to be someone knowing what's going on everywhere. I see myself being that person. […] I love economics, business, and government and politics—originally I wanted to be a political science major.
B: I am not going into anything fashion related or communications related, so that's the irony of this. As a neuroscience major, I'm looking into pediatric neurosurgery or neurology or even Doctors Without Borders. I definitely want to go on medical missions to Africa—Africa has always been a dream of mine. But photography has always been a big part of my life, so that's how I got involved in the blogging scene.
Thanks, ladies!
Be sure to follow S & B Take the City, here.