On March 27, formal model Leah Darrow spoke about landing a spot on America's Next Top Model, and other experiences that have shaped and influenced her in finding her identity today, as well as the provocative views on how we see image, fashion, and beauty.
Brought together by BU Catholic Student Association, Mustard Seed, Chi Alpha, and Interfaith Council, the event at the College of General Studies not only brought up the provocative issues in the fashion and modeling industry but also the enlightening discussion on self-image, body positivity, and personal expression.
Image is important for self-identifying but can easily be warped by culture. "We live our life by its terms," said Leah Darrow, a contestant from America's Next Top Model, cycle 3. "You just can't use an example as your definition." She further explains that how we define certain terms can navigate our entire existence.
Darrow lived her life trying to follow what culture has defined as "correct." She grew up in Oklahoma and lived in a culture where everybody had a boyfriend. She felt pressured to have one and when she did, she would lose her virginity at the age of 15 and regret it. Afterwards, Leah began to view all men in a negative light in which they only care for the physical appearance and seek women solely for pleasure.
Though hurt, she was too weak to change her situation. Darrow was caught up in the life and would only continue to follow what was deemed as "popular." She auditioned for America's Next Top Model, and when Tyra personally called her, Leah was beyond excited. "The show was validating my life," she thought at that age.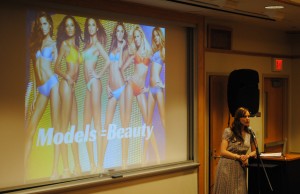 However, there is nothing real about reality TV. Leah vividly described how the camera guys were within an arm's length distance away, doors were taken off their hinges, hidden cameras were everywhere, and the models were filmed 24/7. "It should just be called fantasy TV, it would be a little more realistic," said Darrow. Reality show makes the models look like they have everything.
It would not be long before the true colors behind the glitz and the glamour of modeling come out. Barely clothed, Darrow felt uncomfortable and cowardly at an international photo shoot. The photographer told her to give more to the camera, but she had nothing to give. Darrow had hit her lowest point before she felt a certain change in herself. She told the photographer she was done.
"If you leave, you will be a nobody," called out the photographer.
"Do you promise?" said Leah.
"I don't care," he replied.
She walked off the set.
Darrow found faith within herself to understand who she is, not who she desires to be. She tried to follow the "correct" image of beauty, as she believed modeling and fashion were the only ways to prove her beauty. "Beauty is built on the lies of perfections," she said. There is nothing admirable about a model being objectified as a "hanger" – a term coined by the people in the fashion industry, claimed Darrow.
The obsession with this perfection of artificial beauty gets embedded in our culture and becomes defined as true beauty. In the glossy editorials and posters, the models attain perfection in their Photoshopped, homogenous looks. However, true beauty comes from within, and should not be swayed by models or other standards of beauty.
Recently, porn has also been trending as a form of beauty. These women are "dressing to undress, instead of dressing to impress," said Darrow. The porn industry distorts beauty and devalues women to a commodity. Some women claim that it is a form of empowerment, but the objectification of woman is not beautiful – dignity is beautiful.
Darrow believes that true beauty finds its place in the secured self. "Love is a powerful thing," she stated. "Love and beauty go hand in hand."
The first step is to love yourself and your body. From there, the empowerment of women comes not only from women accepting themselves, but also accepting others for who they are.