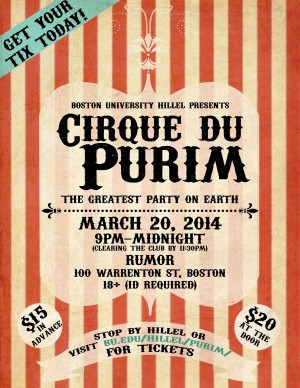 On March 22, Hillel held its annual Purim Party at Rumor Nightclub. "Cirque Du Purim" was circus-themed, with partygoers dressed in costumes and snacking on hamentashen, a traditional Israeli cookie. The event featured a live DJ and an expansive dance floor for patrons to dance their way into Purim.
Purim is a Jewish holiday commemorating the rescue of the Jewish people in the Persian Empire from a plot to destroy them. It is a celebratory holiday, with masquerading and feasting encouraged. Hillel organizes a big event every year to honor the spirit of the holiday, and this year was no exception. However, the event was tainted by logistical challenges that ultimately resulted in its premature conclusion.
The party was originally scheduled for two nights earlier, on March 20. However, issues with the venue resulted in a rescheduled date of Saturday, March 22. A post in the party's Facebook page explained the situation in detail: while Hillel's contract with the venue stated that, per city law, all patrons under 21 were to vacate the premises by 11:00 p.m., at 10:30 p.m., a manager told Hillel that doors to their party had to be closed and no one else could be admitted due to the venue's normal club night. Hillel has since filed a complaint against Rumor Nightclub and does not plan to work with the venue in the future. Members of Hillel who planned the party were disappointed with its outcome.
"We will not be using Rumor nightclub again. It was disorganized and they did not follow the original contract agreed upon with BU Hillel," reads the post, posted by BU Hillel's official Facebook page. "We would like to apologize to those people who were not able to get into the Purim Party and those people who could not attend because of the date change."
Full refunds were issued to ticket holders  inconvenienced by the night's unexpected challenges, but students were still disappointed they were unable to attend.
"I was really looking forward to going. I had a costume and everything," freshman Anna Stovitz said. "Obviously these were unforeseen circumstances, I just hope something like this doesn't happen again."
Students active in Hillel echoed similar sentiments and promised to ensure that future events will run as planned.
"We're really upset about everything that happened, because we worked so hard to make it fun," freshman and Hillel's Head of Social Programming Brigitte Dardashty said. "We won't be hosting our events at clubs in the future."
While it faced many challenges, the party was not a complete failure. The environment remained festive throughout the party's duration and partygoers said they were not discouraged by the logistical hiccups.
"I thought it was really fun," freshman Maddie Steinberg said. "I was bummed to leave early, but I still enjoyed being with my friends. I'll definitely go to Hillel events in the future."
For information about upcoming events, "like" Boston University Hillel on Facebook.