For sixteen years, the Boston Underground Film Festival (BUFF) has celebrated the strange, the underrated, and the delightfully disturbing world of underground film.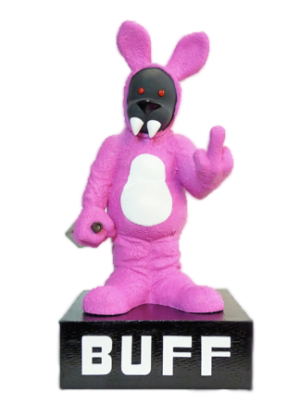 "[BUFF] is bizarre, twisted, and a little gory," said longtime festival volunteer Julia Tenney. "There are very few enduring film festivals like this one."
So naturally, it's a ton of fun to attend.
For the past few years, BUFF has been held at the historic Brattle Theatre in Cambridge. The festival is a five-day marathon of full-length and short film screenings featuring as many kinds of movies as there are craft beers at concessions (which, let me tell you, is a lot).
"BUFF is gonna be the weird stuff you're not going to see in other film festivals- I think that's its draw," said Tenney. "The films that I've been the most affected by are ones that I've seen at BUFF."
This year's crop of movies were an eclectic mix of supernatural horror, black comedy, and lots of blood. In between opening and closing features All Cheerleaders Die and Blue Ruin were films about everything from love, Jesus, and punk rock to masochistic nuns, time loops, and satanic Hollywood cults.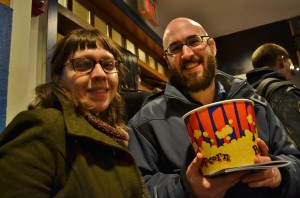 I made it to the festival Friday evening for the screening of the pre-apocalyptic comedy Doomsdays (trailer). Directed by Eddie Mullen, Doomsdays tells the story of squatters Bruho and Dirty Fred as they hop their way through vacation homes in the Catskills anticipating the inevitable decline of civil society. The film was inspired by peak oil—the idea that once the world's petroleum runs out, we're all fucked. "I read a couple books about peak oil and I thought, 'Holy shit, we're all going to die!'" Mullins told the audience during a Q&A session. "And then I started to think about what it would be like for a couple of true believers."
Despite its the-end-is-nigh message, Doomsdays was a beautifully-shot reflection on loyalty and human nature. With each addition to their party-of-two lifestyle, Fred and Bruho were forced to evaluate what they wanted from life and the people around them—even if it just meant having another shoulder to punch (you'll get it if you see the movie). Even though Doomsdays wasn't as dark as other festival features, it definitely deserved its spot in the lineup. To quote the ever eloquent Dirty Fred: "My powers are significant, bitches!"