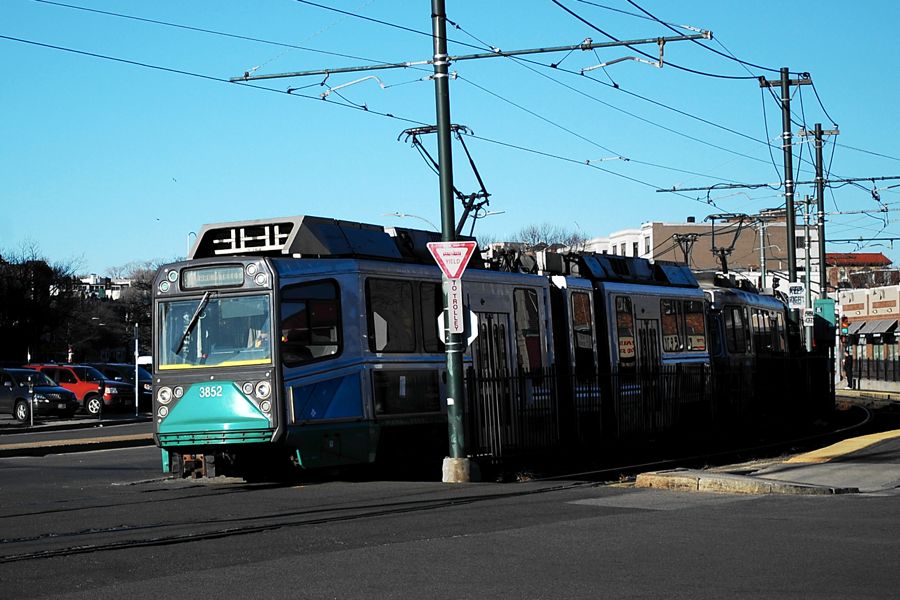 In Chicago, a University Pass model is positively touted as a way for students to get across town to internships, jobs, and events, benefiting both its users and the city's public transit system. In Boston, a city with a quarter-million college students, there is no such model, though it isn't as if the MBTA (Massachusetts Bay Transit Authority) has denounced such a plan.
The U-Pass model, which activists say the MBTA is exploring, would be a mandatory, unlimited transit pass for students whose universities opt into the program. The U-Pass would differ from the current Semester LinkPass students can optionally purchase at the start of each term. The Semester LinkPass ($249.20–$311.50/4–5 months) offers an 11 percent discount on the regular monthly rate, while proposals for the U-Pass call for 50 percent or more.
U-Pass supporters range from students who find such a system more convenient to those who envision its positive impact on the entire Boston community. Students for a Just and Stable Future (SJSF), a student and youth activist group in Massachusetts, focuses on "[fighting] climate change and the systems that perpetuate it," furthermore employing "a variety of tactics to accomplish [such] goals within the framework of [their] values of democracy, egalitarianism, and non-violence." The SJSF has taken up the U-Pass model as one of those tactics, teaming up with multiple activist organizations to bring it to the railways of Boston.
Alli Welton, a Harvard junior and an SJSF leader, says that by making the T more accessible to students, universities won't need to spend as much money on parking infrastructure. Furthermore, students will feel less need to keep cars on campus, which costs an upwards of a thousand dollars a semester at BU.
"[It can be] really expensive for students to drive, and [it's] also very expensive for the university," says Welton, adding that increased MBTA accessibility could decrease that cost and allow the university to further subsidize the U-Pass for students.
Last July, the MBTA Rider Oversight Committee (a group of riders, advocates and MBTA employees who communicate the needs and concerns of all riders) published a report envisioning a U-Pass model in Boston as a way to fund late night T services during the weekend. A late night transit pilot program is currently in effect, but the report still remains pertinent to the U-Pass model's overall feasibility. The report provides research similar and successful models in Chicago, Milwaukee, and San Francisco, claiming that if just half of the Boston collegiate population paid for a U-Pass, the MBTA would generate $43 million in revenue.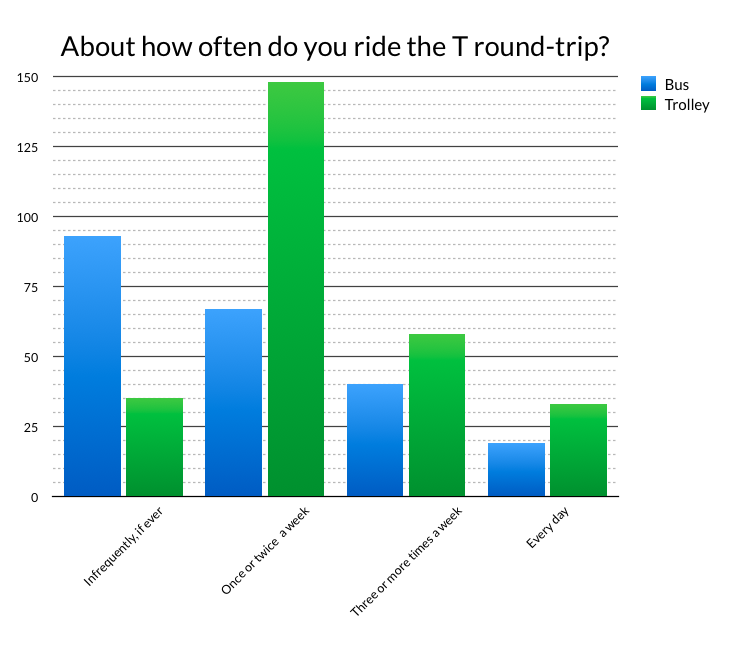 The report furthermore offers incentives with the new system. The Green Line could open all of its doors above ground while traveling through college campuses and worry less about fare evasion. Students will find it easier to freely navigate the city and spend money at a wider variety of off-campus locations, and they may be more inclined to stay in the area after graduating. On the surface, the proposal appears favorable if students are getting a 50 percent or greater discount on the fare.
Welton says that the MBTA General Manager Beverly Scott is supportive of the program, but there are still obstacles to overcome as the public transit system is strapped for cash.
"Administration-wise, creating a new program for [the MBTA] is like adding a lot of work onto people who are already overworked," says Welton. "I think that administrative reality is something that could slow things down."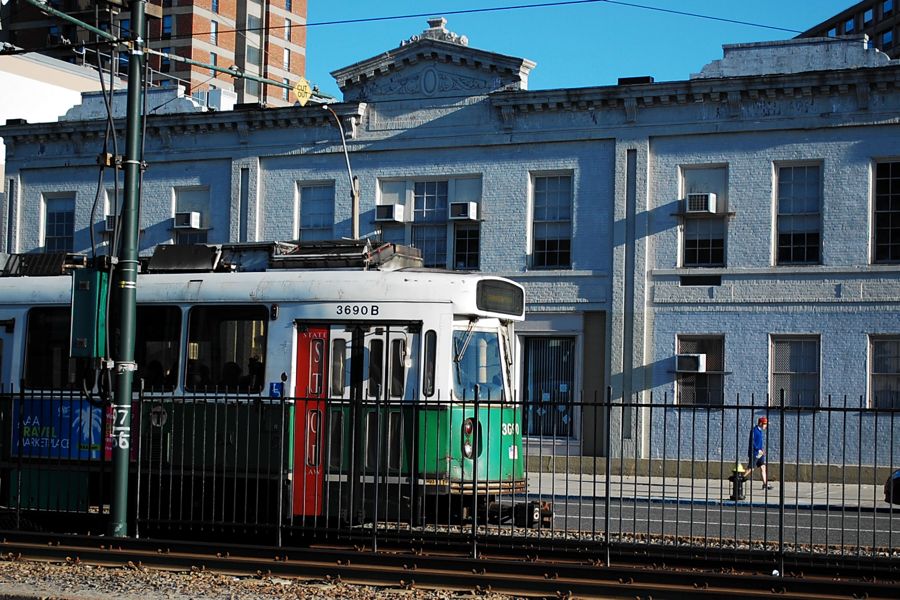 The MBTA is not the only administration U-Pass advocates must connect with. Currently, SJSF members are reaching out to university administrators to gauge their temperature on the matter. For the most part, advocacy for the program has been organized at Harvard and Tufts University. Tufts, a campus falling on the future Green Line extension into Medford and Somerville, appears to have excited and supportive administrators, as well as agreeable students, Welton says.
"[For] Harvard, it's been a little hard to tell exactly where they're at…I think, particularly when it comes down to discussions about who pays, we might end up finding some administrative opposition," says Welton, though she is confident that the student support (87% positive in a referendum vote) will push the administration through the process.
BU, a university larger in student population than both Harvard and Tufts combined, isn't currently at the center of the U-Pass discussion. However, on the BU Charles River campus alone, there are 8 trolley stops. Three bus routes, the 47, 57, and CT2 run through the same area. BU is arguably the most T-accessible campus in Boston.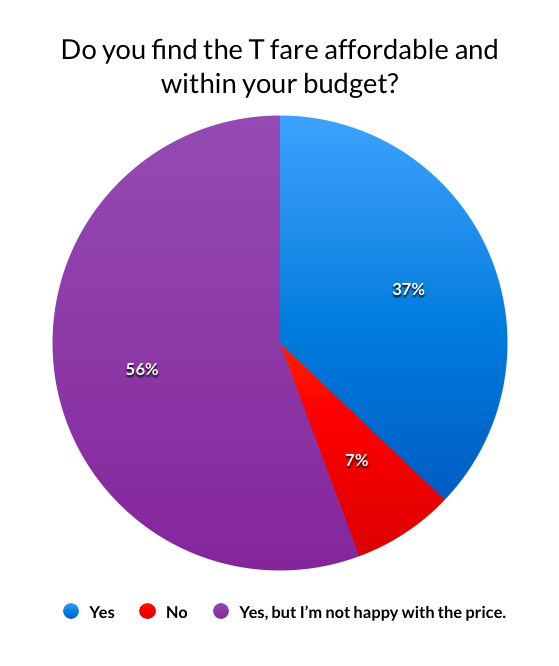 To gauge BU student support for the U-Pass as well as campus transportation habits, The Quad conducted a short, online survey to which 291 people responded. In response to the question "Do you find the T fare affordable and within your budget?" 37 percent answered "Yes," 7 percent answered "No," and 56 percent said that the T fare was within his or her budget, but that they were not pleased with the fare prices. Furthermore, 67 percent of those who responded say they have evaded the fare on the Green Line when it stops above ground, something that the ROC report says the U-Pass model can eliminate.
When asked whether or not they would be in support of a mandatory, unlimited "University T-Pass" built into their student fees, 28 percent answered "Yes" while 58 percent said it depends on the price, which must be significantly cheaper than the current Semester LinkPass. Fourteen percent completely opposed the idea.
"I'm not opposed the the U-Pass system in itself, but just opposed to it being mandatory,"  offered up one survey taker. Many others echoed those sentiments: "Mandatory fees pose an unfair burden for students who may not wish to use public transportation," another responder wrote, posing another reason specifically pertaining to the Charles River Campus. "In addition, a mandatory pass would potentially crowd the MBTA system, especially the Green Line. The MBTA may not be equipped to handle such a large influx of passengers, as many students would simply take the opportunity to travel up and down campus." While U-Pass advocates say the model could increase off-peak ridership for the T, there isn't any research to determine how it would impact ridership during peak hours, which one opposing responder says is "already a nightmare."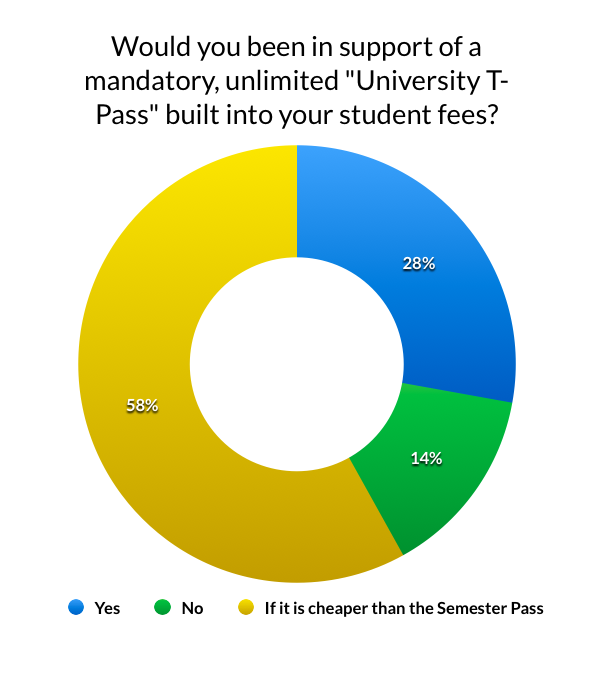 In the ROC report, researchers maintained that for the MBTA U-Pass process to work effectively, it would require a student outreach board. All three cities the report cited attributed the system's success to each participating school's students voting on the program to prevent it from being forced onto universities.
Survey responders were also given the option to share any strong opinions about the MBTA, exposing student woes ("Back-to-back-to-back-to-back T trollies and buses are ridiculous and should never happen, yet do frequently.") as well as calls for a wider outlook. One added, "I'd rather the city focus on improving service for youths and poor people rather than rich college kids." Another responder: "Students are not the only people riding the MBTA. It's important we maintain an honest perspective about our place in their consumer market share, and not expect the MBTA to cater to college needs alone."
But what if you could have your cake an eat it too?
It so happens that the SJSF is working alongside various activist groups for overall transit justice, and the U-Pass model is a subset of a bigger picture plan: The Youth Pass. The Youth Affordabili(T) Coalition (YAC), an umbrella organization of Boston-area youth groups, opposes MBTA fare hikes and has called for the public transit service to provide a $10 monthly Youth Pass to Boston residents ages 12 to 21 since 2007. In a 2011 study that surveyed four thousand Boston-area youth, the coalition discovered that the T has been and is becoming increasingly unaffordable for them. 27 percent of Boston youth miss school because they can not afford the T, and 29 percent are late or miss work for the same reason. Dave Jenkins, Program Director for the Roxbury Environmental Empowerment Project (REEP), a group advocating within the coalition, emphasizes the struggle.
"T fare doesn't seem like much, but for many Boston youth who depend on it to do everything in their lives, it ends up being an enormous part of their budget, and all too often they end up unable to ride," Jenkins says.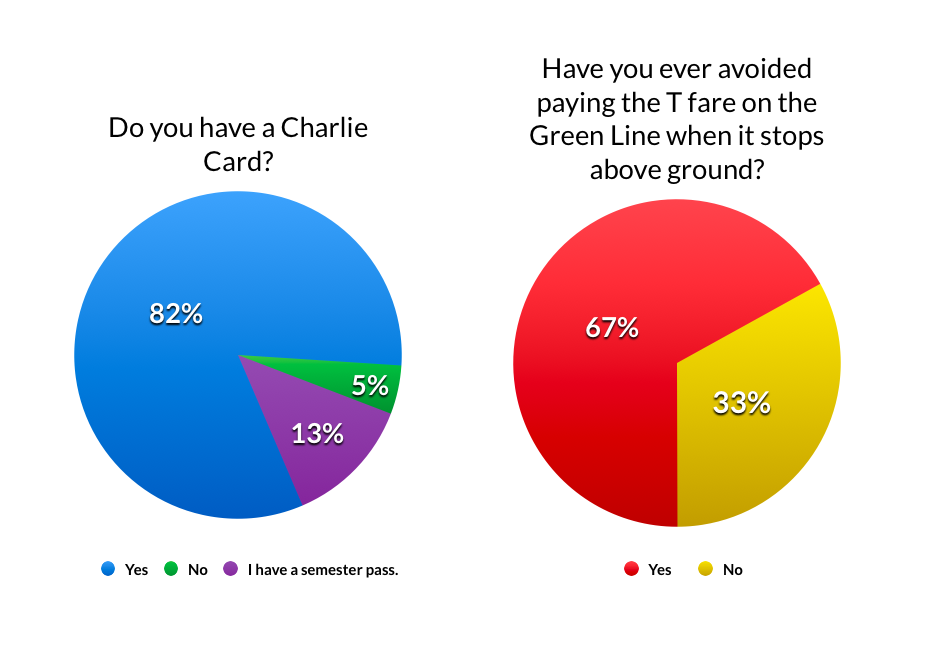 Currently, the group is hoping that the MBTA can start a pilot program for the Youth Pass as early as this summer to better understand how transit-dependent youth use the T.
"In terms of the cost of the Youth Pass, we believe the MBTA needs to prioritize its most vulnerable riders who depend on the T for basic needs," says Jenkins. "Youth are a specific demographic of riders who are public transit dependent and have the lowest economic prospects. Therefore the T has a responsibility to address the problem by creating the Youth Pass."
With revenue from the U-Pass, the MBTA could possibly put money into the Youth Pass and create a win-win situation.
"If one-eighth of the [college] students in Boston were part of the U-Pass, that would more than cover the cost of what [the youth] want with the Youth Pass," Welton says, as community advocates have told her the Youth Pass would cost around $10 million to fund.
Covering the Youth Pass, but also improving MBTA infrastructure overall, is part of why Welton says the U-Pass ought to be mandatory.
"If you have [the U-Pass] being a mandatory thing, it further turns out that you'll end up generating some revenue for the MBTA overall, and that gives the MBTA more leverage to improve its own programs and services to make it a better option for students. It's sort of a positive reinforcing loop," Welton says.
There is no guarantee that Boston will see both models hit the railways soon, considering the obstacles and time it will take for implementation, but as efforts for both the Youth Pass and U-Pass ramp up, Welton says she would be surprised if there isn't at least a pilot program for it by the spring 2016 semester. In the perspective of SJSF, public transit will eventually require such innovation to create a better vision in the years to come.
"As our generation looks towards the future, there is no way our generation is going to be able to rely on cars as much as our parents' generation did, with the realities of climate change and what's going to `happen with oil," says Welton. "We are sort of going to end up being the generation of public transit here, and doing what we can to increase overall investment in the public transit system is going to benefit us so much down the line."