All photography by Eden Weinberg. 
With the advent of the digital age, documenting and advertising personal style has become a global phenomenon, even in places one would least expect. Boston University, for example, houses students deeply interested in the fashion industry—students such as fashion blogger Tal Chesed. Chesed, a Los Angeles native and freshman in the School of Hospitality Administration, launched Wear I Am this past January.
"I've been wanting to do this for the longest time, but have never really done anything about it. So, with the New Year, I decided why not? I spend a large part of my day reading various fashion blogs and looking at #ootd [outfit of the day] on Instagram, so I have known for a while that I want to give this a go," Chesed writes.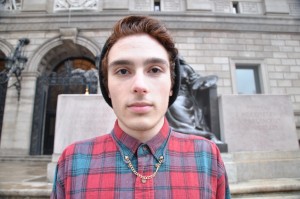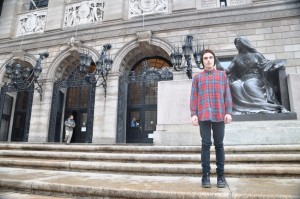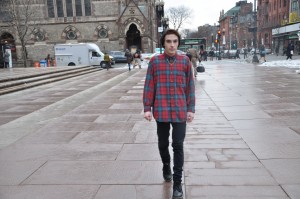 I had the opportunity this week to chat with Chesed about his emerging blog and aspirations in the fashion industry:
What inspired "Wear I Am"? 
I was super inspired by [Danielle Bernstein and her blog] We Wore What. She has become super famous as a fashion blogger. I got the idea of the name from her—something that's catchy and a play on words and something people will remember. I also wanted to do something with location in my title because I live on the other side of the country. I live in LA, so something about transitioning and where I am.
I was also inspired by the big menswear blogger [Adam Gallagher and his blog]  I Am Galla.
I have been following them for a few years and I love that even though they do something so simple—they dress themselves and take pictures of it—they've created a whole career out of it. So I was interested in trying it for myself, because my friends always ask me to style them and I've always been really into fashion.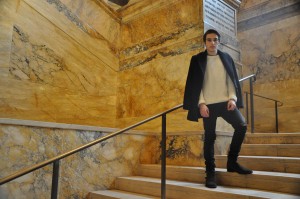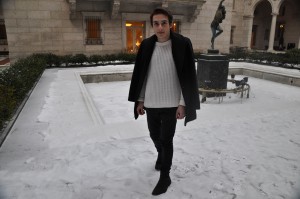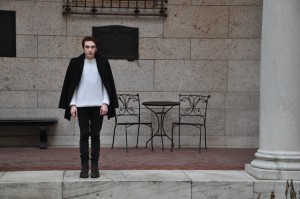 How would you describe your personal style?
I'm a really plain dresser and stick to solid colors, but I think that's because I have this thing where I can't ever wear patterns or colors and sometimes, I honestly don't know how to. I think for the most part I stick to really simple and solid stuff.
Give us some insight into your closet. What would you consider your staple item? 
The one staple item in my closet that's one of the best things I have ever purchased is my biker jacket; it's from Forever 21 and it wasn't super expensive, but I think it's important to have a really good leather jacket. I wear it a lot on my blog because I love leather and denim. I think throwing a leather jacket over anything elevates an outfit and makes it more put together and adds a little edge.
My entire closet basically is monochromatic—the only color in my closet really is denim. Everyone's reaction when they see my closet is "You have so many white T-shirts," and I'm like, "That's all I wear…." I think you can never go wrong with black and white—it's just simple and it's always going to look classy and put together no matter what.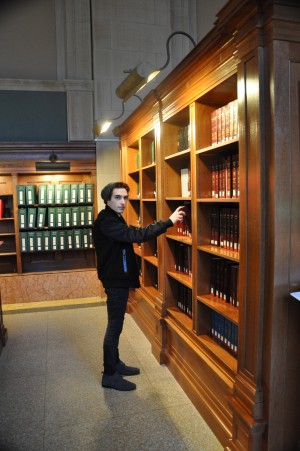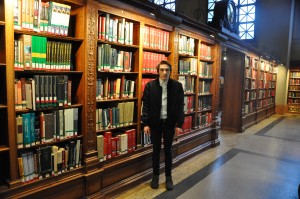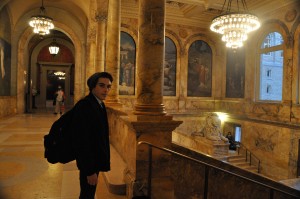 One of the most touched upon topics on your blog is Fashion Week. What was your favorite part?
One show I really loved [at London fashion week] was the Burberry Prorsum show. Even though it was a women's wear show, I prefer looking at women's wear rather than menswear because I feel like menswear can be dull.
The Burberry one for me was a huge surprise, because when people think of Burberry, they think the Burberry plaid and really simple with tan and camel. It was a show for autumn and winter but they brought in pastels and patterns. It was cool to see a more playful and fun side to Burberry. My favorite part about the show was that the models had personalized ponchos at the finale with their personal initials.
Another one of my favorites was a menswear presentation [in New York] by a designer named Pyer Moss. When I saw it I was in awe because the clothing was just jeans, jackets, and sweaters, but the way he executed it was unique in my opinion. It was a fully monochromatic collection but the way he designed the pieces was unique. He put a lot of geometric shapes and added a lot of materials on top of each other. I thought overall it was a unique collection and proved monochrome doesn't have to be boring.
What are your aspirations?
As a hospitality administration major, I'm still looking at where exactly I'd like to go in the fashion industry. Originally it started with my love for events planning and wanting to work with a designer and plan their events. My ultimate dream in life is to plan New York fashion week. But at the same time I am really passionate about the blogging, so I could see myself being a blogger full time, partnering with different designers, maybe even designing a piece of clothing or collection one day. I think, in short, just being active in the industry, even if it's something like events planning, because I have really always loved fashion.