The Museum of Fine Arts' recent fashion arts exhibit Think Pink traces the history of pink and its evolution from as early as the 17th century to the present day, illustrating the changes in styles and associations that have helped define the color differently over time.
For example, who would have thought the color pink was originally considered a predominantly masculine color in American culture? Literally, pink is the intermediate color between white and red. But over hundreds of years, pink has assumed many different cognitive and conventional associations, making it arguably one of the most evocative colors. Think Pink opened in October in recognition of Breast Cancer Awareness Month, and will be on display until May 26. It features nearly 70 objects, including clothing, accessories, illustrations, photography, and paintings. Among these objects are gifts from the late Evelyn Lauder, former Vice President at Estée Lauder Companies, who was instrumental in creating the pink ribbon symbol for breast cancer awareness.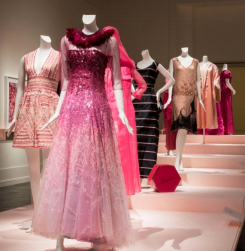 To begin, the exhibit establishes the origins of the color's distinction:
Pink takes its name from a small flower in the family Dianthus—the pink, otherwise known as the carnation. The pink's frilled edges also gave rise to the word "pinked" to describe a ruffled edge on clothing. A fashionable motif since the 16th century, the pink symbolized "pure love" and later "boldness," as described in Kate Greenaway's illustrated book, Language of Flowers (1884). Greenway's associations relate to the flower's color, a lighter tone of red, which represents passion.
The exhibit also focuses on the relationship between pink and gender identification. Co-Director of the undergraduate Women's, Gender, and Sexuality Studies program at Boston University Barbara Gottfried says that blue was historically associated with females because of the colors of the Virgin Mary: blue, white, and gold. The MFA exhibit references this status quo, opening with a 1918 quote from Earnshaw's Infant's Department, a trade publication:
The generally accepted rule is pink for the boy and blue for the girl…pink being a more decided and stronger color is more suitable for the boy, while blue is more delicate and dainty is prettier for the girl.
The exhibit includes a pink suit designed last year by Ralph Lauren for Vogue's international editor-at-large Hamish Bowles, modeled after the suit worn by Robert Redford in the 1974 version of The Great Gatsby (also designed by Ralph Lauren). It was not until after World War II that pink was considered a "girly" color in the United States. This transformation is described in Lynn Peril's book, Pink Think:
Until the nineteenth century, most babies wore white; and if baby clothing incorporated color, boys were just as likely to wear pink as girls. The identification of girls with pink and boys with blue was apparently a French innovation, the exact origins of which remain unclear…color-coding babies didn't become widespread until the post-World War baby boom, when the arbitrary color assignment of a century or so before turned into a new mass habit and established a modern "fact."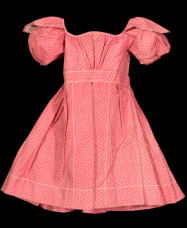 Gottfried thinks the association of pink and femininity is rooted in consumerist culture and marketing. She says:
You have two separate issues going on: one is people's huge anxiety to know if a child is a boy or a girl and to make sure it's marked in a clear way. The other is everything that follows from that, which is the pink aisles in the toy store versus the blue aisles, and dressing a child in one kind of clothing as opposed to another kind of clothing. It seems to me that a lot of it has to do with marketing and it's very sad because I don't think that toys were as constrictive in terms of gender ideologies even in my childhood as they are now.
Gottfried uses the example of Lego. Lego was marketed exclusively to boys—arguably discouraging girls from playing with the toy—and gender equality activists went "ballistic," according to a Los Angeles Times article. Another, perhaps more progressive example, is Hasbro's Easy Bake Oven. Hasbro began producing black and blue ovens (deviating from the typical pink oven) in response to thirteen-year-old McKenna Pope's YouTube video and corresponding petition. Pope's argument centered on the simple idea that little boys like to cook too. About this move by Hasbro, Gottfried says:
When you insist upon making the aisles one way or another so distinctively for girls and boys, you restrict children's imaginations in ways that are unnecessary because all children have the ability to be creative, and so on. I think that Toys "R" Us and others think it's easier to market that way, it's easier to set up the toy store that way, and it sells more products.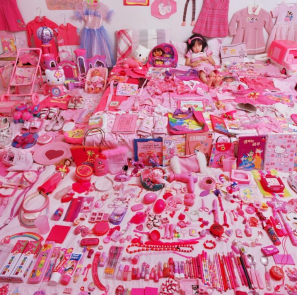 Gottfried suggests pink has reached a level of pervasiveness in our culture that is obnoxious—and people are beginning to resent it. Gottfried points to Hamleys, the oldest toy store in the world, located in London, England, which has begun to break the gendering pattern in children's stores by rearranging its toys by types (e.g. Soft Toys) and interests (e.g. Outdoor), rather than by gender. Peggy Orenstein's op-ed piece in the New York Times expands upon this position, but Carrie Preston, Assistant Professor of English and Women's, Gender, and Sexuality Studies at Boston University, can speak about it from personal experience:
I have a nine-month-old baby. It's fascinating how even if you want to find gender-neutral clothing, it's very difficult. If you want to find gender-neutral toys, it's very difficult. When you walk into a toy store, toys for girls and boys are totally different from each other… I would have thought that in this period of time and our culture that would have changed some, but we're actually seeing an increased colorization between the gendering of clothes and toys for children. Those associations get developed at a very young age, so I think that maybe there are natural individual preferences in color, but a little boy, it seems, is rarely going to have the opportunity to develop a liking for what are deemed feminine colors, feminine clothing, and supposedly feminine toys.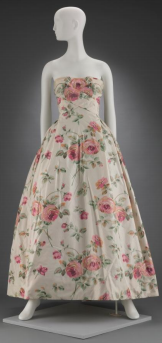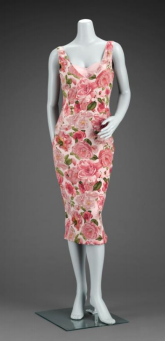 Think Pink acknowledges this association to femininity as well:
"We were emerging from the period of war, of uniforms, of women-soldiers built like boxers, I drew women-flowers" (Christian Dior)…The links between flowers, femininity and sexuality and the color pink continued unabated throughout the 20th century. The rose, the other flower commonly associated with the color pink and with love, is still a popular motif in women's fashion. In lingerie and undergarments—consummately "feminine" clothing—pale pink remains a predominant color.
"I think the history of pink is all about constructs of femininity," says Boston University sophomore Hanna Stolarski, a Women's, Gender, and Sexuality Studies minor and active member of the Boston University Center for Gender, Sexuality, and Activism. She continues:
What's really interesting about…pink is that it incorporates all these subversive things too—things that really challenge the construct of femininity. If there's anything I've learned from gender studies, it's that everything is fluid and everything is far more complicated than we actually see it. So even the statement 'pink represents femininity' is so much more complicated than we actually think… Pink is this awesome color… And it's so much fun to wear. I also notice that people tend to look at me more when I wear it, not in an objectifying way, but in a curiosity type of way, like when anyone wears a bold outfit, or bold makeup, you tend to look at them more.
As Stolarski suggests, wearing pink seems to be about making a statement. It is hard not to notice, for example, the piece front and center at Think Pink: a dyed pink ombré Oscar de la Renta evening dress tailored with fuchsia feathers at the neckline and adorned with sequins and beads.
Recent graduate of Boston University Constanza Ortiz, who, like Stolarski, was heavily involved in the University's Center for Gender, Sexuality, and Activism, shares:
I went through a really liberal, eclectic, different elementary school when I was living in Miami. I had a classmate who was a boy whose parents were two really interesting people who raised him in [a] different way. And I remember when we had class and they'd say, 'what's your favorite color,' and I'd say blue or green, and he'd say hot pink. And I asked him, 'George, why do you like the color pink?' And I think he associated the color with the punk rock bands that his dad, who's English, was listening to at the time. What I thought was interesting is that the color pink is used by so many to make a statement.
Another example: today, gay rights activists have claimed pink as a symbol for their cause. An upside down pink triangle is used to symbolize gay rights protest—a spin off of its original use of identifying homosexual men in Nazi concentration camps. This is something the exhibit recognizes as well, that "shades of pink have fallen in and out of fashion because of cultural, artistic, and technological changes. Even today, the pendulum of pink continues to swing."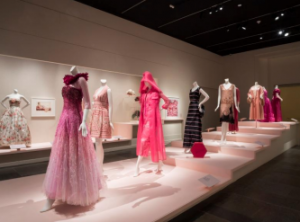 Emerson College sophomore Dondré Taylor-Stewart suggests pink is making somewhat of a comeback in men's fashion in particular:
In "preppy" styles, it's cool to wear a pink polo because it shows you're in touch with your feminine side and maybe a little bit more sensitive. I think the fashion world is more forward thinking—there's more room for experimenting with different patterns and colors that, until recently, men would stray away from, but are beginning to become more accessible. For instance, for the spring, pastel colors are a big thing and I think more people are starting to move away from pink being exclusively for girls.
There may be less room for expression in street style as opposed to runway style for certain men, as socioeconomic factors come into play, and Taylor-Stewart thinks that the acceptance of wearing the color pink "has evolved in a certain way, but it depends on who you're around." More specifically:
In a [white, upper] class environment, that might be seen as more socially acceptable versus if you were to go to a black ghetto, it might not be accepted in that environment…I think that there's more room for expression of gender in white rather than black communities because I think that the media pushes a certain image for males based on their background.
Pink, like many other words, has changed its meaning over time due to its associations with different things. Today, we continue to debate issues such as gay rights—issues where the color pink is an important symbol. And as we change culturally, fashion continues to evolve, influencing our perceptions to different styles and colors. In 100 years, who knows what pink's role will be!