I thought now was an appropriate time of the year to introduce mint into the diet. It is similar to peppermint, a Christmas flavor, and it is a Christmas color as well. My favorite ice cream also happens to be mint chocolate chip, so mint is always welcome in my mind.
Mint comes from Asia and the Mediterranean and has been used to aid digestion and to create a powerful healing compound. Peppermint and spearmint are two different varieties of mint and are the most popular. According to some studies, mint can also provide protection against some cancers, like colon or rectal cancer.
Mint tastes great in many different forms, including gum and ice cream, so it was a versatile ingredient I was able to use in all three recipes without much difficulty. Enjoy a little freshness in your week with the following creations.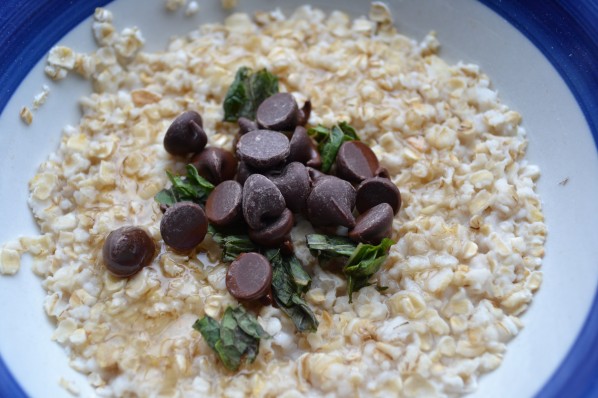 Breakfast
Mint Chocolate Chip Oatmeal
total time: 2 minutes, serves 1
Ingredients
1/2 cup oats
1/2 cup water
1/8 teaspoon fresh mint, minced
a small handful semisweet chocolate chips
1/8 teaspoon honey
Directions
Pour oats and water into a microwave safe bowl. Microwave on high for 1 minute. Sprinkle with mint and chocolate chips and then drizzle with honey.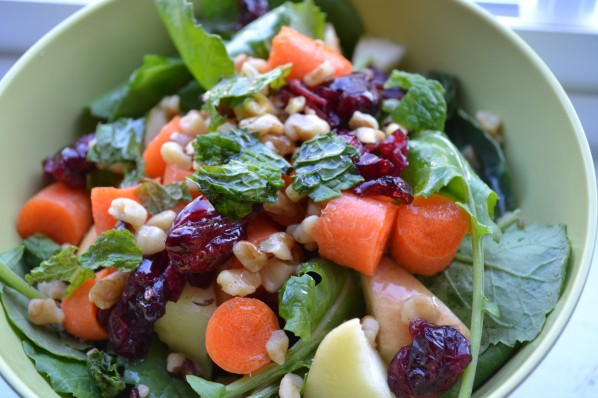 Lunch
Kale Salad with a Lemon Mint Dressing
total time: 5 minutes, serves 1
Ingredients
2 cups kale
1/2 apple, cut into bite-size pieces
6 baby carrots, cut into bite-size pieces
1/8 cup dried cranberries
1/8 cup chopped walnuts
1/8 teaspoon fresh mint, minced
1 tablespoon olive oil
1 teaspoon lemon juice
Directions
For the salad, combine kale, apple, carrots, dried cranberries and walnuts in a bowl. For the dressing, whisk together olive oil, lemon juice and mint. Drizzle dressing over salad.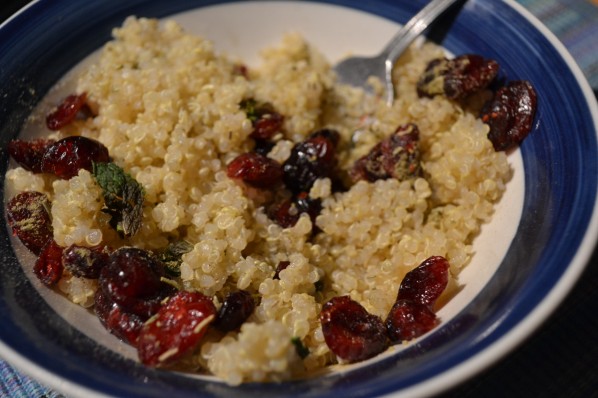 Dinner
Christmas Quinoa
total time: 20 minutes, serves 4
Ingredients
1 cup quinoa
2 cups water
1 tablespoon fresh mint, minced
1/4 cup dried cranberries
1 teaspoon dried rosemary
1 teaspoon dried sage
Directions
Pour water and quinoa into a medium saucepan. Bring to a boil and then lower heat and let simmer until quinoa has absorbed all the water, about 15 minutes. Stir in the cranberries, mint, sage and rosemary. Serve warm.