All photographs by Evan Tuohey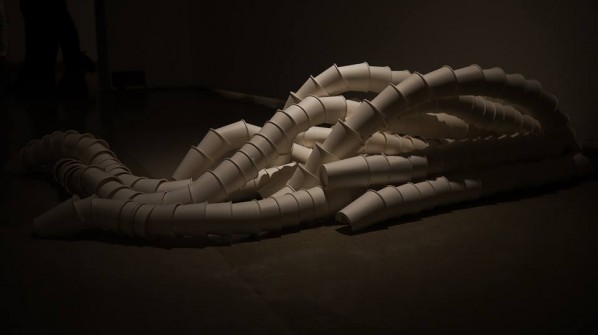 Imagine being given almost 3,000 paper cups and then being told to make "art" out of them. Some may find the request itself too challenging to process.  Others may take a stab at it and find that nearly 3,000 paper cups simply isn't enough to produce a substantial piece. Some may even think that they've created something incredible, while they've merely just rearranged what is still only a collection of far too many paper cups. Thankfully, there are those particular students in BU's College of Fine Arts who can take this many paper cups, produce an innovative installation out of them, and present their completed work to the public, all in under two weeks' time.
Enter Pipe Dreamz, an art installation that had it's opening in CFA's Gallery 5 on Wednesday, November 20th from 6:00 pm-8:00 p.m. Upon entering Gallery 5, it was difficult not to immediately notice the astonishing variety of pipe-like structures produced out of nothing more than paper cups, string, hot glue, and hard work. The only elements to distract from the displays were the 20-30 people floating around in the midst of engaging conversation, and, of course, the food and drink table that offered crackers, cookies, and even more cups to fill with delectable drinks.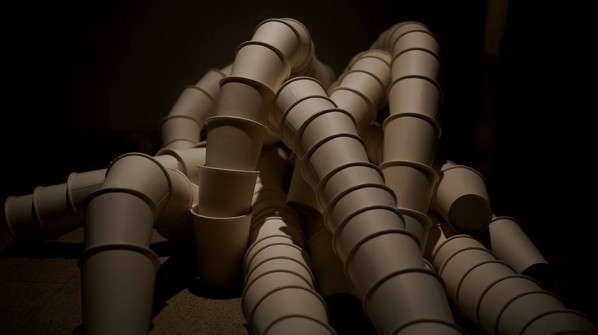 Fiona Buchanan (CFA '14), one of the art students who contributed to the installation's construction, touched on the inspirations that contributed to the work's style. "It was all inspired by the idea of pipes, and mimicking pipes. That's why the installation itself is called Pipe Dreamz."
"Pipe dreams" hits the nail on the head. Displays were spread out all across the gallery and, despite all being composed of the same bare elements, each greatly differed from the other in terms of design. One particularly pipe-like display ran through parts of the ceiling, exposed only by the open spaces created by the intentional removal of ceiling tiles. Other displays were stacked up straight and standing tall above the rest, like skyscrapers. Some twisted and twirled on the floor like tentacles wrapping around one another. There were even some displays that so realistically resembled actual pipes running along the walls that, out of the corner of the eye, it wasn't too difficult to mistake them for the real thing.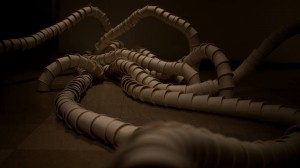 "We planned it out [in advance] a little bit," recalled Buchanan. "A lot of it was in the editing, though." Danielle Rives (CFA '15), another contributor to the project, further elaborated on the project's origins. "There are ten people in our Installation class, and we were split into two groups of five. We were given the choice of using string or cups. The other group used string. We chose cups."
After figuring out the essentials, the group of five had a particularly small window of time to work within. "We had from last Monday until this Wednesday morning to work on it," said Johnny Steins (CFA '15), a third contributor to the project. That's from Monday, November 11th to the morning of Wednesday, November 20th—just a little over one week to complete such a dynamically constructed installation.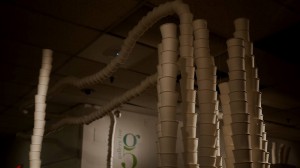 The other two contributors to the project, Emma LeBlanc-Medeiros (CFA '15) and Rebecca Tuohey (CFA'15), were also in attendance, along with friends, family, professors, and others interested in taking a peek at the elaborate new installation.
Drinking juice out of pipe-like paper cups, the five art students responsible for producing Pipe Dreamz looked upon their work with a sense of satisfaction. As more and more people began to clear out, they also looked upon the food and drink table to find it completely cleared of all cookies. Given that this was the biggest disappointment of the night, the rest of the Pipe Dreamz art installation seemed to garner a generally positive reaction from the crowd.
After all, who could have guessed that so few could do so much with only 3,000 paper cups?
Disclaimer: Rebecca Tuohey, a contributor to the Pipe Dreamz installation, is the younger sister of Quad writer Evan Tuohey. This relationship did not in any way affect the integrity of the writing of this article.