Students from the Boston area piled into Newbury Street's newest addition—Ralph Lauren Denim and Supply—Wednesday night for a lively evening of fashion, shopping, live music, and sweet treats with founder of CollegeFashionista Amy Levin and her style gurus.
"We partnered with Ralph Lauren for their new line Denim and Supply, which is very focused towards the millennial demographic, and the brand is highly inspired by music and festivals, which [are] very popular amongst the college demo. This is one of their new stores, and we're going to do other store opening with them," Levin said. "It's all about styling college students and really showcasing to different college students how they can wear denim and supply and express themselves through the collection."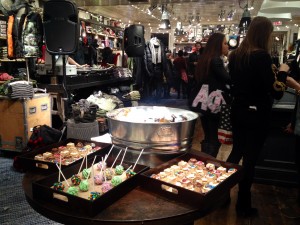 Founded in 2009, CollegeFashionista is a fashion social networking site dedicated to documenting the latest styles and trends on college campuses across the world. It allows students to see what their peers are wearing around campus and to gain tips for their own wardrobe. The site speaks to the evolution of fashion—the idea that style inspiration is not limited to the pages of Vogue magazine or designs featured on the most prestigious designers' runway collections. Rather, it can come from "free-spirited girls in your biology class."
Caitlin Myles, a buyer for Ralph Lauren Denim and Supply in their New York office, expressed that the event was about building a "general awareness" around the new line, and attracting students in Boston.
"I love coming to Boston because you get such a diverse group of students, not just from BU, or from BC or Harvard, you get students from all over," Levin said.
"I heard about the event by receiving an email from CollegeFashionista. I love Ralph Lauren, so I said 'why not.' It's great, everyone's really nice, and all the associates who work here are really friendly. Plus, they have an awesome sale, so it's fun," said Katherine Smith, a Newbury College graduate.
"I think there is a great energy tonight, and it seems everyone needs a break from studying. I'm overall very happy with the event, and Ralph Lauren Denim and Supply is a great partner, so it's great to get to work with them," Levin said.