Robbie Lohnes is an electrician at BU. He used to work the late night shift, which would put all nightly electrical crises on campus in his hands alone; now he's on the day shift. Born and raised in Harvard Square, Robbie lives four blocks away from his first home. "I moved two blocks away to an apartment because I needed to not live with my parents. Then I moved two blocks again to the house I purchased in 1981. And I'm still there now."
Harvard Square isn't the only place Robbie has stuck around. Boston University was his first employer out of trade school where he trained to be an electrician, and he's been here for forty years. "I like interacting with everyone. The late night shift really cemented that for me," he said.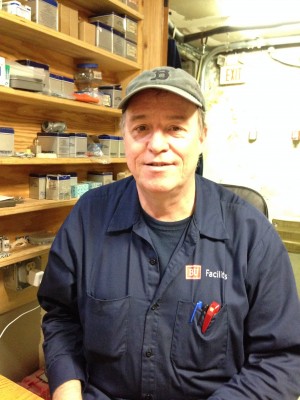 Robbie's parents were always working hard to provide for their five children, and his father held three jobs in doing so; he worked for Gillette, at a dry cleaner, and as a deliveryman for a liquor store. "Back then you needed multiple jobs if you had five kids," Robbie said. His mother worked as a bookkeeper for his brother, who owned a motor repair shop that became the biggest in New England and sold for millions.
When I suggested his parents' busy lives made him grow up fast, he laughed: "No, I remained a child for a very long time. It took me a while to come up with the money for the house. As soon as I bought it, I became a grown up … After I signed the papers, I had thirty-five dollars in my bank account. I was a little nervous." His parents encouraged him and all his siblings, however, to own property.
Indeed, they were supportive in every sense of the word. "I remember when I moved out of the house and into my apartment, I had them over and my mother said to me, 'Your father and I were wondering: will you ever be getting married?' And I said, 'Probably not.' She said, 'We didn't think so.' I thought, well, we've gotten that out of the way. It was their way of asking me – you know, without actually saying 'gay.'"
Robbie's partner of ten years, David, had a huge influence on his life. They met via a personal ad in The Phoenix. "Just to show you how archaic it was – I wrote a letter by hand, mailed it to The Phoenix, who contacted him, then forwarded the letter to him. He had asked for a picture and I thought that was a little superficial. He would be seeing picture of me and I wasn't getting to see a picture of him! I did not send one. I wrote to him and explained the whole thing and presented myself. I left my number, and he called me and said, 'I want to meet the guy who asked me out and called me a jerk in the same paragraph,'" Robbie chuckled.
Robbie told me, "From day one, I knew he was HIV positive. He said to me at one point, 'I don't know why you're doing this. I'd walk away if the roles were reversed.' I said, 'I don't think you would.' And I know there was no way I ever could."
"Ten years later he decided to die, and it was because there was only one medication at the time – it was like trying to kill a mosquito with a machine gun. We made that decision on Labor Day of 1993. I went into work the next day and said to my boss, 'I never told you that my partner is HIV positive. It would be nice if I could call in last minute and say that I'm not coming in.' Two days later, the vice president of the department called me at home and demanded I take a month off. I was blown away. I thought it was really nice."
After losing David, Robbie came right back to work. "I needed to," he said. "And everyone was just so very supportive."
Robbie always remains positive, and he told me simply when I asked what his happiest memory is: "I've never been a down person. I'm just always happy … I guess it might be when I won the John S. Perkins Award. That was kind of a thrill."
Robbie summed up his story for me when I asked him what advice he would offer to the students he sees on a regular basis. "Work hard, buy property, and enjoy yourself," he said. It has kept him smiling, so I'll keep the advice in mind.
For more about Robbie's life, see this 2010 article. What's the Story? is an attempt to tell the stories of various BU faculty and staff and shed light on their lives. Have someone whose story you'd like to hear? Send me a note: cweddell@buquad.com. See more What's the Story? profiles here.