Most neighborhoods in Boston are best defined geographically in terms of the schools that inhabit them. In Mission Hill's case these would be Northeastern, MassArt, and Wentworth. If those aren't landmark enough, the area is also where the 'E' Line goes through.
Like Allston, Mission Hill is also notable for its large student population. Unlike Allston, it is also an architectural landmark district, known for its 19th century bungalows and brick houses.
While mostly residential, Mission Hill doesn't suffer for lack of things to do. Brigham Circle, the area's main commercial center is home to many charming, family-owned establishments that have a distinctly homey vibe typical of this neighborhood.
Places to Visit in Mission Hill:
Feel a moment of peace in Mission Church (1545 Tremont St.):  The towering Basilica of this Roman Catholic Church is the most prominent feature of Mission Hill's skyline. Built in 1878, it is considered the symbol of the neighborhood.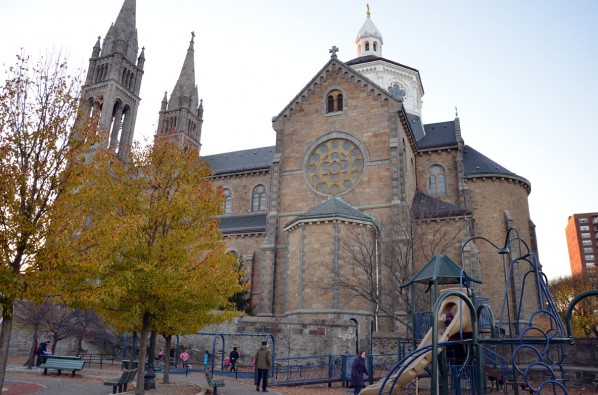 Gourmet pizza and beer at Penguin Pizza (735 Huntington Ave.): Toppings include duck confit, lobster, and butternut squash sauce at this little pizza joint in Brigham Circle. The bar is stocked with almost 335 types of beer, and you get a 'passport' which serves as a record of which of the list you have tried. If you get through them all you receive an engraved 22oz mug and a discount on your pints! Not unlike our "Knight's Quest" at the Pub, except this one comes with some certified "Best thin crust in Boston."
 Swing with a view at Mission Hill Playground (1517 Tremont St.): This charming playground sits in the shadow of the Basilica and overlooks some prime Boston skyline. Needless to say, there's no better place to climb monkey bars and shut off brain function for a while. It is also lit up at night, which adds to its ambiance as the perfect lookout spot.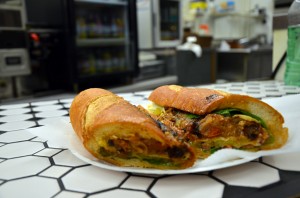 Get the ultimate Sandwich experience at Al's Deli (1508 Tremont St.): Wan Convenience Store sits on a corner of Tremont St. and is as nondescript as they come. Step inside however, and you'll find Al, the king of sandwiches. Order one of the quirkily-named subs (the Bob Marley, the Bizzy Bone, and the Witch Doctor being a few), and sit back, as Al believes in taking his time. The 20-minute wait is worth it, as the generous toppings combined with Al's special blend of spices produces the most mouth-watering sandwich that you will probably eat in this lifetime.
Mission Hill is very much a place that offers places that cater to low-key days. In the words of a resident: "It's full of places where you can sit down and have a conversation with a few friends." And sometimes that's exactly what we all need.