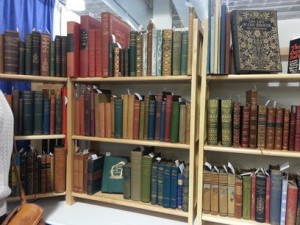 If you ever want to try something totally different, something out of your comfort zone, or expand your perspective on life, then attend an antiquarian book fair. Clearly, a thirst for books is required. However, at the same time, be prepared to see books in a different light.
As defined by Between the Covers Rare Books, an antiquarian book is a "a book that is valued as a unique physical object." Thus, value does not necessarily come with age, rather there is a unique quality that makes the book coveted, such as the desirability of the book (i.e. signed books or limited cover editions). However, the higher the value, the costlier it gets.
The International Antiquarian Book Fair was held at the Hynes Convention Center from Friday to Sunday. As expected, the demographics at the event was older and more sophisticated. My first impression was that I was mingling with rather high-brow people and book collectors, making me wonder whether or not these collectors were truly bookworms or dilettantes. However, as I began to stroll from vendor to vendor, I pushed that image away, as I was simply taken away by the books on display with their exquisite covers. Immediately, I conjured up the image of being in an old castle with shelves and shelves of leather-bounded books.
And if you think, so what; they're just some old books: think again. There is something exciting about being able to interact with the text, or basically anything in life – there is meaning in the relationship between the object and you. Since they were for sale, all the books on display were allowed to be touched. It is a wonderful experience being able to interact with the text, especially the older text, as though I was literally being given some history and culture. As I turned the delicate, stained pages and heard the crisp sound of each turn, like any book lover, I simply got excited. And out of curiosity, it was a must for me to do the "test smell." Surprisingly, the yellow-paged books did not have that old, musty smell that we often associate with old books. The quality of the books was well-preserved, despite many of them being thousands of years old.
Although not all of us can afford these luxurious books (i.e. a signed copy of Life of Pi for $1,000), it is still interesting to see what makes these books so valuable. The books provide not only a story but also reveal the culture of the book that goes beyond the text. The moment I held one of the these books, I was able to see why any collector would want to grab on to them. There is a wonderful experience in reading a good book; however, more subtly, the experience is accompanied by the touch of a book – which could never be felt with a Nook or an iPad.