Boston University students gathered to see Los Angeles' food truck star Roy Choi (otherwise known as "Papi") Friday night for a lecture on food, life, and a street savvy, but delicious nonetheless, dish of Korean-style braised short rib stew and "ghetto" Pillsbury doughnuts.
Choi visited BU Metropolitan College's program in Food, Wine and the Arts as part of his nation-wide tour to celebrate the release of his new book, L.A. Son: My Life, My City, My Food. "L.A. Son is the story of Choi's love of food and his evolution as a chef. Choi returns to his childhood afternoons at his parents' Korean restaurant, his nights in L.A.'s gambling halls, and his pizza-fueled studying at the Culinary Institute of America before making his way into some of the best restaurants in the United States," reads the program's website.
Born in Seoul, Korea and raised on the outskirts of L.A., Choi is famous for his Kogi Barbeque Taco Truck business. He is the co-owner, cofounder, and chef of Kobi Barbeque, as well as restaurants A-Fame, Chego!, Sunny Spot, and POT. He has been recognized widely, namely by Food & Wine as "Best New Chef" in 2010.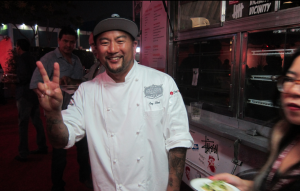 "For a street kid from L.A., cooking changed everything about who I was," Choi said, reflecting on his time in culinary school and wanting to be like the French, who, he claims, have a "mojo" the rest of us lack.
"I wanted to be French. I wanted to live in Lyon, I wanted to live in a small cottage with the windows that open this way, and I wanted to look outside and smell gardenias. I wanted to walk with a baguette under my arm. So I really learned French," he said, and transitioned to talking about rice–an element to the stew.
"Rice is a really important element to not only the way I cook but also the way I was raised. It's very similar to the soaking process of the short rib," he said. "A lot of people don't wash their rice—to me that's crazy. Washing rice is one of the most important elements to cooking rice."
"It's really about clearing out and cleansing yourself and also the process," said Choi. He went on: "You see it a lot in Japanese cooking as well—its really about the process and the journey. It's a different way of looking at food. Sometimes, here in America, we just rip something open or open a box and dump it in and don't even give it even a moment to breathe in our life."
"So how's the food?" he said from time to time, and the room would echo, "Delicious."
By the time it came to cooking dessert–"ghetto" Pillsbury doughnuts–Choi related their holes to the emptiness he felt for a period of his life as a young person that lead to his all time low: a seven-day addiction to cocaine in New York City. This, he elaborates on in the chapter "Crack" of his book:
"I flew with the bats of the night: trench coat flashers, XXX horn dogs, other crack addicts, transvestite hookers, hobos, drifters, pimps, hoes, invisible joes. People with no homes, no destiny, no hope. It's not so much that I liked any of this–I didn't like crack all that much, actually. But if it wasn't this drug, it would have been another one: drinking, girls, binge eating. Anything to fill that void in my heart, anything to rub salt in my wounds, anything to make me forget."
But Choi has clearly graduated from this.
"I think he's great," said Joyce Liao, a recent graduate of the BU gastronomy program. "I really love that he's down to earth. He's not pretentious at all. It definitely reminds me of being home in California."
Vicky Yu, who is currently pursuing her masters in the same program, agreed. "I spend a lot of time reading and thinking about food. My particular research interests have been along the lines of Asian-American culture changes. I find that Roy is a representative of this new generation of Asian-American chefs that has emerged and is becoming more and more popular," she said. "I think the book is great, and how honest he is in terms of his story. He didn't leave much out."
Aspiring chefs in the Boston area were also in attendance, and came to see Choi speak, such as Andrea Trent, who works at Mangia Kitchen in the South End. "I am a chef, so it's always interesting to listen to people who have done well in the business," she said.
"What's your dream now?" a student asked as Choi wrapped up his lecture.
"My dream now is to take food beyond the food world. Make restaurants—delicious, chef driven restaurants—in the hood. To the point where we will no longer know where the divisions are," he said.
"What I want to do is inspire other chefs, inspire the industry, to broaden our horizons, broaden our outreach, and not just do festivals and charities, which are great, but I want it to be an everyday thing," Choi said. "I want to move the needle over, so that in ten, fifteen years, future generations will no longer have that disparity."
Choi, it seems, certainly has what it takes to start such a movement.