From an outside perspective, the world of start-up companies seems pretty enticing. When I think of a start-up company, I imagine a modern, glassy studio office space filled with young, hardworking techies coding in beanbag chairs, taking barefoot pingpong breaks, and having all-night brainstorming sessions with their awesome boss who looks eerily similar to Jesse Eisenberg. But it's no secret that the start-up fairytale rarely works out the way it should — according to the WSJ, out of 10 start-ups, three or four will fail completely, another three or four return the original investment, and the final one or two will produce substantial returns.
The event was sponsored by BU's College of Communication and aimed to open up a dialogue between students curious about the start-up world and veterans of the exciting and intense start-up culture. The panel consisted of Unity Stoakes, co-founder of Start-up Health (COM '96), Alison Morris, Communications Director at Honey (COM '10), and  Mike Schneider, Vice President of Marketing at Skyhook Wireless.
In the discussion, the panelists addressed three distinct audiences: people who are interested in starting their own companies, people who want to work for a start-up, and people who don't know if the start-up world is right for them at all. To the third group, the panel noted that if you are one who likes having structure and order in your day-to-day work-life, then the start-up world is probably not for you.
"There's a lot of uncertainty and stress that comes with not really having a plan, so if you're someone who likes structure and who likes a plan that's defined, this may not be the route for you," Stoakes said.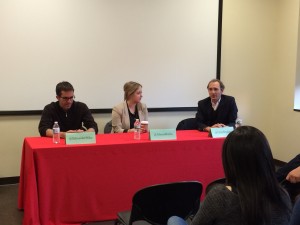 Morris said that the hardest part for her is having to constantly fulfill roles that she has no experience in — something that is bound to happen with a small team with few resources, and an aspect of the job that could potentially scare off others from taking a start-up job.
"When you're a team of five, things have to get done and you have to figure out how to do them," she said. "The flip of the coin is that that's an awesome part about working at start-ups. A big adjustment is learning to take it day by day and succeed in a black hole where you've never done anything before."
For those interested in heading a start-up company, there basically are two main roles one could potentially fall into: CEO or co-founder. For each position, passion and commitment are key.
"You should really be passionate about it and have the idea of  'this is exactly what I want to do for a long time,'" Schneider said, noting that this is a 3-5 year commitment at least, because that's how long it takes the average start-up company to fail. "If you succeed, great, but you have to keep doing this thing. And there are ways to get out — obviously you can sell the company or give it to the investors or whatever it is — but be prepared just to jump in for the long-haul now."
The role of a CEO at a consumer-based product start-up is to be the biggest user and proponent of the product and to raise money — or, as Schneider put it, you have to be willing to "douche-bag" and "hustle." However, both he and Morris noted that a successful and likable CEO often has a notable "scrappiness factor," meaning that he or she is willing to do the dirty work along with the rest of the team in order to take the company's vision to the next level.
"One of the best start-up CEOs I know is out raising money but also buys the donuts and the coffee all the time," Schneider said. "They're willing to play on both sides."
While start-up culture may not be for everyone, it also might not be as exclusive as you'd think. Of the three panelists who all worked for tech start-ups, only Schneider had a technical background. However, a willingness to learn is important, and there's no excuse for not learning/knowing the ins and outs of your product.
"From a very young start-up phase, it's important that the whole team understands tech and the product," Morris said. "I am not a technical person, I don't code, but I do understand every single piece of my product."
Morris also said that if you're trying to start a tech company without a tech background, you do need to partner with a technical co-founder. Otherwise investors will probably not take you seriously. The Jobs-Wozniack dream team comes to mind here, when the creative inventor and the computer engineer were able to come together to make some Apple magic and kickstart many start-up fantasies.
For those who do have technical experience, though, the panelists cautioned that it would be wise to step into a co-founding role and step aside for a CEO in order to combat overexertion and burnout.
"If you're a technical guy and a co-founder and the CEO, and if you want to stay coding and close to the technology, at some point you need to get out of the way and bring in a new CEO," Schneider said. "It's a very humbling experience to start a company and have a dream of being the one person who runs the thing, and then you realize that you're not doing that."
As for people who don't necessarily dream of building their own start-up company but instead are interested in working in a start-up environment, the panelists had some tips to determine a new company's credibility and livelihood while job hunting. Their main tips were to find out who is investing in the company, ask detailed questions in the interview, and do your own research.
"Ask them how many people they plan to employ and then do your own math [with regards to salary and overhead]," Schneider said. "Look at the product against the marketplace and do your own litmus test there and say, 'hey, does this thing have a chance?' Because if you don't believe in it, then you're not going to help an awful lot."
Schneider also said to keep an eye out during the interview for your surroundings to determine if the company has been monetarily successful.
"Look at how fancy the offices are and look at what computer equipment they have," he said. "If they've got everything nice and shiny or have, I don't know, a wrapped porch, that's probably a sign that they're spending a lot of money."
Stoakes suggested talking to people who work there or who have worked there in the past to get a sense of the company's turnover rate (a high one is a bad sign) and to ask if the company has a board, which is "a big indicator of the level of sophistication" of a start-up.
"The most important question to ask is why they're building whatever they're building," Stoakes said. "Is there a mission behind this, or are they just building a stalker app?"
Whether you're joining a team or building your own, entering the start-up world is risky business. Therefore, Morris, who graduated with a PR degree just three years ago, implied that working for a start-up might be an easier risk to take on earlier in life (read: right out of college) before relatively larger monetary and familial responsibilities start to come into play.
"Personally, I'm not engaged, I don't have a kid, I don't own a house, I don't even have a car, so my risk is actually pretty slim," she said.
Schneider echoed these sentiments, adding that start-up experience can add great things to your résumé even if it does not work out.
"I think it's a bigger risk to not go for it. At worst, you can just say, 'Here's where I worked, I learned X, Y & Z,' and go get another job opportunity," he said. "In fact, I think its a lot easier to get that next position if you've had start-up experience."
However, all three panelists stressed the importance of planning for the worst and putting aside your pride when the time is right.
"Prepare for [potential failure]," Schneider said. "Make a plan for when that happens. If you have to eat Ramen Noodles and stay with Mom for a week or two, be ready for that because that's the reality of start-ups."
Though the uncertainty surrounding start-up work can be incredibly frustrating, the panelists said that the freedom, creativity, and passion that comes along with start-up culture makes it worth it for them in the end.
"By the end of some days, it feels like I've just been getting hit in the head with a baseball bat all day," Stoakes said. "But it's also extraordinarily fun and exciting, especially if you're doing something you're passionate about and you like the people you're working with. There are just so many rewards that come with it."
For further reading on start-ups, Stoakes suggested two books: Rework by Jason Fried and The Lean Startup: How Today's Entrepreneurs Use Continuous Innovation to Create Radically Successful Businesses by Eric Ries.