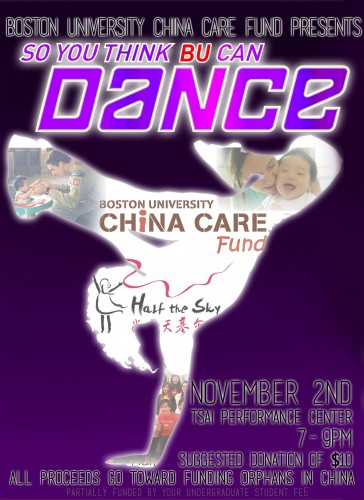 The Tsai Performance Center came alive on Saturday night as eight BU dance groups convened to compete in the fourth annual "So You Think BU Can Dance" competition. BU Jalwa, VIBES, Fusion, Step About Boston, Edge Dance Company, M.U.S.I.C., Solstice, and BU's MiXx each performed a set to help raise money for the BU China Care Fund (BUCCF).
BUCCF is a recognized branch of the China Care Foundation, a non-profit that provides medical care and educational support to Chinese orphans in partnership with the Half The Sky Foundation, said event coordinator Erin Lam (SMG '14), who put together the 8-group show complete with deejays and two emcees.
Companies and restaurants like Bobble and Shabu Zen donated raffle prizes the audience could vie for by donating $5 per ticket. Dancers performed under vibrant lights and in front of the cheering crowd who, at the end, voted BU Jalwa as the best group for the third year in a row.
By the end of the night, BUCCF raised over $1,100 through donations and raffles (admission was free) to partially fund a corrective surgery for a orphaned baby named Fei Er. While the group's goal was to fully fund the surgery for $3000, every dollar still made a difference.
The Edge performs at "So You Think BU Can Dance"
"Our goal [was] not just to raise money, but raise awareness," said Claire Wan (SED '14), BUCCF president. "I think it's really just the awareness aspect we're trying to get at. We chose dance shows and talent shows [to raise money for our cause] because we really felt that they can connect to the audience…it's something that is interesting to them while also embedding what our goal and what our cause is on top of that."
Aside from putting on "So You Think BU Can Dance," the BUCCF hosts another talent show called the Hope Show in the spring. Year-round, the group reaches out to adopted Chinese children and their families in the Greater Boston Area through their Dumplings Playgroup.The Chinatown-based playgroup is meant to "connect children to the Chinese culture through various activities on a bi-weekly basis" with students from BU and MIT.
Since it's founding in the early 2000's, BUCCF has grown dramatically, says Wan.
"We started off as a really small club, but we've really made such a revolutionary change in the last few years because our e-board has completely changed its dynamic," said Wan. "We're a lot bigger and a lot more underclassmen who are joining and spreading awareness to the entire body."
Over a million Chinese children are orphaned. Didn't make it to the event and want to donate to Fei Er's surgery? Contribute online here.