Mainstream indie really doesn't contain a ton of rock music. Which isn't a bad thing—I love what Cut Copy, Vampire Weekend, Chvrches et al. are doing. But sometimes I just want to hear some straight-up rock music, and the relative lack of that style of music really makes me sad.
Which is probably what made Swearin's 2012 self-titled debut so refreshing. Swearin'—led by Allison Crutchfield, who was a member of the phenomenal Alabama pop-punk group PS Eliot—play the kind of music that made me fall in love with indie and punk in the first place. Short, fast, and melodic, with huge choruses accentuated by Kyle Gilbraid's shouts or Crutchfield's wonderful voice, Swearin' was a fantastic debut. Hell, it made me want to go to Wisconsin.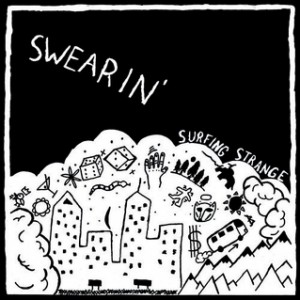 Now Swearin' return a little over a year later with Surfing Strange. They've brought a new vocalist—bassist Keith Spencer sings for the first time, though Crutchfield and Spencer remain dominant—and almost none of the joyful exuberance that made the first record so much fun. Instead, Surfing Strange takes the depression and heartbreak that colored parts of the first record and stretches it out for 34 minutes. Sometimes, it works pretty well."Watered Down" chugs along at a nice mid-tempo pace, and when Gilbraid sings "Sure sign to quit/The more I give it time the less it fits/The water me down," I'm hit by the same sense of lackadaisical dissatisfaction that color so many of my favorite indie rock and punk records. The same can be said for phenomenal opener "Dust in the Gold Sack." It's a bit faster, but that same disillusionment permeates the song, except this time it's led by Crutchfield's voice (she remains far and away the best of the three) and quiet/loud dynamic that switches between strummed acoustic guitar and crunchy, distorted riffing.
Still, the band often slows down a little too much, and the record falters when they really stretch things out. "Mermaid," the longest song the band has ever recorded, starts out promisingly enough with a slow, almost sludgy guitar riff. But then the song never seems to go anywhere, and the mumbled vocals don't do anything to make it any more interesting. The song gets better when Crutchfield starts to sing at about two minutes in, but I'm left wondering why she didn't just sing the whole thing. "Melanoma"—one of the two tracks sung by Spencer—plods along at a frustratingly slow pace, and it never seems to get going. None of these songs are particularly bad, but they become a bit of a drag. The depression isn't tempered with any faster or more upbeat tracks, and I'm not sure this plays to the band's strength.
When the band does decide to play a bit faster, the results are just as strong as they were on Swearin'. While I'm not sure they're anything as singularly great as "Kenosha" or "Just" on the record, songs like "Young" and "Unwanted Place" show that the band can still do that style whenever they want. It would just appear that they didn't want to, which is a bit disappointing.
All of this isn't to say that Surfin' Strange is a bad record. It's a sophomore slump, I suppose, but the only real miss is "Glare of the Sun," and most of the sludgy, slower tracks have their moments. I just wish they'd had a little more fun.