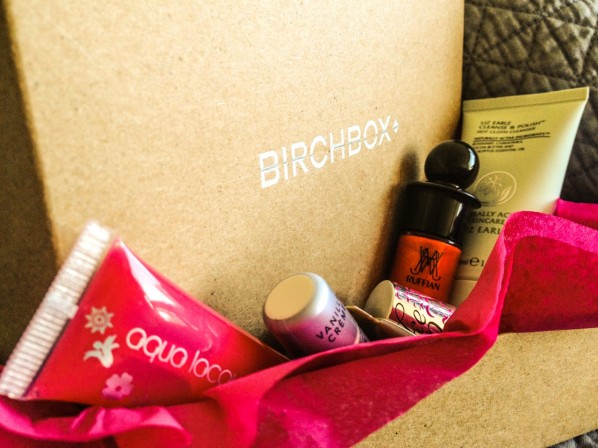 When it comes to beauty supplies, it's tricky to find products that are both inexpensive and of good quality. For those of us willing to make a more expensive sacrifice for better results, it can be tedious and a waste of money to purchase full-sized products if that result isn't exactly what you were expecting.
Birchbox solves such a problem.
Recently marking its third anniversary, Birchbox calls itself the "leading discovery commerce platform." More specifically, the company tests high-end beauty products from various brands and sends you five or six samples every month, personalized to your tastes, preferences, and feature type. These samples include hair, nail, and skincare products, makeup, and, on occasion, a lifestyle, home, or food product.
Birchbox Women markets for $10 a month, which can account for half the price of one of the samples in the entire box. These include items from high-end beauty retailers such as Stila, Benefit, TOCCA, amika, Serge Normant, Laura Mercier, Liz Earle, and more. Last summer, the company also expanded with a Birchbox Men line for $20. Samples are nestled in neat, recycled cardboard boxes with the minimalistic logo and furthermore boxed up in impossible-to-miss bright pink (women) or green (men) packaging for mailing. Such eye-catching packages have noticeably found their way to campus mailrooms this year, but it is a question as to how long they will remain.
Martina Corona (CAS '16) received her Birchbox as a gift from her aunt. While she defines it as "a cool concept," Corona is unsure of whether she will continue the service as her gift subscription winds down.
"I'm super stingy when it comes to spending my own money," said Corona. However, Corona has discovered some  products she would consider purchasing at a full size. "I would definitely buy the [amika Bombshell Blowout spray], but as much as I loved the [Dr. Jart Beauty Balm concealer], the full size is a lot more expensive than I would personally be willing to spend on makeup."
Many may share Corona's sentiments, yet statistics prove that if the beauty industry wants to sell products through samples, Birchbox is the way to do it. Stila reported that it sent out samples of its eye shadow palettes to 7 percent of Birchbox subscribers, and about 11 percent of those subscribers went on to purchase the full-sized product. The numbers seem small, but Stila said the return is 10 times the average success rate of sample marketing.
For every dollar Birchbox subscribers spend, either for his or her box or for a full-sized product on the Birchbox website, they receive a point through the company's rewards program. For every $100 spent, customers get $10 towards store products. Not only does this encourage subscribers to remain on the service line, but it also gives him or her an incentive to go ahead and purchase the full-sized version of whatever product they particularly liked in their box that month (even with free shipping).
While Birchbox's marketing techniques may be up to par, there is a question of whether or not a customer is getting his or her money's worth every month. A Buzzfeed staffer compared Birchbox to a few other makeup subscription services on the market and gave it a C+, "[disagreeing] with Birchbox labeling minuscule foil packets as "deluxe samples." However, the writer points out Birchbox's generous rewards program as a plus, and that boxes vary from month to month.
Birchbox subscriber Becka Perry (SMG '16) also agreed that boxes vary. "Some months have been a lot better than others, but I think that's to be expected," she said.
Perry also finds that her subscription isn't as personalized as she expected when purchasing it in July.
"I wish the samples were a little more specific to things that I'm interested in," said Perry. "When you first subscribe you fill out a survey, but I wish it were a little more in depth and that they followed it a little more."
Regardless, Perry gives Birchbox a positive review–"I love getting my Birchbox and I'm always excited to see what's in it," she said. "I think I've even convinced a few other people to start subscribing too."
While Corona was not drawn to Birchbox personally because she was gifted it, she still agrees it is worth the investment under the "discovery" model.
"I think it would definitely be worth it for girls that are into [looking for new beauty products]," said Corona. "I don't really have a brand that I'm very loyal to, so being able to try a bunch of new things is nice."
 You can sign up for Birchbox here (there's a wait list). Otherwise, just check out the online shop and magazine for beauty tips and ideas.