On most days, I wake up with just enough time to shower, get dressed, and race to catch the 57 bus to my first lecture. I have just enough time in-between my classes to run to Starbucks to grab a coffee and maybe even a piece of banana chocolate chip coffee cake, if I'm lucky. After classes end, I have just enough time to tend to my extracurricular activities, or my job, or both. I have just enough time to fit dinner and a drink in with a friend at the BU Pub or to catch my favorite television show before staying up late to complete the night's homework. I have just enough time to get a somewhat decent night's sleep before I wake up the next day to do it all over again.
As a college student with this kind of daily schedule, I often wonder, in those fleeting moments before I drift off to sleep, how I really got to where I am today. What makes me the kind of person that I have become? Do I like the person that I have become? Am I a good person?
Just who the hell am I, anyway?
Then I fall asleep, and those questions fall back into whatever dark corners of the mind that they emerged from. Those are the dark corners that Demarius J. Walker, the Marsh Associate for Howard Thurman Leadership, welcomes other BU students to shed some serious light on in his weekly introspective discussions that are held in the Howard Thurman Room of Marsh Chapel's basement, as a part of Marsh Chapel's Associates Program.
Walker, who is also a BU student studying philosophy and political science, has always been a major proponent of bringing together the BU Community for deeper self-reflection. He hopes to use these discussions to bring forth into the light of day those more complicated questions that we ever-so-briefly ask ourselves late in the night.
"The hope is to create a space where individuals can come into contact with their authentic selves and authentic others, and hopefully, in that process of collective introspection, we will find some truth. That is my hope," says Walker, without a single pause in his speech.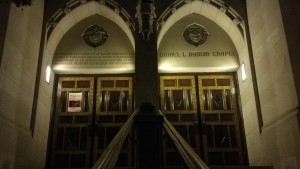 The first of the Thurman Group's discussions, which are always held on Fridays at 5:30 pm, focused on an excerpt from Howard Thurman's Meditations of the Heart. Thurman was a highly influential African-American leader who made significant strides in matters of religion, philosophy, and education, to name a few. He served as Dean of BU's Marsh Chapel for several years.
The Howard Thurman Room was marked by a serene stillness as Walker played the excerpt from Thurman's Meditations of the Heart for all discussion attendees to listen to and contemplate. Some took notes, some closed their eyes, and all, without a doubt, were entranced by Thurman's voice and the content of his speech. In one section of the meditation, Thurman spoke of every person having an inward sea, and an island within that sea that could only be accessed by the "mark" of one's "inner authority."
After listening to Thurman's speech, Walker turned the discussion to the matter of authenticity and the question of what part of a person's self is their most "authentic" self. In my case, is it the part of myself that prefers banana chocolate chip coffee cake to blueberry muffins during my Starbucks runs? Or is it the part of me that prefers ending the day with a friend at the BU Pub than with a book at Pavement Coffee House? Or is it the part that enjoys watching television more than movies? Is my authentic self all of these parts? Or is it none of them? Is it something more that I need to search deeper within myself for?
One thing that everybody in attendance agreed upon is that these kinds of questions too often go unanswered by the typical crazy-busy college student. Why, after all, might it be so important for us younger people to be asking ourselves these sorts of questions about who we are?
The answer might very well be that if we do not really know who we are, then how could we possibly know if we are leading the best possible lives for ourselves? How could we possibly know if we are as fulfilled or happy as we could be, racing to catch that 57 bus day after day?
Walker invites us to take a break from the daily races for a moment, so that we might have just enough time to find out.
Thurman Group discussions are held Fridays at 5:30 PM in the Howard Thurman Room of Marsh Chapel.