To get to the Howard Gotlieb Archival Research Center Reading Room, take the elevator to the right of the main entrance of the Mugar Memorial Library to the fifth floor. Once you are there, walk out into the lobby, then take a left, where you will most likely be greeted by the smiling face of Brandon Ogungbadero, the Senior Program Coordinator for the HGARC. He will tell you that the event will begin shortly and that you are more than welcome to leave your bags and coats in the middle closet.
At least, this was the sight that awaited those lucky enough to attend the Howard Gotlieb Archival Center's second Student Discovery Seminar of the year, titled "Putting on a Show: Great Producers of Stage and Screen." The event took place on the night of Wednesday the 16th in the HGARC Reading Room starting at 6 p.m. and was free to students with BU ID.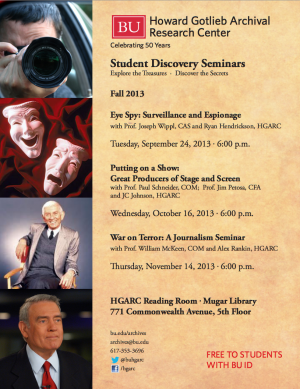 The second seminar of the year was dedicated to displaying documents from collections from the HGARC relating to productions for film, television, and theater, from letters regarding the censoring of Tennessee Williams's The Rose Tattoo to costume sketches from the Broadway production of The Little Mermaid.
Documents were arranged over five tables for perusal by students attending the seminar, which was arranged less like a lecture and more like an exhibit, except that those attending were actually allowed to handle the exhibits, provided they were wearing the mandatory white gloves.
J. C. Johnson, Manager of Digital Archival Resources for the HGARC, spoke first, explaining the layout of the documents and what each table featured, followed by Professor Jim Petosa of the College of Fine Arts and Professor Paul Schneider of the College of Communication.
Each professor addressed different documents as they pertained to their area of expertise, commenting on their knowledge of the documents and others similar to them, and then opened up their discussions for questions.
After the talk, all those in attendance were allowed to handle and examine the documents displayed, which included not only the costume sketches and censorship letters, but also a full model of a set for an unknown play, letters of complaint to Warner Brothers concerning the race of the person originally slated to direct Malcolm X, and critical reviews of a production of Tennessee Williams' The Red Devil Battery Sign.
All documents are kept in the Howard Gotlieb Archival Research Center and most can be requested for viewing in the Reading Room at any time that the HGARC is open.
For more information on the Howard Gotlieb Archival Research Center, visit http://www.bu.edu/dbin/archives/index.php.
For more information on the Student Discovery Seminars, visit http://www.bu.edu/dbin/archives/index.php?pid=202.