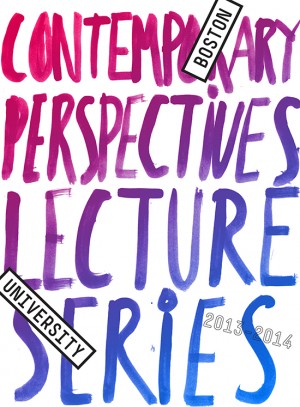 "Forget your dreams. All you need is love," said acclaimed painter Richard Aldrich, who visited Boston University Tuesday evening for a lecture on his artwork, referencing the title of his most recent exhibition at the Bortolami Gallery in New York City, which will open on Nov. 8.
Aldrich, a 1998 graduate of Ohio State University with a BFA in philosophy, is a Brooklyn based painter, whose work has been featured in the 2010 Whitney Biennial and who has exhibited his work in galleries around the world–Tokyo, London, Basel, Brussels, New York, Los Angeles, and San Francisco–according to the College of Fine Art's website.
Aldrich is deemed a "keenly self-aware painter, his work laden with a constellation of literary and cultural references as well as references to painting's contested, pluralistic history. He resists immediate categorization, instead moving deftly from one style to another with each work. Art in Review memorably described his approach as a 'slackerish cosmopolitanism,' his paintings carry an attitude that is at once understated, unfinished, even provisional, yet wholly sincere and exuberant," according to the same website.
Aldrich's lecture, held in the College of General Studies' Jacob Sleeper Auditorium, was free and open to the public, attracting nearly a full house. It was part of the College of Fine Arts' larger event held each semester—the Contemporary Perspective Lecture Series, which invites celebrated artists, designers, and critics to engage with the College's School of Visual Arts community.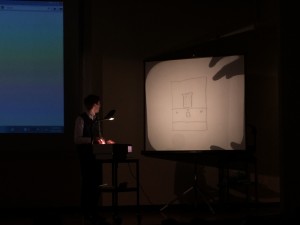 Aldrich, presenting on an overhead projector, sketched diagrams of the gallery's floor plan, explaining where his work would be showcased in reference to the gallery.
Guiding students through the creative process of each work, he paced the stage in "zig zags," a sort of cross between sneakers and loafers, which, are not only present in his paintings, but, Aldrich says, "can be bought for like ten bucks. I really like them, I've probably had 10, 20 pairs over the past 10, 12 years. I kind of always recycle them into my studio shoes."
"It's interesting because we've never had a lecture like this before, where the artist sort of walks through their thought process of what an exhibition will look like," said Lynne Allen, Director of the School of Visual Arts.
Aldrich began his lecture relating his artwork to his idea of props, referencing his favorite movie, and a key influence to a lot of his work: 2001: A Space Odyssey by Stanley Kubrick.
"My idea of a prop is that it is not something that needs to fulfill a function that the actual thing would need to do. So a spaceship, like in the movie 2001, does not actually need to fly, so you're much freer in making that spaceship whatever you want. And that to me was what was interesting about props: their freedom," he said.
He proceeded to introduce the focus of his lecture: his upcoming New York City exhibit.
"I try to work pretty intuitively and I think doing art is a little bit like dream therapy, where you talk about your dreams. You can't control your dreams, they just sort of happen. And with your therapist you would talk about it and try to analyze it for better or for worse," Aldrich said. "The title of this show is "Forget your dreams. All you need is love." And I think that's true: people are always talking about fulfilling your dreams, or having dreams of this or that, whereas I think it's better to just have love because then what actually happens to you doesn't matter. I think often times there's a funniness and sadness to things, and I think that title seemed funny and sad at the same time."
Aldrich touched on the themes present in his exhibition, such as the relationship between the past and the present.
"The element of the first painting migrates to the second painting. But then the second painting has those elements, but also something else altogether," he said.
He claims to be highly influenced by music—especially artists such as jazz musician Patty Waters and Pink Floyd's Syd Barrett.
"I think that it's interesting because he talked not just about painting, or painting constructions, but he talked about philosophy, he talked about jazz, and movies, and all these things in life that affect us, that art is not just in our brain—art is in our experiences, and how we relate them, and how one thing affects the other," Allen said. "And also [the fact he references] the doubt—the idea that you don't know if your work good, am I challenging myself enough, am I making it so that it's not too crooked for the audience because you want an audience to be engaged, you don't spell it out for them. Oscar Wilde said something like, if you give the audience too much, what's the point of watching the movie? I think it was interesting for students becoming artists that all artists have these issues."
"A lot of the work asks you to be engaged," Aldrich said, comparing his exhibit to different relations you may have with people—whether you delve into them, or rather, avoid scratching below the surface of those people.
"I want it to be really up to you," he said.