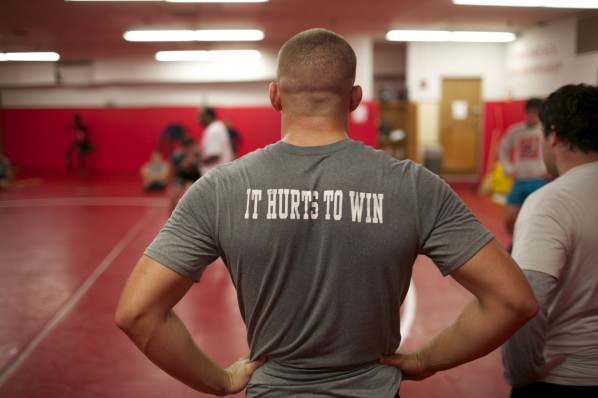 Division one team, tenured coach, two nationally ranked athletes, and one year left. That is the story of the BU wrestling team who, at the end of the 2012-13 school year, learned their program would be cut after the 2013-14 season.
This unique situation was the motivation behind "It Hurts To Win," a documentary film in the works, co-directed by Brandon Lavoie and Mike Abelson.
Lavoie is currently a film student at Emerson College and is originally from Salem, New Hampshire. Growing up, he regularly travelled to Boston.
Abelson, a recent University of Rhode Island graduate, currently freelances for the Eagle Tribune and ESPN Boston. He grew up an avid college sports fan, including BU's wrestling team.
"I met Mike when I was seven years old, and we've always been close family friends," Lavoie said. "At the end of the summer, we went out to celebrate my birthday and Mike brought up the wrestling team. I've never done a documentary, but it sounded like a good chance. Three days later, we were planning and budgeting."
Mike, with his journalistic experience, and Brandon, with his film interests, cover all facets, making them a working two-man team. Their passion for the documentary was apparent early on.
"There's only three division one wrestling teams in New England—BU, Brown, and Harvard. Teams get dropped a lot. Maryland dropped 8 teams just three or four years ago. It happens for money, but to get an extra year, that's never happened. It's usually when you're dead, you're gone," Abelson said.
With this unusual situation at hand, Lavoie and Abelson decided a documentary would be the perfect opportunity to see how the team deals with the adversity and to let their story be told.
"Our goal for the film is to put a face to what happens when a program does get cut. I've seen this happen so many times in the paper," Abelson said. "For me, it's just 12 words on the back page about a division three team, but people are affected by that. Coaches are out of a job. What happens when a program as long-lasting and [that] has as much talent as BU gets cut? There's so much that happens–the beginnings, the ends. We just want to be there to show it all."
Lavoie and Abelson have recently begun filming, as the season just started. They have future plans to attend practices, meets, and classes to get a full picture of what the wrestlers do and what their last year is truly like. Lavoie and Abelson even plan to travel alongside the team.
"We're still trying to hone in on what the story is trying to capture. We're going to follow a couple of the guys around school for a day. We're going to travel to New York City. We're going to Tennessee and Oklahoma at the end of year," Lavoie said. "We're travelling with the team, not with them, but wherever they go, we'll be."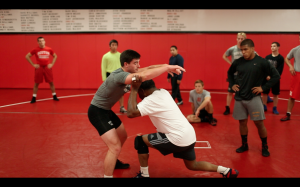 The wrestling team has a majority of seniors this season. However, Lavoie and Abelson are compelled by the sophomores and juniors, who must decide whether to continue their education at BU or pursue wrestling elsewhere.
"Some of the younger wrestlers, I'm thinking, are going to transfer for sure, but if you're a junior, going to be a senior, do you want to uproot yourself like that? Transferring in and transferring out is messy, so it's a big decision for them," Abelson said. "One wrestler from the Northeast said he could have gone to a lower division school and be put on a scholarship, but he said he'd rather come here and wrestle with a division one team. It's a great city and it's BU, so I think a lot of guys are going to stay."
Head Coach Carl Adams is another focus of the documentary. He's been the coach for the past 30 years, and at the conclusion of the season will find himself unemployed. When Lavoie and Abelson reached out to Adams about their film, Adams was on-board.
"Coach Adams is wrestling. That's his life and he really cares–not only about the team here, but the kids individually. You can tell that he has a deep-rooted interest in seeing them do well," Lavoie said. "It's such an emotional thing when it comes down to it. We've talked to a lot of alumni and they said that what they learned about wrestling was okay, but the main thing that the coach did for them was teach them about life."
Lavoie and Abelson have also had a welcoming experience with the wrestlers, who don't want to think of them as flies on the wall, but part of the family.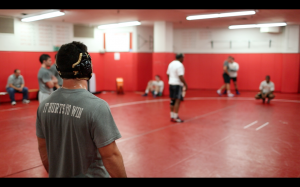 Funding for the documentary was organized through Indiegogo. The goal was $25,000, and through the campaign, they raised $8,500. Since the campaign has closed, they've received an additional $4,500, totaling $13,000 raised.
"The campaign is no longer open, but it's interesting because after it closed, people [were] emailing us saying that they'd still like to contribute," Lavoie said.
"Parents have helped, family friends have helped. The wrestling community has also pitched in as well. Thank you to all of them," Abelson said.
Lavoie and Abelson plan to finish filming by early April. From there, they plan to enter the documentary into several film festivals. Their ultimate goal is for the project to be purchased and distributed.
Although Indiegogo donations have been closed, prospective donors can still donate, with checks made out to "It Hurts to Win." For further information on how you can contribute, contact ithurtstowinfilm@gmail.com.