"I've done so many silly things," laughed Wendy Jennings, the Administrative Secretary at the Towers Office of Residential Life, mid-conversation with me on Friday. With a big smile on her face and a shiny Red Sox charm around her neck, Wendy is a perfect representation of the New England friendliness I have come to love while living in Boston.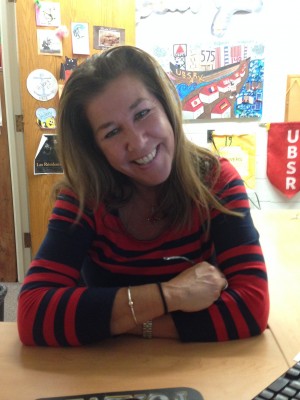 Wendy was not born in New England, however. She was born in Wyoming, where her parents went to college. "My parents were married in high school," she explained to me. "I think they were fifteen or fourteen when they met and now they're seventy-three. The hospital where I was born is now the police station! My parents said that was a sign. We should have know then that I was trouble." Both parents were lifetime residents of Arlington, Massachusetts, where Wendy spent most of her childhood and lives now. "I consider it my home," she told me.
A little amazed, I had to ask how her parents' youth had a role in her life. "I admire their commitment to one another and their vows," she told me, continuing: "There were hard times." Wendy's father had a football scholarship to the University of Wyoming, so "he traveled a lot. It was hard on my mom, really. Being so young and having such responsibility… sometimes it was almost like we were taking care of each other. Especially my older sister. I think the oldest is always a bit more serious. I was a goofball," she chuckled.
Once back in Arlington with her four other siblings, Wendy attended high school in Arlington and Newton. At nearly sixteen, she acquired her work permit and got a job at Fenway Park selling concessions, a job she kept for ten years. Remembering, she told me, "It was like a cult. You're with these same people for over 80 games a season. It was a tight group," she said. "I would make hundreds of dollars a night on tips. And I spent every cent. I didn't have anything to show for it!" she laughed. "But I didn't even consider that a job. It was like a social life for me. What could be more fun than being on a ballpark every night? And not any park! Fenway! The best park in the world."
After some time at Salem State and Suffolk University studying criminal justice and journalism, "The plan was to be the next Natalie Jacobson," she explained. Wendy worked at the coat check for a club where her future husband was a bouncer. "He took a liking to me. I would never give him my number," she smiled. "My brother-in-law gave him my number without telling me. And he still has the slip of paper. This is thirty-five years ago, and he still has it in his wallet."
"I would have never been married to my husband, though," she realized, "if I had gotten into the Navy!" She applied to join the Navy and was turned down for having psoriasis. "I would have probably been married in Paris to some other navy dude and had someone else's kids. So I'm glad I stayed around. I think everything happens for a reason."
I had to agree, since Wendy then told me that one of the happiest days of her life was her wedding day: "I never wanted it to end!" Fitting to her personality, Wendy's positivity allowed her wedding day to be meaningful and happy despite some sadness. "I lost my best friend, she passed away the year before I got married. So I had three bridesmaids and my husband had four groomsmen. That was for a reason."
Wendy's positivity is contagious, and her advice to students will surely bring the same optimism out in us. "Don't take it too seriously, life. Make sure you stop and have fun," she reminded me. "You put so much pressure on yourselves. Slow down and enjoy the smaller things in life, the people around you. Just be silly and let yourself go and notice your surroundings more. Take part in more. Have more fun." With a grin, she added, "I may have had too much, but try to get somewhere in the middle."
What's the Story? is an attempt to tell the stories of various BU faculty and staff and shed light on their lives. Have someone whose story you'd like to hear? Send me a note: cweddell@buquad.com. See more What's the Story? profiles here.